10 Memories from 10 Years of Scooter Media
Anniversaries are a special opportunity to celebrate milestones, offering a chance to pause and reflect while also looking toward the future. As Scooter Media celebrates its 10th anniversary, our team has had a lot of fun sharing stories, photos, and accomplishments from the past decade since our agency was founded.
So hop on our Buddy Italia as we say "beep beep" and take a look back at 10 of our favorite Scooter Media memories:
1. "One of my favorite memories was our FlannelFest agency event at Devou Park in September 2020. It was my first time meeting the full team in person since I was a full-time remote employee and joined Scooter Media during the height of the pandemic. We had lunch, participated in a pumpkin decorating contest, and just had quality time to bond in person. The opportunity to physically be together (socially distanced, outside and masked) even just for the few hours we were together was really special." — Gina Genco, Senior Media Relations Specialist
2. "The first time I landed a TV segment for a client, everyone was so excited for me and cheering me on, sending me lots of kind encouragements. I felt really supported, and it made the whole experience so much sweeter!" — Tareza Chiasson, Assistant Account Executive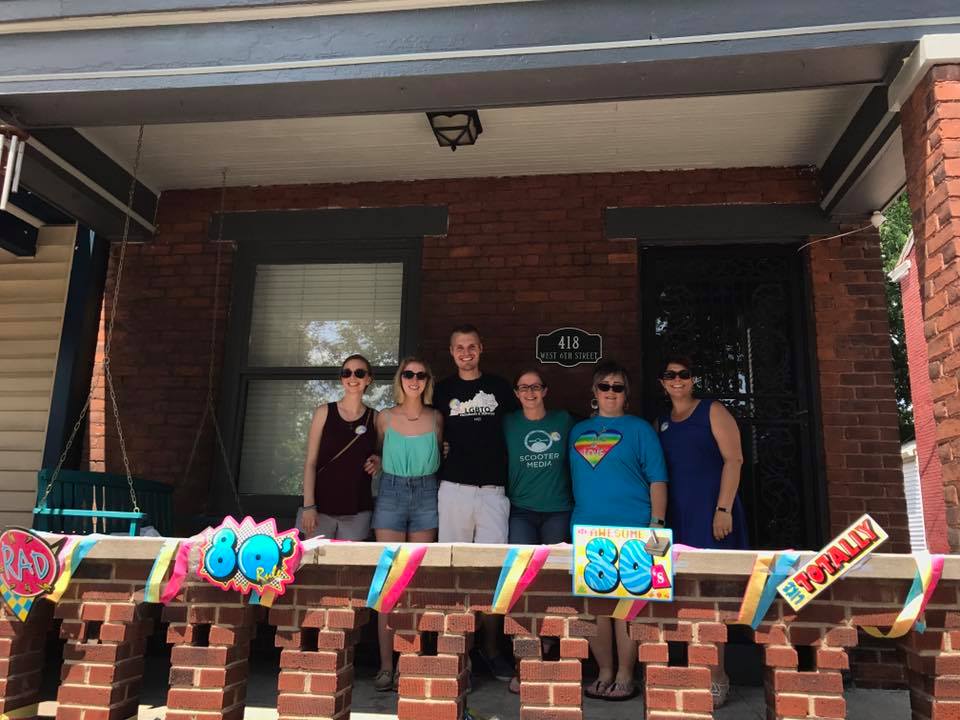 3. "There have been so many fun memories in my (almost) six years working at Scooter Media, but one that always stands out to me is when our agency served as an official "watch spot" for the first-ever NKY Pride Parade in 2017. Not only did most of the team show up on a weekend for a cause that means a lot to me, but everyone also really got into the spirit. From creating an '80s-themed playlist to go with our theme, cutting out a ton of rainbow-branded Scooter Media logo stickers, and handing out freezer pops to everyone who stopped by our agency during the parade, it was truly a day that I will always remember, both personally and professionally!" — Drew Boehmker, Senior Digital Specialist
4. "Winning Cincinnati PRSA's Agency of the Year in 2020. The beginning of the pandemic was obviously very hard on everyone, and the Scooter Media team was not immune. Our team worked harder than we ever have to help our clients navigate all the uncertainties for their business, helping them in any way we could. We also worked to help each other — navigating learning to work remotely as a team that thrives on camaraderie and being together, finding ways to safely connect and support each other, and more. All the hard work for our clients and our own agency was rewarded with Cincinnati's PRSA Agency of the Year that year. While our team has cherished every recognition we've received, that was extra special because we knew all that went into doing the best we could for our clients and for our agency." — Krystan Krailler, Client Services Director
5. "My favorite memory in the short time that I have been at Scooter Media is the PRSA Cincinnati Blacksmith Awards watch party. The awards were held virtually due to the pandemic, so we all made snacks and gathered in the office to watch and celebrate together. This was the first experience where I felt like I truly saw and felt the vast amount of hard work, determination, and passion that makes the Scooter Media team really shine." — Erin Hertzenberg, Digital Specialist
6. "My first day of work, getting to meet the team members, going to Agave and Rye for lunch and knowing that I'd found a great place to land after two years of professional upheaval!" — Amber Potter, Public Relations Manager
7. "One of my favorite memories is the cocktail competition we hosted at our old office in "conference room C" (aka the patio). We had a really great time bonding as a team, with our celebrity client judges and friends at Spotted Yeti." — Lauren Vogel, Public Relations Director
8. "I'm not sure if it counts as a memory, but I love all of our last-minute team lunches when we all packed but decide to go somewhere and get out of the office for a bit. We all sit together (sometimes crammed at one table) and take the time to get to know one another on a personal level. I think it just goes to show how much fun it is to work with everyone at Scooter and how welcoming the environment here is. We're not afraid to laugh. We work hard together and laugh even harder together." — Brian Mains, Senior Media Relations Specialist
9. "How could I possibly choose a favorite memory at Scooter Media? I've had so many great times with clients and coworkers that it's hard to pick just one. If I absolutely had to, I would say my favorite memory is the 'retirement party' we held for Max (our graphic designer Lindsey's son). He came dressed up in a little bow tie and there was cake!" — Mikayla Williams, Senior Media Relations Specialist
10. "My memory is the last day of my first week — because it would be the last time I would see the Scooter Media team in person for months! The third day into my Scooter Media career was a Friday and then the COVID-19 pandemic took hold of the world. All I remember is going home that day and thinking, 'What a way to start a new job!' Luckily for me, 2+ years later, it's all worked out!" — Tabari McCoy, Content Specialist
Every anniversary is worth celebrating, but especially so when you're a small business that has been going strong for a decade. Traditionally, tin or aluminum is used to commemorate a tenth anniversary because of the material's resilience, durability, and flexibility — traits any business needs to thrive. Every Scooter Media team member, past and present, has exemplified these traits (especially in the last two years!), and it is because of them that our agency is still going strong, all these years later.
On behalf of all of us at Scooter Media, thank you for 10 wonderful years of incredible collaboration, friendship, and support — and cheers to 10 more! #BeepBeep
Do you have any Scooter Media memories to share? Tweet them @ScooterMedia! Also be sure to check out our other anniversary content for more Scooter Media memories, including "Top 10 Viral Moments That Defined a Decade."