10 AP Style Hacks to Help Your PR Writing
Both novice and experienced public relations pros alike know that when it comes to successful PR writing, having a foundational understanding of AP Style is key. However, with so many rules to remember — and many that are always evolving — making sure you're always staying on top of AP Style can be difficult.
Fear not! As we continue celebrating Scooter Media's 10th anniversary, we've compiled a list of our top 10 AP Style hacks to take your PR writing to the next level.
#1: Pause for the Cause
In case you didn't know, the Oxford comma is the one some people place before using the word "and." However, a comma indicates a pause or interval as well as marks separation within a sentence, making it unnecessary to place one before the word "and." So what does the AP Stylebook say about it? Here's the answer:
"As with all punctuation, clarity is the biggest rule. If a comma does not help make clear what is being said, it should not be there. If omitting a comma could lead to confusion or misinterpretation, then use the comma. Use commas to separate the elements in a series, but do not put a comma before the conjunction in most simple series: The flag is red, white and blue. She goes to school, plays league soccer and takes private dance lessons."
Additionally, AP style says to only use an Oxford comma in a simple series if omitting it could make the meaning unclear: "The governor convened his most trusted advisers, economist Olivia Schneider, and polling expert Carlton Torres." In this example, there are unidentified advisors, making the final comma useful.
In short: only use an Oxford comma when necessary.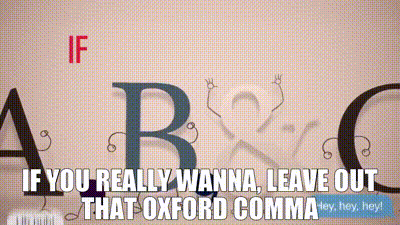 #2: Strive for Less than 35
The AP recommends using a variety of sentence lengths in your copy but keeping the majority of sentences short. A limit of 35 words is often cited as an acceptable maximum for a sentence, though 40 is considered acceptable in some circumstances.
Here's a good rule of thumb: If you must take an extended breath when reading a sentence out loud, it's probably too long. Giving editors easily digestible copy means they can do the same for their readers; overload your sentences and they are likely to get frustrated and quit reading.
#3: Language Is Fluid — and Your Writing Should Be, Too
The connotation (idea or feeling invoked) of words often changes, so your writing should follow suit instead of solely relying on the denotation (original meaning) of your words. The AP Stylebook is updated all the time, so words like "asymptomatic," "metaverse" and "distance learning" are now not just staples of modern conversation, but writing too. Staying on top of these updates and knowing when to use the correct words is a critical component of AP Style.
#4: Sign Up for AP Style Email Alerts
One of the easiest ways to make sure you're staying on top of AP Style is to subscribe to the official AP Style e-newsletter. That way, you'll always be in the know when new topical guides (see below) are released, rules are updated or changed, and much more.
#5: Ask the Editor
You may also want to take it a step further and sign up for an AP Stylebook account. Having an account offers many benefits, but one of our favorites is the ability to ask questions and receive answers about AP Style, directly from the people who set the standards. (Trust us — it can save a lot of time and internal debates!)
#6: Don't Forget Your PRSA Discount
There once was a credit card company that used to love touting that "membership has its privileges" — and the notion of that ad campaign still rings true when it comes to the AP Stylebook.
If you have a Public Relations Society of America (PRSA) membership, you can get a discount on your AP Stylebook online access. You can also use a membership code or ID across your organization, which is especially helpful for PR agencies and large communications teams.
#7: Follow AP Stylebook on Social
Did you know the AP Stylebook regularly shares tips across its social media pages including Twitter, Facebook, and Instagram? Give them a follow for a ton of great tips, which will help refresh your AP Style knowledge while scrolling through your social media feeds.
#8: Put Your AP Style Skills to the Test
Already growing tired of playing Wordle? Try out a quiz that will actually help you with your PR writing! The Associated Press offers 90 multiple choice quizzes all about the mechanics of AP Style, which you can take as many times as you like until you've mastered the skill. Best of all, it only costs $6.95 to access all 90 quizzes (which may be less than you spent on the latte you're enjoying while reading this blog!).
#9: Stay on Topic
Like language, trending topics change all the time, too. The AP Stylebook has Topical Guides that can help when it comes to writing about current events, which can be especially beneficial for PR pros who are seeking to tie their stories into newsworthy events. (Their 2022 Beijing Games Topical Guide is a recent great example.)
The AP Stylebook Topical Guides are great for finding facts and figures, as well as other tidbits that can be helpful for keeping your content current. Looking to make sure your DEI language is actually inclusive? Need to make sure you've got your March Madness terms right? The AP Stylebook has a Topical Guide for you that could ­— and should — be of great help.
#10: Create a Custom Stylebook
Every organization has its own set of rules by which it operates. Luckily, the AP Stylebook makes it easy by allowing you to start an account and create custom entries that can then be shared across your company, helping to set a standard for writing styles. These custom stylebooks can come in clutch when onboarding new employees and orienting them to your organization's writing style, ensuring consistency within your PR writing even if staff changes occur.
Do you have any amazing AP Style tips? Share them with us by tweeting @ScooterMedia!
Want more PR writing tips? Learn "3 Tips for Improving Your PR Writing," then step it up with "5 Strategies for Writing Social Media Posts That Sizzle."