3 PR Lessons from "It's the Great Pumpkin, Charlie Brown"
Horror movies of questionable taste (and quality) are being advertised, grocery stores have a massive influx of candy corn, and costume shops have popped up aplenty. It can only mean one thing: Halloween is just around the corner.
While All Hallows Eve can be full of scary things, it also marks the return of a beloved children's special that has been entertaining audiences since its debut in 1966: It's the Great Pumpkin, Charlie Brown.
It's a Harsh Story, Charlie Brown
In case it's been a while since you've watched Charlie Brown and the rest of the Peanuts, here's a quick refresher: The Great Pumpkin centers not around Charlie Brown, but instead on his best friend Linus, the younger brother of his football-pulling adversary Lucy. Linus is a dedicated believer in "The Great Pumpkin," a mythical figure that he believes comes on Halloween to bring gifts to all the good boys and girls. Unfortunately — spoiler alert! — The Great Pumpkin never shows, and Linus spends all night in the cold with Charlie Brown's younger sister Sally, who is irate for missing out on trick-or-treating.
Of course, it wouldn't be a Peanuts story without Charlie Brown suffering some sort of indignation. Not only does The Great Pumpkin feature the first animated instance of Lucy embarrassing Charlie Brown by pulling a football away as he tries to kick it, but poor ol' Charlie also gets nothing but rocks in his bag when he goes trick-or-treating. It's a rather harsh story, really, especially since it ends with Linus discussing next Halloween and how he just knows The Great Pumpkin will show up.
What does this have to do with PR? Plenty — for by breaking down Peanuts gang's foibles, you'll learn some valuable best practices lessons. Here are three things we can learn from watching Charlie Brown and co.'s animated adventure:
Lesson #1: Always Pay Attention to the Details, Especially the Fine Print
Lucy hands Charlie Brown a signed document promising to not pull the football away when he tries to kick it. Ever gullible and hopeful, Charlie Brown reviews the paperwork and proceeds with all the confidence in the world, only to be foiled yet again at the last second when Lucy pulls the ball away. "Peculiar thing about this document," Lucy then says smugly. "It was never notarized."
Whether you're simply sending an email to a client/media contact or putting the finishing touches on a huge media event, leave as little to chance as possible. Ensure everyone involved has reviewed and agrees on all details, even the fine print, to prevent unwelcome surprises. Likewise, paying attention to what might seem like the most minute details can help prevent you from ending up flat on your back like Charlie.
Lesson #2: Even Legendary Figures Can Be Helped by Good PR
Shortly after the football incident, Linus is seen composing a letter to The Great Pumpkin. In it, he writes: "You must get discouraged because more people believe in Santa Claus than in you. Well, let's face it … Santa Claus has had more publicity. But being number two, perhaps you try harder."
The lesson: positive publicity can be a good thing in a crowded market. Linus believes both Santa and The Great Pumpkin are real, but, in his mind, one has just had better PR. The lesson: good PR can make even those who aren't fans of your brand take notice of your product.
Ever wonder why established brands like McDonald's and Coca-Cola are constantly advertising? It keeps them at the forefront of consumer's minds. A strong PR campaign that keeps your client in the public eye keeps you in it, too, all while building your brand's awareness at the same time.
Lesson #3: Don't Be Blinded By Your Faith in a Bad Idea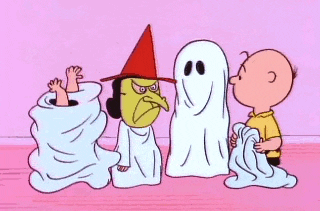 Some ideas are so good they're scary … but others are just scary, period. Despite Linus' faith and efforts to convince others of its existence, The Great Pumpkin never showed up.
Plenty of great things have been born out of failure. Sometimes, however, it's best to just admit that despite your best efforts, you fell short. Being honest with a client about those shortcomings and learning from them goes a lot further than lying about it, blaming others, and/or taking no responsibility for your failings. Even if there were things out of your control contributing to not reaching your goal, examining what went wrong will help get it right next time.
Hopefully, taking these three lessons into account will help your public relations campaign result in all treats and no tricks.
Looking for more scary good PR tips? Check out "3 Social Media Marketing Lessons from Our Favorite Spooky Films," then learn more about "What Our Favorite Halloween Movies Can Teach Us About PR."