3 Ideas for Designing Your Company Holiday Card
The holiday season is quickly approaching — and while it may feel a little too soon to start shopping, now is a great time to start thinking about your company's holiday card.
While it may seem like just another daunting task on your to-do list, sending a holiday card is a fantastic way to let people know that they are important to your business — whether the recipient of the card is an employee, client, vendor, or community partner. Sending a holiday card helps to foster positive relationships and is an excellent opportunity to put your company's culture and values on display.
Whether you're sending a quirky, colorful collage of staff members wearing reindeer antlers or a high-end letterpress card with a handwritten message, here are a few design tips to make sure your holiday card jingles all the way this season:
1. Take It Digital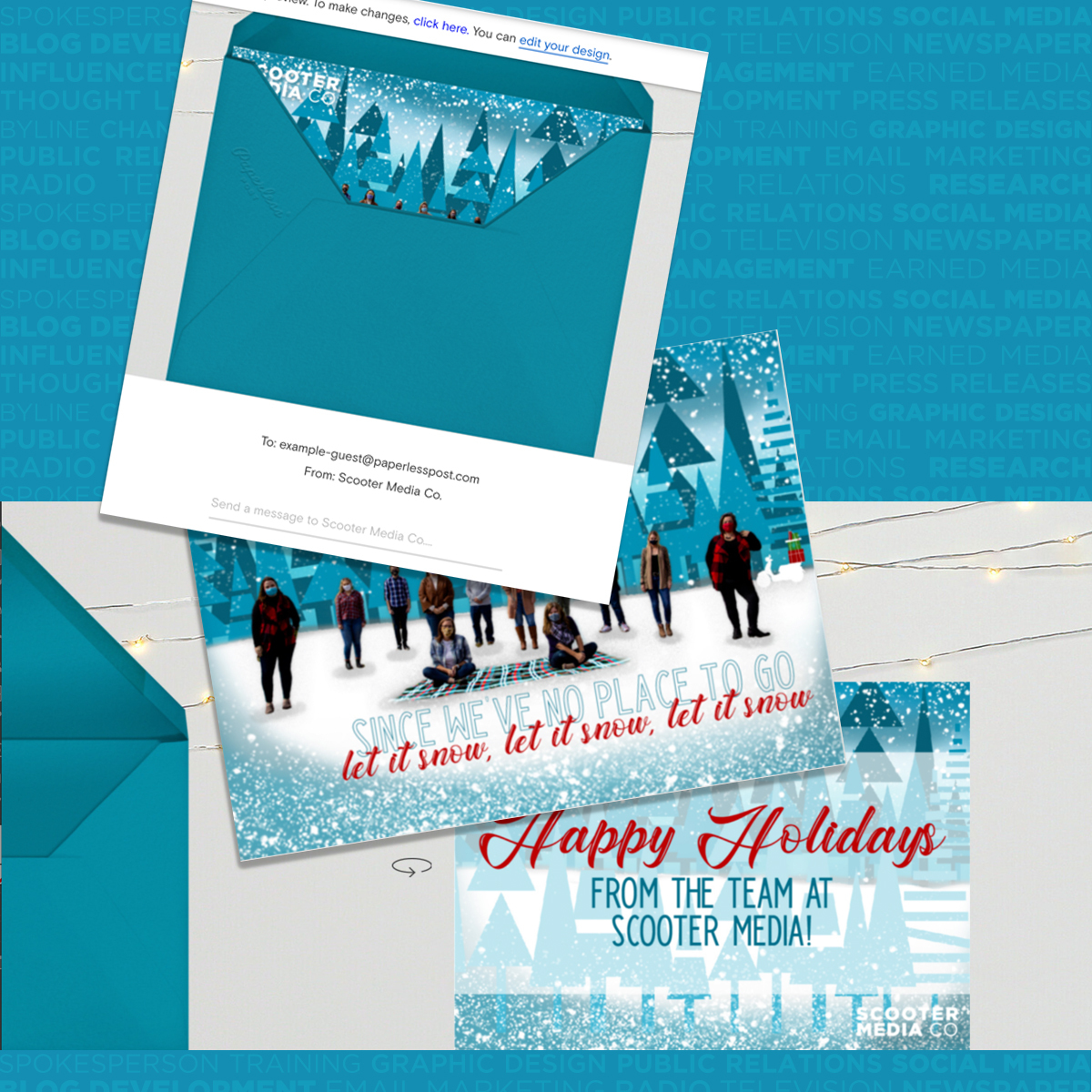 For starters, consider taking your efforts virtual and sending a digital holiday card. A digital card is both eco-friendly and budget-conscious, and ditching the stamps allows you to expand your recipient list to include additional contacts that may not have made the cut when sending more expensive physical cards.
Additionally, with many clients, employees, and partners still working remotely as a result of the COVID-19 pandemic, taking your efforts virtual ensures every person is able to see your card even if they're not in the office on a daily basis or if they have recently changed positions. All you need is a valid email address to deliver your company's bundle of holiday cheer straight to their inbox!
TIP: Whether digital or print, it's a good idea to keep a running list of holiday card recipients on a Google Doc throughout the year. This document can be updated regularly as you receive updated contact information — and saves you a lot of time so that you don't have to scramble to pull things together closer to the holiday season!
2. Make It Personal
If time and space permit, including a personal inside message inside your holiday card can be an even better relationship-building tactic. Consider asking your company's CEO to write a message thanking recipients for being a part of the organization's success and wishing them a happy New Year. This kind of personalization helps to make your card feel more special and less like a card that was ordered in bulk from an online retailer.
If your CEO or someone from your company's leadership team isn't available, there are still plenty of options to personalize your card. For example, if your organization is one that serves clients, you could consider including client testimonials along with holiday wishes. Just remember to keep them short — and work a little holiday spirit into them too, if you can!
TIP: If you're sending a digital card, many sites now allow you to upload your own personalized message for no additional charge. Some of our favorite sites to check out include Paperless Post, Greenvelope, and Smilebox.
3. Focus on Visuals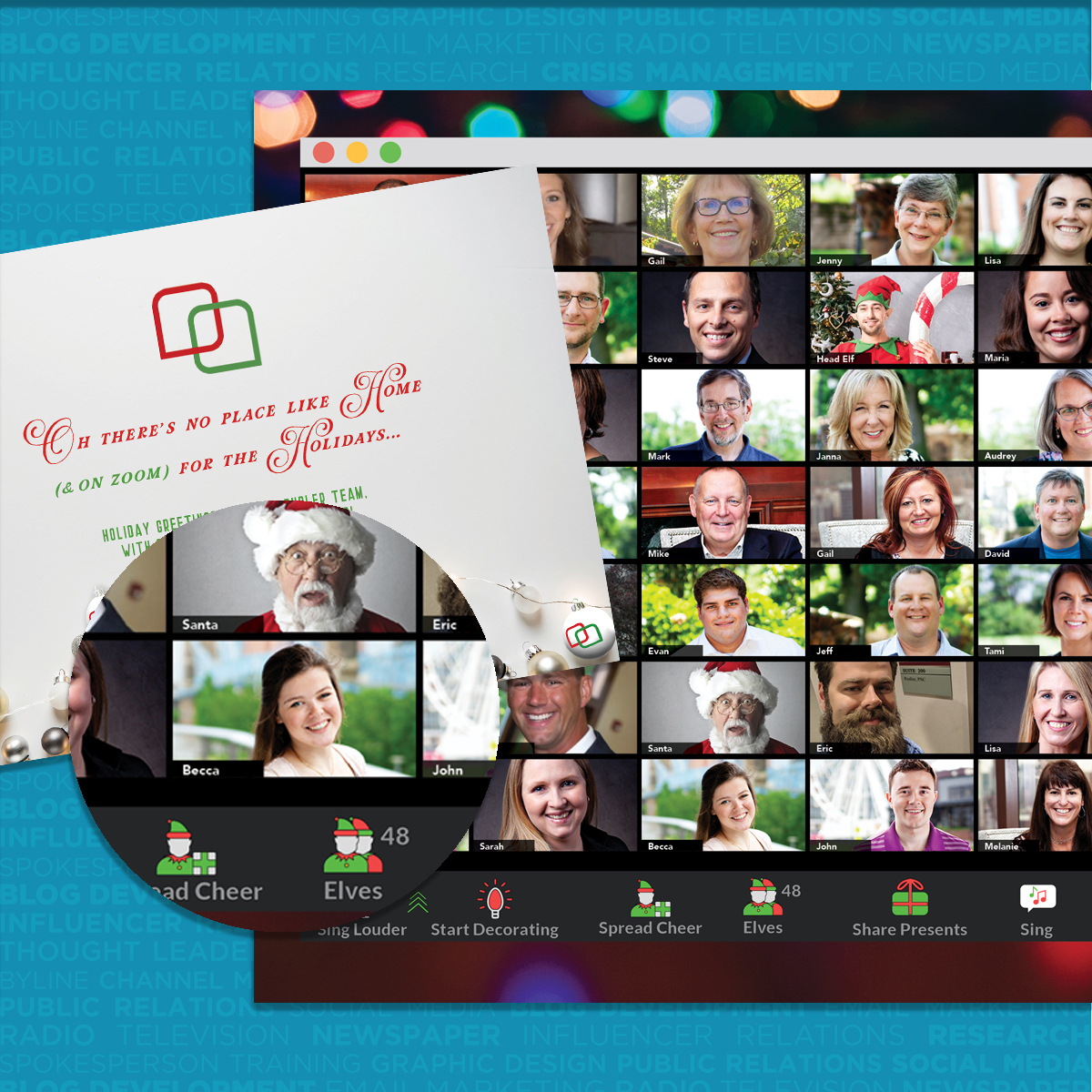 A final important consideration when designing your holiday card is to carefully think through what people expect from your company. For example, if your company maintains a super-professional presence with clients and on social media, your cards should reflect the same attitude. On the other hand, if your organization's quirky work culture and creativity are regularly front and center in other communications, go ahead and embrace some out-of-the-box ideas as part of your holiday card's aesthetic.
For example, in 2020 Scooter Media client Rudler, PSC was faced with the challenge of sending out a company holiday card that included a group shot of all employees. While this normally would not be an issue, the team was still social distancing as a result of the COVID-19 pandemic, so taking a group photo wasn't an option. With these challenges in mind, our team designed a holiday card for the company that resembled a Zoom call, utilizing each team member's headshots and working in quirky nods of holiday spirit throughout. Even Santa made an appearance as part of the faux Zoom call!
TIP: If you're struggling with where to start on the visuals for your card, brainstorm a few fun holidays sayings or favorite holiday songs and consider if there are any fun ways to play off of those. For example, during the COVID-19 pandemic, Scooter Media's holiday card opted for a snowy visual along with the copy "Since we've no place to go … let it snow, let it snow, let it snow."
Ultimately, like the star at the top of the tree, a company holiday card is the perfect way to wrap up a great year for your organization. Planning your ideas early and allowing for ample time to see those ideas come to life will make sure you stay holly jolly and beat the holiday rush!
Searching for more design tips? Sleigh into a few of our other great blogs, including "6 Things Your Graphic Designer Needs Before Starting Your Project" and "5 Design Tips to Make Your Social Media Graphics Shine."