10 Surprising Social Media Stats from the Past Decade
Since Scooter Media's founding in 2012, the social media landscape has changed dramatically. MySpace was already on the way out in 2012 and most of us were surfing the web on desktops, not our phones. You may look back and fondly remember the days of Jake Paul on Vine and Pandora radio, or simpler times on Twitter and "Pieces of Flair" on Facebook.
In fact, back in 2012, Nielsen's Social Media Report was simply titled "Social Media Comes of Age." Little did we know how much it would continue to change and grow, impacting everything from how we work to how we communicate and beyond.
Here are 10 surprising social media stats from the past decade that show just how much the landscape has changed since 2012:
1. The Top 10 Looks Totally Different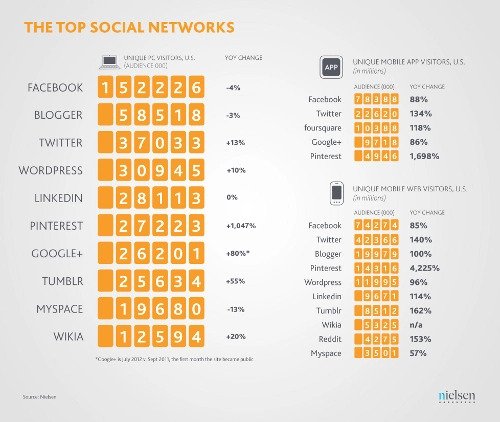 The 2012 Nielsen Social Media Report ranked the top 10 social media platforms (and take a deep breath, because there are some serious throwbacks here) as follows: Facebook, Blogger, Twitter, WordPress, LinkedIn, Pinterest, Google+, Tumblr, MySpace, and Wikia.
In that same report, the top five most-used apps of 2012 were Facebook, Twitter, Foursquare, Google+, and Pinterest.
Pew Research Center now ranks the top 10 social media platforms as: YouTube, Facebook, Instagram, Pinterest, LinkedIn, Snapchat, Twitter, WhatsApp, TikTok, and Reddit.
Isn't it interesting to consider how several social media platforms that once dominated have now become defunct? (We're looking at you, Google+!)
2. "New Phone, Who This?"
In 2012, only 39 percent of Americans owned a smartphone. According to Pew Research Center, that number is now a staggering 85 percent.
3. Mobile Usage Makes Waves
Now that smartphones are always in our pockets, the amount of time we're spending on social media has skyrocketed. In 2012, 53% of all American adults used at least one social media platform; the most recent research by Pew found that 72% of the general public now uses some type of social media, and the vast majority are accessing those platforms via their mobile device.
4. YouTube and Facebook Break 1 Billion
Less than a year after Scooter Media got its start, YouTube and Facebook reached a major social media milestone when they crossed the threshold of more than 1 billion active users per month. By comparison, today Facebook has 2.74 billion monthly users and YouTube gets 14.3 billion visits per month.
5. "Gangnam Style" Breaks YouTube
Ready to feel old? It was 10 years ago that "Gangnam Style" by South Korean rapper PSY became the first video to reach 1 billion views on YouTube.
1 billion might seem like a lot, but it pales in comparison to the current record holder, "Baby Shark Dance," which has boogied its way to more than 10 billion views. (That means it's been viewed nearly 1.3 times by every person on Earth, based on recent population estimates.)
Take a walk down memory lane and relive more moments that "broke the internet" in our "Top 10 Viral Moments That Defined a Decade" blog post.
6. Tumblr Triumphs, then Takes a Tumble
Tumblr was the place to be for the chronically online in the 2010s, and at the height of its popularity, it was sold to Yahoo for more than $1 billion. However, a number of missteps by the platform caused that popularity to dwindle, and by 2019 Tumblr was losing users at a rate of as much as 20% per year.
Tumblr isn't the only blogging site to take a hit — WordPress and Blogger have dropped out of the most-used social media sites in the past decade, too.
7. Spotify Takes the Spotlight from Pandora
Remember using Pandora Radio on your iPod touch when your iTunes library wasn't good enough? (We know it isn't technically social media, but think our favorite music streaming platforms deserve a shout-out, too!)
Over the past decade, how you listen to music has likely changed. Pandora peaked with 81.5 million monthly active listeners in 2014 and has been taking losses since. Spotify is king now, with 406 million monthly active users at the end of 2021.
8. Vine's Trying Times
Just like the video clips it featured, Vine's reign on the social media landscape was short but sweet. It took over the internet in 2012, and at one point had over 200 million active monthly users before being shut down by parent company Twitter in 2016.
TikTok, a social newcomer that has seized on the kind of short attention spans that allowed Vine to thrive, currently has 1 billion active users. (P.S. If you're new to the world of TikTok, don't be intimidated — check out our guide to the basics.)
9. Snapchat Struggled, then Staged a Comeback
Snaps became the new text messages when Snapchat launched in 2011, but in 2019, Snapchat lost millions of users due to a wildly unpopular redesign and many other platforms copying Snapchat's "Story" feature. Despite the struggle, however, Snapchat has found a core audience that remains loyal, staying strong with 319 million daily users in 2022. (Although we still wish we had gotten our hands on those Snapchat Lenses!)
10. Pinterest Piques Interest
Pinterest was heralded as "2012's Hottest Website" by CNN and "The Next Social Media Giant" by Forbes. The platform saw exponential growth in 2011 and 2012, hitting 10.4 million registered users in early 2012. While the platform does not attract quite as wide of an audience these days, Pinterest has done a great job of cultivating a dedicated following of creatives who turn to the platform for inspiration. (431 million, to be more specific.)
While many of these social media stats may seem surprising now, there's no telling where social media will be in another decade from now. Which platforms will continue to grow a following, and which will falter? Stay tuned to the Scooter Media blog for all the social media updates you need now and in the future.
Are there any social media stats that surprised you? Let us know by tweeting @ScooterMedia!
Don't miss our other blog posts celebrating Scooter Media's 10th anniversary, including "10 Memories from 10 Years of Scooter Media." For more surprising social media stats, tips, and tricks, check out the "3 Social Media Trends You Need to Know for 2022."