3 Social Media Trends You Need to Know for 2022
Every year, Christmas comes a little early for social media marketers when Hootsuite releases its annual social trends report, which takes a look back at the year in social media while also providing a roadmap for where social media is heading in the future. The report is generated based on an annual survey of more than 18,000 marketers, making it a veritable treasure trove of learning for brands and businesses of all sizes.
Don't have time to read the full report? The social media experts at Scooter Media have you covered. Here are three of the most important trends that will be impacting the social media universe in 2022 and beyond:
Trend #1: A Shakeup in Social Advertising
Most social media marketers tend to spend a majority of their social advertising budget on Facebook and Instagram, as both platforms boast an incredible number of users and a proven ability to drive real action. While these platforms are still viewed as the most effective overall, the degree of effectiveness for social advertising on Facebook and Instagram declined quite significantly from 2020 to 2021:
In contrast, the effectiveness of social advertising on more "niche" social platforms such as Twitter, Snapchat, and Pinterest showed dramatic increases — note the 700% percent change on TikTok!
While Facebook and Instagram will always be an important part of the social media marketing mix, the key takeaway here is that savvy social media marketers should also consider spending a portion of their social advertising budget on smaller platforms where your brand's message may be able to stand out more.
Additionally, because social ads on platforms like TikTok and Pinterest tend to feel more organic and less obtrusive, there is a better chance for your message to connect with users in a way that mirrors the experience they are looking for on the platform.
(P.S. If you're feeling intimidated by diving into the world of TikTok, you're not alone! Check out our handy guide to all the basics you need to know.)
Trend #2: Social Commerce Soars to New Heights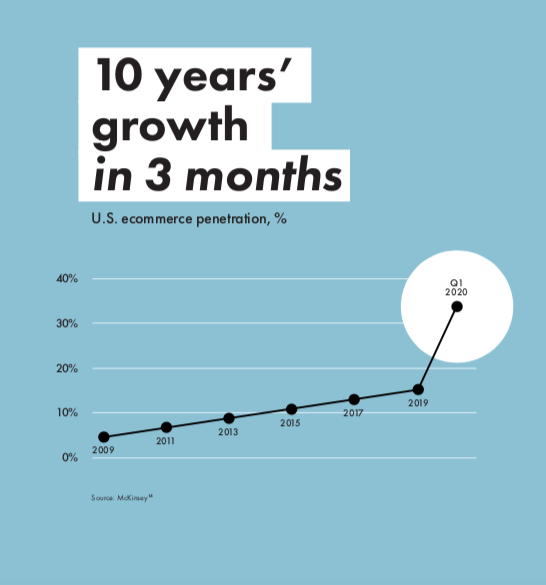 While there's no denying that the COVID-19 pandemic has had a profound impact on nearly every industry, one of the most important for social media marketers to be aware of is the rapid growth in e-commerce and social selling.
E-commerce grew explosively as consumers turned online to order products for basic needs, surging more in the first 90 days of the pandemic than it had in the entire decade before.
This trend shows no signs of slowing down, so social media marketers for brands with goods and services to sell have a lot of opportunities to use social storefronts on platforms like Facebook, Instagram, and Pinterest to help audiences find their products and purchase them directly via social.
Not sure where to get started with taking your storefront into cyberspace? Here are 16 great examples of social selling done right to help you feel inspired.
Trend #3: Customer Service Takes Center Stage
As almost any social media marketer can tell you, the COVID-19 pandemic also brought customer service to the forefront of the social media landscape, as audiences turned to a brand's social channels to learn more and ask questions about updated hours, policies, and procedures.
Given that global shipping delays and labor shortages continue to impact industries of all kinds, it's more important than ever for social media marketers to have a plan in place and prepare for being on the front lines of everything from common customer complaints to crisis situations. Going forward, it will be imperative for social media pros to work with the customer service teams in their organizations to ensure proper customer care on social media — or risk losing those customers to other brands that are more responsive.
If you're not sure how to begin implementing this trend, check out our "5 Tips for Delivering Outstanding Customer Service on Facebook."
Ultimately, these are just a few of the many trends that are sure to shape the social media landscape in 2022 and beyond. By staying on top of these trends, social media pros can take a more strategic approach to their work and create memorable campaigns that will resonate with audiences and drive lasting action for their brand.
Want more social media strategy tips? Start with our primer on "Social Media + SEO: 4 Things to Know," then discover "4 Strategies for Building a Following on Social Media."