3 Social Listening Tools for Monitoring Conversations About Your Brand
No matter what industry your organization or business is in, there's a good chance that people are talking about your brand somewhere on social media. As a PR pro, it's vitally important to stay up-to-date on these conversations — both so that you can understand how people are perceiving your brand and so that you can respond when necessary.
The key to keeping up with these conversations is social listening. Social listening is the process of monitoring social media channels for mentions of your brand, products, competitors, and more. Social listening gives your organization an opportunity to track, analyze, and respond to conversations on social media in real-time.
To help you get started, we've compiled a list of our favorite tools that provide top-notch social listening abilities:
Talkwalker
Talkwalker is a powerful tool that provides in-the-moment insights into what's happening with your brand on all social channels and online media, allowing you to quickly identify issues and complaints before a crisis hits. This platform also allows you to measure the impact of your social campaigns, including qualitative info like sentiment and brand health.
Though the platform is paid, Talkwalker also offers a full social listening training suite for your team, taking the guesswork out of the process and ensuring all team members are utilizing best practices. Other useful features of Talkwalker include easy-to-use dashboards and an influencer marketing hub that prove the ROI of your influencer efforts.
Mention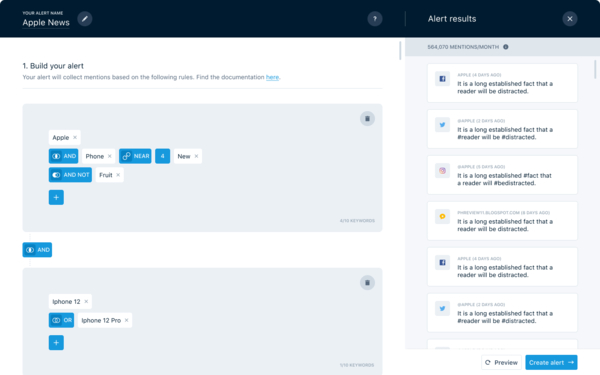 Mention is another great social listening tool for your business. It monitors key terms across a variety of sources including press articles, review sites, forums, and blogs. Mention also helps you discover trends, analyze data, and even lets you schedule/publish social media posts directly from the platform. 
While Mention is a paid service, there are a variety of plans available depending on the size and needs of your organization. The plan you choose affects the number of alerts and mentions you receive, as well as the number of social accounts and users allowed per account.
Google Alerts
Finally, Google Alerts is a free tool that notifies you via email when specific keywords you establish are mentioned on websites, blogs, and searches within the Google network. Google Alerts are easy to use and highly customizable, allowing you to set the frequency and type of alerts, which kind of sites to receive alerts from, and more to ensure you're only receiving alerts with information you deem necessary.
No matter which of these platforms you decide to use, social listening is a key element of any PR strategy. Trying out one of these tools — or even all three — will allow you to proactively face potential crises and give you an overarching view of how audiences are perceiving your brand.
By Mya Priester, Scooter Media intern
Looking for more tips? Check out "Six Tips for Making the Most Out of Your PR Placement" and "The State of Social Media in 2021."