The State of Social Media in 2021
My fellow blog readers,
Just as the President will soon do in his annual State of the Union address, we are gathered here today to discuss the state of social media in 2021. We'll take a look at the social media landscape — including up-to-date demographics for each platform, as well as some of the latest updates and features you need to know — in order to help you evaluate your social media marketing strategy and make sure your brand's flag is planted right where it needs to be.
Let's get started:
Facebook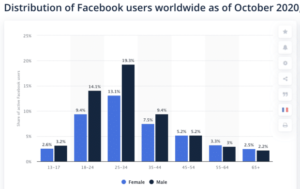 Despite the numerous controversies currently facing the platform, Facebook is still the most-used social media platform in the world, with over 1.8 billion daily users and approximately 2.7 billion monthly active users. However, as the demographics of the platform have continued to shift, there are a few things that might surprise you:
Senior citizens are the fastest-growing demographic on the site; users 55 and older currently compromise 10% of Facebook's advertising audience.
More men use Facebook than women; 56% of Facebook users are male, and men between 25-34 are the largest demographic on the platform as a whole.
Facebook is the most popular network for low-income households (for example, while 69% of low-income households access Facebook, the number dramatically declines to 35% for Instagram).
In terms of where Facebook is headed, the most important change to know about is the platform's response to Apple's next iOS 14 update. If your brand or business uses Facebook advertising, it's important to know how this upcoming update will impact your social advertising efforts. Here's a little more info on what's expected in the update, as well as how Facebook is handling the change.
Instagram
There's no denying that Instagram has evolved into one of the most important social media platforms, with more than 1.2 billion unique visitors each month. As of October 2020, 25 to 34-year-olds remain the largest audience on Instagram, with the audience split almost evenly by gender (51% female to 49% male). It's also worth noting that 9 in 10 users on the platform follow a brand or business, and more than 90 million people tap on at least one product advertised on Instagram each month.
What's on the horizon for Instagram in 2021? After building a fairly robust library of features for Stories in 2020 (including tools that made it easier to donate to nonprofits and buy gift cards for local businesses), this year promises to bring more ways for brands to capitalize on Instagram Reels, and the expansion of the "Guides" feature which allows users to create article-like posts.
YouTube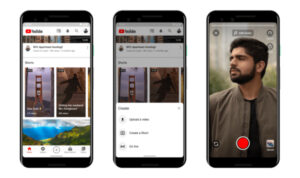 Coming in as the number two most-used social platform worldwide is YouTube. With 2 billion users globally and 126 million monthly viewers, YouTube should be on the radar for brands of all types and sizes. YouTube also has an incredible reach that cannot be ignored, as 74% of all US male and female internet users watch YouTube, checking out an average of nine videos per day.
The most important feature that's coming to YouTube in 2021 is the introduction of "Shorts," which are brief videos (approximately 15 seconds) meant to compete with competitors like Instagram Reels and TikTok. Following a test rollout in India in 2020, Shorts are expected to be introduced to the rest of the world in early 2021.
TikTok
Exploding in popularity during the COVID-19 pandemic, TikTok has established quite a following of nearly 700 million users after launching just 4 years ago. Now, nearly 15 million users scroll through their "For You" page every single day, looking for the newest viral video sensation. However, did you know that 53% of TikTok's global audience is male? (That's a lot of guys learning the Renegade!)
While TikTok's sale is still pending under the new US administration and there are still questions surrounding how brands can best monetize their presence on the platform, the highly buzzed-about platform of the moment does not seem to be slowing down any time soon.
Snapchat
Globally, Snapchat has 433 million users, with over half (249 million) of those users accessing the platform every day. Snapchat skews female (59% female vs. 41% male) and, as you might expect, younger; in fact, 82% of the platform's users are under 34 years old.
If your brand's target audience skews younger, Snapchat may be worth integrating into your social media marketing mix. Not sure how to get started? Our friends at Hootsuite have some great tips.
LinkedIn
Often thought of as the buttoned-up older brother of Facebook, LinkedIn is still the pinnacle of professional social networking. Of its 722 million worldwide users, 40 million people conduct job searches weekly. Additionally, LinkedIn is another platform that has more male users (57%), and its largest audience segment (60%) is millennials aged 25-34.
After seeing a significant surge in both content creation and conversations throughout 2020, LinkedIn has recently added several new features designed to keep the dialogue going. Try experimenting with polls and events to engage with your brand's followers in new ways, and be on the lookout for LinkedIn Stories, which will continue rolling out in 2021.
Twitter
Although it is not quite the social media powerhouse it once was, Twitter is still a popular platform for specific audiences on social media. As of 2021, it currently boasts 187 million daily active users, with most users tweeting just twice per month. The platform also skews strongly female, accounting for nearly 70% of the audience.
As many platforms continue to converge by offering similar features, Twitter currently finds itself at a crossroads in terms of the role it plays in the larger social media universe. The company recently revealed its intentions to experiment with new delivery methods, including a subscription-based model and an e-newsletter feature; however, only time will tell if these new features are enough to keep the platform thriving.
Whether your brand is on all of these social media platforms or just a few, we hope that this "lay of the land" helps you make more informed decisions about how to strategically use them now and in the future.
Looking for more social media tips? Don't miss our "Guide to Social Media Image Sizes and Specifications (Updated for 2021)," as well as our primer on "How to Write Captivating Instagram Captions."