5 Ways to Rethink Your Swag Strategy in 2021
We all remember when PR professionals would pack up their cars with props and product samples, intent on dropping them off at news and radio stations with the goal of creating buzz for their brand.
However, due to the COVID-19 pandemic, media drops to TV and radio stations have largely become a thing of the past. We are living in a new era, one in which PR and marketing professionals must think creatively in order to create COVID-friendly promotions.
Here are five ideas to switch up your swag strategy and help create buzz for your brand:
1. People Love Practical Swag
Creating practical swag that your desired recipient will actually use is a great way to ensure your brand is seen. Enter the tastefully branded mask.
The need for masks presents a great opportunity to create something both branded and useful by producing a mask with your brand's logo (or other imagery). We suggest investing in good quality materials with an eye-catching design if your budget allows. Check out a few examples to get inspired:
Initially designed just for staff members, The Camden Watch Company eventually made their branded face masks available to buy in-store. The design itself has a very subtle branding element, making them an appealing accessory for customers and employees alike.
While these branded Gold Star buffs are not for sale to the public, they are a fantastic way for employees and fans of the brand to rep their passion for the Cincinnati-style chili chain. The design is subtle enough to wear while you are out and about, and the 3-way design is easily recognizable by any Cincinnatian.
There's a good chance you have seen a green Humana mask over the past several months. The brand is proactive about distributing them, and because of their design and quality, many who get their hands on these masks choose to wear them. The recognizable color and the understated logo stand out, making them a great branded piece of swag.
2. Opt for Digital Assets Instead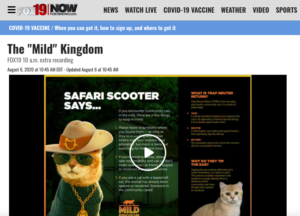 When it comes to TV drops, it can be difficult to keep track of which reporters are in-studio and which are reporting from home; therefore, you may want to consider investing in digital assets instead of media drops.
With TV stations decreasing the number of in-person and in-studio interviews, our team has found that press releases offering quality visuals are more likely to be picked up by the media. Whether you are promoting a limited-time food offer or a virtual fundraiser, stations are hungry for exciting visuals that will look good on-air.
We suggest collecting 5-10 digital assets (including a mix of photos or videos) and adding them to a folder on Dropbox or Google Drive. That way, the station contact can pick and choose which assets they would like to use.
For a great example of what these digital assets can look like, check out Scooter Media client The Joanie Bernard Foundation and its Mild Kingdom campaign. In this morning show appearance, the station utilized several videos, photos, and PDFs throughout the segment to reinforce the campaign's primary and most important messaging.
3. Save a Trip — Send a Promo Code
Services like UberEats and DoorDash have taken advantage of the increase in online ordering and now allow restaurants to create their own promotion codes. Using these features, it's now easier than ever to give the gift of a free meal — no time-consuming media drops needed!
Imagine receiving an email with this subject line: "Cincinnati restaurant now offers meatless, carb-less and delicious burgers – don't believe us? Try one for free through DoorDash." Wouldn't you be enticed to click through? In addition to a promo code, all you need is an email address and a compelling pitch to land a few great placements.
4. Create a Virtual "Press Preview Event"
Pre-opening events serve three essential functions: they are a dress rehearsal for your team, they provide an exclusive first look to the media and key players in your community, and they build hype around your debut.
Because events are severely limited due to COVID-19 restrictions, however, it's a smart idea to take your pre-opening events virtual.
Programs such as Ricoh360 and Marzipano allow you to create your own virtual walkthrough of a space, but if you're on a budget, virtual previews could be as simple as adding high-quality images and descriptions to a landing page on your website.
Need some inspiration? Check out Scooter Media client The Carnegie's virtual gallery tour produced by Cinci360.
5. Send "Virtual Swag"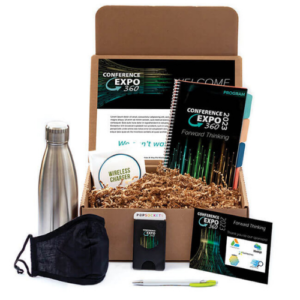 If you have decided to take your event online, distributing "virtual swag" can be a great way to capture the same energy of an in-person event. Here are a few examples that stand out:
This year, the Northern Kentucky Chamber of Commerce Women's Initiative steered away from its annual 900+ in-person breakfast event and went virtual. Even though they technically did away with the breakfast, event organizers sent recipe cards to participants, helping attendees to feel more connected to the event.
Canva now offers the ability to create Zoom virtual background templates. Create a few fun backgrounds that can be downloaded and used by attendees of your virtual event to help give things a more cohesive feel. (Just don't forget to include an instruction sheet on how to use them!)
Finally, companies like OmniPress and Caroo now offer creative swag bag mailing services. These kits include branded swag (including masks) and printed event materials that can be delivered to guests of your online event. Best of all, the companies take care of the shipping for you! Need to create and send out your own swag mailing kits? The site Sticker Mule is a great resource for branded logo stickers or  packaging tape to use on the box, and fun items like magnets, buttons, branded coasters and even custom keychains.
While the days of old-school media drops may be over, strategically using swag is still an essential part of building excitement and hype for your brand. Give a few of these ideas a try and they're sure to get people buzzing!
If your PR campaigns could use some more pizazz, the experts at Scooter Media are here to help! Start off by checking out our primer on how to complete good research, then browse through our blog archive for tips on creating memorable social media posts, navigating virtual interviews, and much more!