2023 Social Media Trends to Put into Practice
Is your brand taking advantage of the latest social media trends to reach your organization's goals in 2023?
As you continue refining your strategy and implementing new ways to innovate on social this year, here are three of the most important areas to focus on, as shared in Hootsuite's "2023 Social Media Trends: Unboxing the Future of Social" webinar:
Trend #1: Cracking the Cross-Posting Code
From the rise of Instagram Reels to the flameout of Twitter's "Fleets," it's no secret that once a feature takes off on social media, many competitors attempt to copy it — which can leave social media marketers in the lurch.
However, this continued convergence neglects the fact that most people are on multiple platforms and use each platform for specific purposes. Savvy social media marketers, then, should begin to think of how they can reach audiences with content specifically tailored to a social platform, instead of cross-posting the same message across all channels.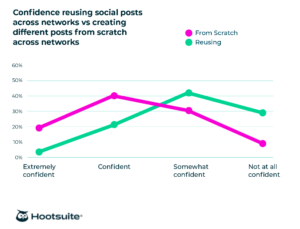 Not sure where to begin? Start from scratch. Conduct an audit to see which platforms your audience is most engaged on, and focus on creating compelling content for those platforms. Spend time searching for inspiration and finding what is working for others on the platform, then apply those insights to your own content strategy.
Trend #2: Building Trust in Social Commerce
Social commerce hit a spike during the peak of the pandemic, and small and new businesses were thriving.
Yet as things have returned to normal, audiences have turned away from social commerce, with many having a difficult time trusting social networks and vendors to keep their purchases and information secure.
If your brand or business relies on social media to sell goods and services, here are a few ways that you can build trust and drive consumer loyalty via social commerce:
offer easy returns and refunds;
display ratings and reviews from other buyers; and
keep buyers notified about the status of their purchases throughout the customer journey.
Trend #3: Increasing the Quality of Social Customer Service
Social customer service has never been as important as it is today, and consumers expect speedy replies and easy solutions from brands across all industries. For large and small businesses alike, it can be a challenge to stay on top of all of the community management for your brand, business, or clients. To make your day-to-day easier and more manageable, consider chatbots — an easy solution to monitor social platforms and engage with your audience while you tackle other tasks.
Furthermore, determining who will provide customer service in the digital and social space will be a priority in 2023. According to Hootsuite, customer service is most often handled exclusively by the marketing team, meaning it's more important than ever for social media marketers to brush up on their customer service skills.
TIP: Not sure where to get started when it comes to delivering exceptional customer experiences on social? Check out our "5 Tips for Delivering Outstanding Customer Service on Facebook."
Which social media trends will you be putting into practice in 2023? Let us know by tweeting @ScooterMedia! Also be sure to check out: