Tips for Using Trending Features on TikTok
Whether you're a social media marketer or just a casual user, there is no denying the impact that TikTok has had on the social media universe. It is now the sixth most popular social media platform, with an average of eight new users joining every single second. With that kind of reach, it's no surprise that many organizations are turning to TikTok to reach both current and new audiences, whether you're marketing for a small business or a global brand.
No matter what kind of organization you're a part of, one of the best ways to ensure your TikTok content is seen is to create videos that are tied to trending features such as topics, hashtags, filters, and sounds. For example, trending sounds are popular audio tracks that have "gone viral" within the app; because these sounds are already familiar to audiences, they offer a fun and creative way for your brand to take part in the conversation and get noticed.
Here are a few best practices for leveraging trending features on TikTok:
Do Your Research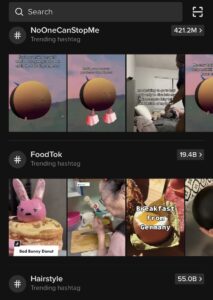 The best way to use a trending sound is to find ones that are currently popular. Using old trends may not generate much engagement or land your video on the highly visible "For You" page. For instance, using a filter that was trending during quarantine in 2020 won't feel fresh compared to those trending now. Additionally, TikTok's algorithm pushes trending sounds and rewards videos containing them with a higher reach, which is an even greater incentive to utilize them for your brand.
To find trending sounds, hashtags, filters, and more, the "Discover" page is a great place to start. Spend time researching the sound, hashtag, or filter to ensure it is appropriate for your brand, then save the feature for use in future videos. Also, don't forget to check back on the page several times a week to get a jumpstart on the latest trends!
Don't Wait to Be a Trendsetter
Being a trendsetter and risk-taker is also an important aspect of using trending features on TikTok. If you're eyeing a sound that you think will become popular, for example, it's a great idea to get in front of the trend and post it as early as possible, instead of waiting around until it's already taken off.
Remember: TikTok is a creative and fun platform, and content is meant to be a little edgier and authentic compared to other social channels. Pushing the boundaries will set your brand apart from its competitors.
For instance, Zoe and Storm run the TikTok page for the Fowlerville Library in Fowlerville, Michigan. They started a series known as "One-Star Review Guess Who," in which viewers listen to hints and guess the book being described. The simple concept exploded in popularity, attracting thousands of users leaving comments with their best guesses and then returning to future videos to learn whether they were correct.
Be In The Moment
Trends are unpredictable and often last as short as a few days, making it difficult to prepare a content calendar weeks in advance like you might for other platforms. Instead of planning TikTok content by the month, pay attention to what is popular daily and incorporate those trending features into videos that tell your organization's story.
For example, for one of Scooter Media's TikTok videos, we utilized a trending sound to highlight a media event. Our client Rhinegeist launched a new line of craft beverages called RGBevs, and we paired footage from their media preview event with one of the popular sounds that was trending that week.
Events, conferences, and other industry happenings are great opportunities to hop on a trend and reach your key audience while still staying on brand — just make sure you've always got TikTok at the ready when these opportunities arise!
Not Every Trend Will Be Worthwhile
At any given time, there are hundreds of trending features on TikTok taking off, slowing down, or remaining popular. However, just because a trend is popular doesn't mean it needs to be featured on your page. Which trends make the most sense for your brand? Determining what your key audiences are searching for — and what trends they're following — will help you select the best ones for you to participate in.
Scrolling through your "For You" page every day is also a great way to get a deeper understanding of your industry in general. In the video below, our agency utilized a well-known sound and connected it back to the PR industry, making it relatable to other professionals.
As TikTok continues to explode in popularity, there's no denying that there will be thousands of trends that allow users to express their creativity and come together as a community. Now the only question is: how will your brand use them?
Looking for more TikTok strategies? Check out "4 Tips for Creating More Engaging TikToks," then discover "4 Creative Ways to Repurpose Content."