4 Creative Ways to Repurpose Content
As any content marketing or social media pro can attest, coming up with fresh ideas for content isn't always easy. When you find yourself in a creative rut — or strapped for time — there are still plenty of ways to create new and engaging content for your audience without researching and writing a completely new blog.
Reusing your existing (aka evergreen) content is a great way to save time, engage your audience, and flex your creativity.
Here are four fun and creative ways to repurpose content:
What Is Evergreen Content?
Much like the type of tree it's named after, evergreen content doesn't change with seasons or trends. Essentially, evergreen content that isn't linked to a certain date, holiday, or trending topic; it can be read any day of the year to provide valuable insight to your readers.
For example, some of Scooter Media's evergreen content includes:
Non-evergreen content would include blogs such as: "How to Develop Your Nonprofit's #GivingTuesday Campaign," "3 Guidelines for Promoting Your Brand on April Fools' Day," and "3 Social Media Marketing Lessons from Our Favorite Spooky Films."
How to Repurpose Content
Now that you know what type of content to look for, go through your archives and create a list of evergreen content. Think about which topics are going to appeal to your audience no matter what time of the year it is (and make sure any blogs you include in the list are up-to-date!).
Now you can start thinking about how to repurpose that content.
1. Infographic
One quick way to repurpose content is to turn an existing blog post into an infographic. If your blog post contains subheadings, use those as attention grabbers to pull out bits of content and key takeaways from the post. Infographics can also be a great way to highlight any kind of statistics or numbers that may be featured in the post.
If graphic design isn't your gig, you can also use tools like Canva or Infogram to make designing infographics easier than ever.
2. Instagram and Facebook Stories
Is your blog about solving a problem or sharing a helpful tip? If so, it could be a great fit for Instagram or Facebook Stories!
Stories offer a fun opportunity to engage with your audience in a unique and creative way, allowing you to ask questions, create polls, and invite fans to share their thoughts on the content you're featuring. (Just make sure to actually engage with anyone who takes the time to respond!)
Canva has plenty of helpful story-creation templates, or you can make slides natively on the Instagram app.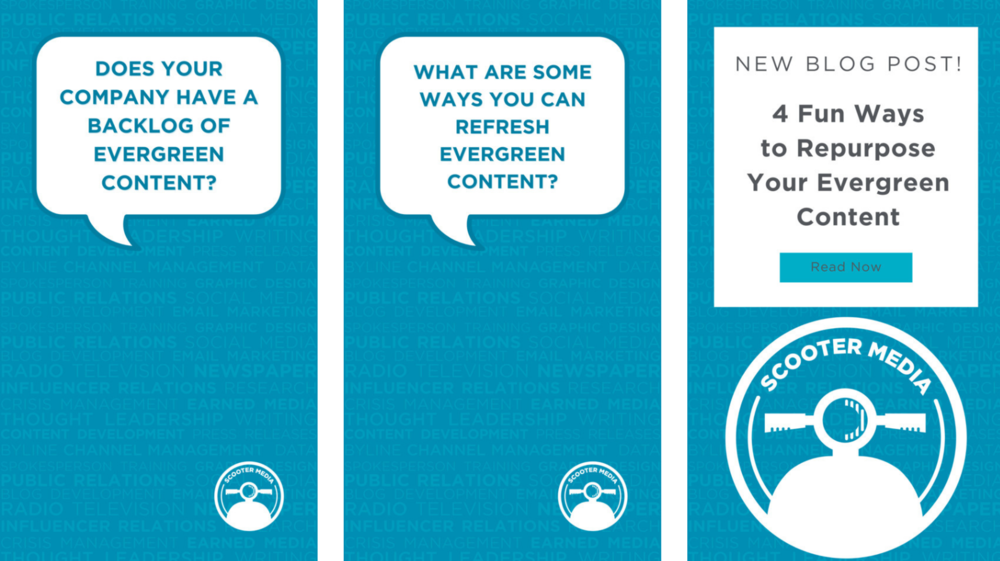 3. TikTok and Instagram Reels
If you have the time and the ability to turn your content into a quick video, try it out! It can be as simple as pulling one helpful tip or fact out of an existing blog and directing people back to your website. You can also consider finding a trending sound or format that can tie your old content into a current trend.
Creating video content — especially engaging TikToks — is no easy feat, so this may not be the best solution for all brands. However, with 78.7 million monthly users in the U.S., it's worth at least considering TikTok as a way to help your content reach new audiences.
4. Publish Articles on LinkedIn
Give your blog content a second life by posting them as articles on LinkedIn. LinkedIn's publishing feature allows you to share your long-form content directly on your page so that users can access it natively on the platform, instead of clicking through to an external website.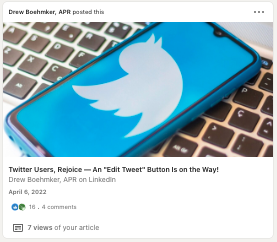 Not sure how to get started with LinkedIn publishing? We've got you covered — check out our complete guide here.
Consider giving one or all of these tips a try the next time you need to fill in some gaps on your content calendar, or to give yourself some breathing room between several pieces of long-form content. Either way, repurposing content will make sure you always have plenty to share with audiences all year long!
Can't get enough content marketing ideas? Check out our guide to "Effective Blogging for Small Businesses," then discover some "Tips to Ramp Up Your Inbound Marketing Strategy."