5 Reasons to Use the LinkedIn Publishing Feature
Long-form content, such as blog posts and articles, can be a great way to engage your audiences in deeper conversations and stories about your brand. However, in the fast-paced world of social media, this long-form content doesn't always have a place to get the attention it deserves. That's where LinkedIn Publishing comes into play!
LinkedIn's publishing feature allows you to write articles and share them directly on your page. These articles are often similar to blog posts, but with the added benefit that LinkedIn users can read the posts directly on the platform itself instead of going to a third-party website to consume the content. Given the estimated 690 million members that use LinkedIn, the publishing feature is an excellent opportunity for you to share industry insights, become a thought leader, and repurpose old content.
In addition to those benefits, here are five compelling reasons to use LinkedIn Publishing:
1. Your connections are notified each time you publish a post on LinkedIn.
Every time you click "Publish" on a new article, the followers you have cultivated on LinkedIn will receive a notification that you have new content to check out. This gives you a prime opportunity to share your knowledge on a topic and tell your audience about your brand.
Best of all, if your article is especially engaging, it can also reach your 2nd and 3rd-level connections. Many of your 1st-level connections will be seeing your posts, but as soon as they begin to like, comment, and share your content, it will be seen beyond your primary network.
2. Publishing valuable content on LinkedIn positions you as an authority on your topic.
Posting regular, valuable content creates trust with your connections and helps you to be seen as an expert on your topic. Unlike regular posts, when you write LinkedIn articles, you are writing as a professional and creating content that will (hopefully) help those who read it in some way. Therefore, by producing high-quality LinkedIn articles that inform and explain using your expert knowledge, users are able to trust you.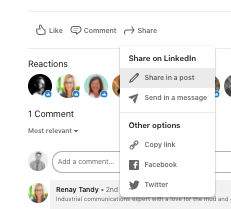 3. LinkedIn articles are easy to share.
Another benefit of publishing content on LinkedIn is that articles can be easily shared — oftentimes, even by people in your industry who you may not know! Try searching for a few keywords relevant to your industry and check out the hundreds of relevant articles that are likely to appear. This is also why it's important to take extra care in creating a compelling article; the more helpful people find your article, the more likely they are to share it!
4. Publishing will help you attract new audiences.
When you have a post that is widely shared, you are not only bringing your thought leadership to a wider audience but also helping to grow your professional following. LinkedIn users reading your content will see a "Follow" button next to your name at the top of your article, which will gradually help you to build an even wider audience of followers and connections who are likely to engage with your articles whenever you post.
5. Publishing is a great way to repurpose content.
If you have a company blog — or even a personal blog where you're often sharing insights about your industry — LinkedIn Publishing can be a great way to breathe new life into pieces of content you've already created. Consider taking an article you've previously written and tying it into a newsworthy hook that's currently trending in your industry, or give the post a minor facelift by updating the cover photo and title when you publish it via LinkedIn. Either way, you're guaranteed to get new eyeballs on the content you worked so hard to create!
Tips to keep in mind when posting content on LinkedIn Publishing:
Write in a conversational tone.

Be specific, clear, and concise.

Write on topics that are current and timely to increase engagement.

Avoid being self-promotional, aim to provide high value instead.

Ensure that your post has a custom cover image and is laid out in a reader-friendly manner.
Overall, it's important to remember that LinkedIn is about relationship-building first and foremost — and one of the best ways to build a relationship with your connections is by providing value, such as creating articles that will help your audience complete a task or understand a topic. No matter what industry you're in, the possibilities of LinkedIn Publishing are nearly endless!
Looking for more LinkedIn tips? Check out our ideas for "Incorporating LinkedIn Into Your Nonprofit Social Strategy," then learn "How to Add Pronouns to Your Instagram and LinkedIn Profiles."