The Benefits of Podcasting for Business
You've spent time doing your research and are thinking of starting a podcast for your organization. Yet while podcasting has rapidly become a marketing channel with a great return on investment (ROI), it can be difficult to get others in your organization on board with the idea of starting a podcast, especially if a majority of the people in your organization are unfamiliar with the podcasting experience.
As a professional communicator, it is up to you to demonstrate the potential value of starting a podcast for your business. Here are three of the most important benefits of podcasting for business to consider:
1. Increase Your (Market) Reach
Even if you haven't even watched Making a Murderer, Bird Box, Tiger King, Ted Lasso and/or Squid Game, chances are good that you've at least heard about them. Why? Because once enough people start watching them, they start talking about them with others, and thus awareness spreads. It's word of mouth taken to a digital level — which is the same way that podcasting can help expand the market reach of your business.
According to a study on "The Infinite Dial" by Edison Research, 80 million Americans — roughly 28% of the population 12 or older — listen to podcasts weekly. Edison also found podcast audiences are currently at their most diverse level ever, with 57% of monthly listeners being white, 16% Latino, 13% African American, 4% Asian, and 10% of a different background. Additional research revealed nearly 75% of people listening to podcasts in 2019 did so to learn something (and possibly even purchase products).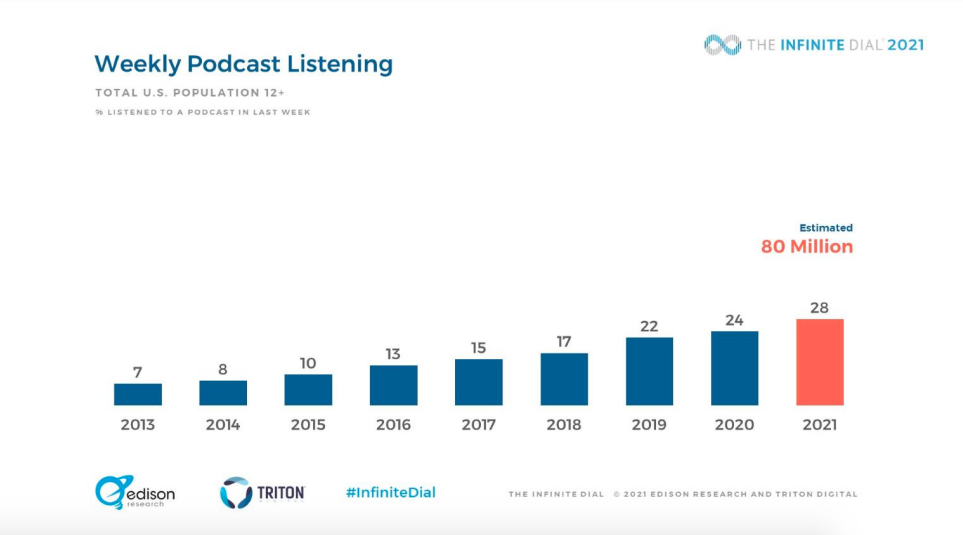 The takeaway here is clear: audiences are out there, and leveraging your organization's expertise via a podcast is a great way to reach them!
2. Generate Additional Feedback
Need another potential podcast benefit? Podcasts are also a great way to get more definitive feedback, from both guests and listeners.
People may not be inclined to sit down and write a letter, but an email they can fire off after listening to an insightful episode of your podcast? Sure. See a decline or an increase in your downloads from one week to the next? Look to see what made certain episodes potentially better or worse than their predecessor. Downloads, comments on social media posts about your podcast, reviews, shares — these are all things that help to measure both the performance of your podcast and the impact your brand is making.
Not sure how to measure the success of your podcast? This guide from Cision has a few helpful tips.
3. Increased Awareness = Increased Revenue
Of course, in business, the bottom line means everything — and especially in recent years, podcasts have become a proven way to boost that bottom line.
Whether you're incorporating affiliate marketing and advertisements in your podcast or using it to sell your own products or consulting services, the increased exposure a podcast generates can have a marked impact on your business outcomes. In addition, because podcasts give your audiences a chance to know the people behind your brand, they help to generate authentic relationships and build brand loyalty.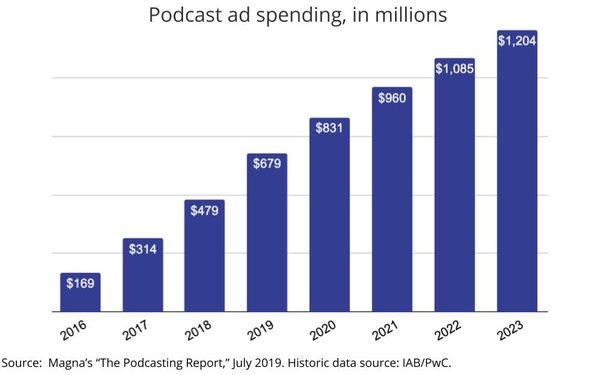 In short, when done well, podcasting can not only enhance your business, but become a major part of it as well. So instead of dropping the mic, maybe it's time to pick one up and get started!
Searching for more content marketing ideas? Try out our "Tips to Ramp Up Your Inbound Marketing Strategy," then learn all about "Effective Blogging for Small Businesses."