Social Media + SEO: 4 Things to Know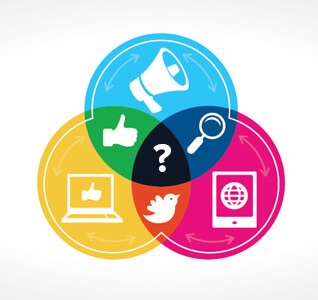 "Does social media have an impact on SEO (search engine optimization)?"
If you're a social media marketer, there's a good chance that you've probably been asked this question by a client, supervisor, or colleague. While it would be nice to provide a simple "yes" or "no" answer, the actual answer is far more complex — and one that has changed quite a bit over the years as social media has evolved into the marketing powerhouse it is today.
The real answer to that question (just like the perennial Facebook relationship status) is something closer to "it's complicated." However, there are still a few important things that savvy social media marketers and SEO professionals alike should know about the unique interplay between these two marketing methods.
With that in mind, here are the four most important things to know about the relationship between social media and SEO:
1. There is little "official" information.
One of the reasons that the relationship between social media and SEO is so difficult to define is because big tech companies like Google and Facebook have been surprisingly tight-lipped about it. In 2010, Google publicly revealed that a brand's social media profiles do have an impact on search rankings, but later backtracked those statements in 2014, stating that there is no relationship between organic search rankings and social media.
As of 2021, those are still the most recent comments from the search engine giant, demonstrating that it's not something they'd like to address. But that's not the end of the story …
2. The data says otherwise.
As the social media marketing landscape has continued to evolve, a number of third-party companies have put Google's statements to the test, attempting to learn more insights about the complicated dynamic between social media and SEO via independent studies.
Each time, the results were clear: there is a strong correlation between a brand's social media activity and their site rankings on Google.
Consider the following study completed by Cognitive SEO in 2016:
Although it's important to note that correlation does not directly imply causation, the graph does show that organizations with widely engaged social media profiles tend to rank higher in Google's organic search rankings.
If you need more proof, Hootsuite ran a similar experiment titled "Project Elephant" in 2018, the results of which revealed much of the same information.
3. It all comes down to content.
Perhaps the most important thing to understand about the relationship between social media and SEO is that both methods are essentially different ways of getting your brand's content viewed by your target audiences.
SEO is more likely to help your brand find audiences looking for a specific piece of content, based on the keywords identified in your SEO strategy. On the other hand, social media can be an incredibly valuable tool for driving audiences who normally might not be searching for that content to your website. Together, they positively impact each other; more people visiting your brand's website via social media will lead to increased search rankings, and more people searching for your content on Google will (usually) lead to more engagement on social media as fans like, share, and comment via social sharing buttons.
One thing is clear: if your content isn't up to par, then it will be difficult for either method to achieve your desired goals.
4. Don't forget about backlinks.
Another vital — but often overlooked — aspect of the social media and SEO relationship is backlinks. Having your website linked to by other sites is one of the strongest determinants of organic search ranking, but these "backlinks" can be difficult to secure if nobody knows that your content is on your website to begin with.
That's where social media comes in. Driving more traffic to your content via social media will increase the chances of finding audiences who find it useful enough to link to on their own websites, which will in turn have a major impact on your SEO strategy.
Want to learn more about creating a backlink strategy? We've got you covered!
Ultimately, having a comprehensive understanding of the relationship between social media and SEO is difficult due to the limited data available. However, using the insights in this article (and from the studies cited above) will go a long way toward helping your content be seen and strengthening your brand's social media and SEO in the long run.
Searching for more social media and content marketing tips? Read our introduction to "Effective Blogging for Small Businesses," then check out our "Tips to Ramp Up Your Inbound Marketing Strategy."