Facebook Updates Groups; Instagram Updates
The social media landscape is constantly evolving, and successfully maneuvering the sharp twists and turns of this ever-changing road can be a challenge for even the most proficient PR pros and business owners. We've done the work for you and compiled everything you need to know.
Here's our monthly roundup of all things social media, compiled by our social media guru Drew Boehmker.
Facebook Upgrades Groups
At the first-ever Facebook Communities Summit last month, Mark Zuckerberg announced a new mission for Facebook: to "give people the power to build community and bring the world closer together." As part of fulfilling that mission, Facebook has started to roll out a number of changes to the "Groups" feature in order to make them more user-friendly and to help foster the connections that are at the core of groups.
Posted by Facebook on Wednesday, June 21, 2017
Notable changes that you will see coming to Facebook groups in the coming weeks and months include:
Scheduled Posts: Similar to the process of managing Facebook pages for business, group administrators will now be able to schedule posts within the group so that they go live at a preselected date and time.
Group Insights: Group moderators will now have more power than ever to monitor what is happening in their group with new tools that measure growth and engagement—including the ability to easily see which posts in the group are getting the most attention.
Membership Requests: The process of adding members to Facebook groups has also been overhauled, with added features like membership request filtering (which allows admins to easily accept or deny large groups of membership requests at once) and removed member clean-up (which helps moderators easily remove problematic members along with all content that they have posted in the group).
Twitter's Trials & Tribulations
In spite of the so-called "Trump bump"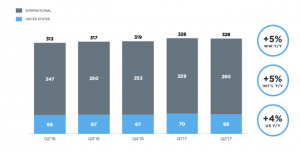 which has caused public awareness of Twitter to be at an all-time high, a recent earnings report shows that user growth on the social media platform has stalled—and, among U.S. users, even declined.
While 260 million monthly active users shows that the platform isn't going anywhere soon, the report calls into question the continuing debate of the role that Twitter plays in today's social media environment. Twitter has tried to innovate by offering more opportunities for livestreaming, stricter policies to prevent abuse, and a new subscription service that will promote accounts and tweets, but only time will tell well Twitter can adapt to the changing social media universe.
Instagram Livens Up
E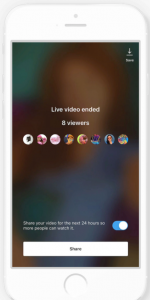 arlier this year, Instagram gave users the ability to broadcast live directly from the platform in an attempt to compete with other livestreaming platforms such as Facebook Live and Periscope. This month, Instagram made "going live" on the platform an even better experience by allowing users to share their live videos directly to their Stories just by touching the "Share" button after the broadcast has ended.
The live video will then be available for 24 hours as a Story so that followers who did not tune in to the initial broadcast will be able to see what they missed—including any engagement that the live broadcast received. Best of all, users can also rewind live videos several seconds to see what they missed (a feature that other livestreaming platforms do not currently allow). These added features give Instagram a competitive advantage as the platform seeks to compete with both Facebook and Instagram as the go-to destination for sharing Stories.
Scooter Media Is Your Social Media Resource
Staying up-to-date on social media can seem like a daunting task, but by using our tips hopefully you will find that it's not nearly as intimidating as it might appear. Keep posting, tweeting, Instagramming, and Snapchatting, and be sure to check back here each month for everything you need to know to stay on top of the social media game.
For more social media updates, also be sure to check out past "What's Moving on Social Media" from January, February, March, April, May, and June.
About Scooter Media
Scooter Media is a full-service communications agency in greater Cincinnati specializing in public relations and social media.