5 Ideas for Improving the Accessibility of Social Media Posts
At least one billion people — 15% of the world's population — experience some form of disability. Disabilities can include difficulties or impairments (temporary or permanent) with vision, hearing, cognition, or mobility. People with disabilities often use assistive technology to access digital content, such as:
Screen readers or magnifiers

Closed captioning

Voice command

Spelling and grammar tools

Mind or site maps
No matter what kind of organization you're managing social media for, it is important to understand and recognize the impact accessibility has on your audience. It's a basic marketing principle that brands and companies should create content that speaks to their audience, but non-inclusive content and experiences push people away.
Don't worry — improving the accessibility of your posts doesn't mean you have to make drastic changes to your social media content; it's more about making a few small changes to ensure your posts can reach everyone. Take a look at five simple ways to improve the accessibility of your social media posts:
1. Make text accessible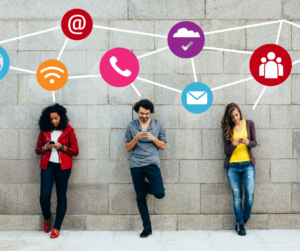 Writing with clarity makes the text more accessible and easier for audiences to understand. Ensuring your social media content is written in plain, simple language makes screen readers and other assistive technology easier to use without compromising your brand's voice in the process.
When it comes to simple text, don't overuse caps, as full caps can be difficult to read and misinterpreted by screen readers. Also, be sure to use an adequate font size and appropriate font style. Pick something legible and easy to read while avoiding using special characters.
2. Provide descriptive image captions
Using photos and .gifs allows you to have fun on social media and is an excellent opportunity to showcase unique aspects of your organization. However, you should take the time to make descriptive captions and draft alternative text (also known as alt text) that will help people visualize images when they aren't able to see them.
Several social media platforms use object recognition technology to provide automatic alt text, but there are limits to its reliability so it's always better to add a custom description when you can.
When writing alt text for non-decorative visuals, remember to:
Describe the image itself within the context of the social media post.

Accurately convey the content.

There's a huge difference between alt text that is simply "Image of a chart" and something more descriptive like "A bar chart illustrates that there has been a year-over-year increase in forest fires, peaking at 100 this year."

End the alt text with a period, making the screen reader pause after the last word.

Use dashes for acronyms; otherwise, the screen reader tries to read the acronym as a word. For example, you might write "USA" as "U-S-A" in the alt text, so the screen reader doesn't pronounce it phonetically.

Mention color

 and action if it is important to understand the image as a whole.
For more tips on using alt text, check out our complete guide here.
3. Include video captions
Captioning has always been important, but given the dramatic rise in video popularity across the social media universe, it's become more important than ever before.
Closed captions are crucial for viewers with hearing impairments. They also enhance the viewing experience for people watching in their non-native language, or viewers in sound-off environments. Furthermore, captions allow viewers to follow along with the audio and video or captions interchangeably.
If you need even more incentive to begin incorporating captions, research demonstrates that the algorithms of many social media platforms prioritize videos with captions.
4. Be intentional with hashtags
When using hashtags, use camel case for multi-word hashtags and put them at the end of your copy. Capitalize the first letter of each word in the hashtag, which will allow screen readers to read them correctly. It also helps to make the hashtag easier to read, and eliminates any ambiguity.
5. Don't go overboard with emojis
Text-to-speech software reads out a description for each emoji used, so be careful with the amount of emojis you include in your social media copy.
For example, if someone puts three check emojis, the software will read out: "check check check." If you are going to use emojis, limit yourself to two or three so you don't bring down the readability of your content. You should also be sure to place emojis at the end of your social posts, which allows for the more important information to be consumed first. Interjecting emojis in the middle of sentences or paragraphs can mix up the messaging of your post once it's read aloud by a screen reader.
As social media marketers, it is our responsibility to make sure the platforms we manage are welcoming for followers of all types — and accessibility is the key to doing so. By following these tips and being intentional, we can ensure the social media universe is able to be shared by all.
Looking for more ways to improve the accessibility of your social media content? Check out our primer on "The Importance of Alt Text for Your Organization," then check out "5 Strategies to Make Social Media Content More Inclusive."