4 Ideas for Elevating Your Facebook Ad Copy
Whether you're looking to grow your business or spread the word about your nonprofit, Facebook Ads can be a great way to help your brand reach new audiences. The process of creating a standout Facebook Ad can be long and involved (don't worry — we've got some hacks to help with that), but one of the most overlooked aspects of drafting a Facebook Ad is the copy that accompanies it.
Think about it: the copy that accompanies your ad is oftentimes going to be the first thing a Facebook user sees when they interact with your post, but words are often viewed as an afterthought to other elements of the ad, such as the photo/video accompanying it. However, ad copy can be the deciding factor between whether someone clicks on your ad and takes your desired action, or simply keeps scrolling through their News Feed.
With that in mind, here are four of our favorite ideas for elevating the copy of your Facebook Ads:
#1: Keep It Short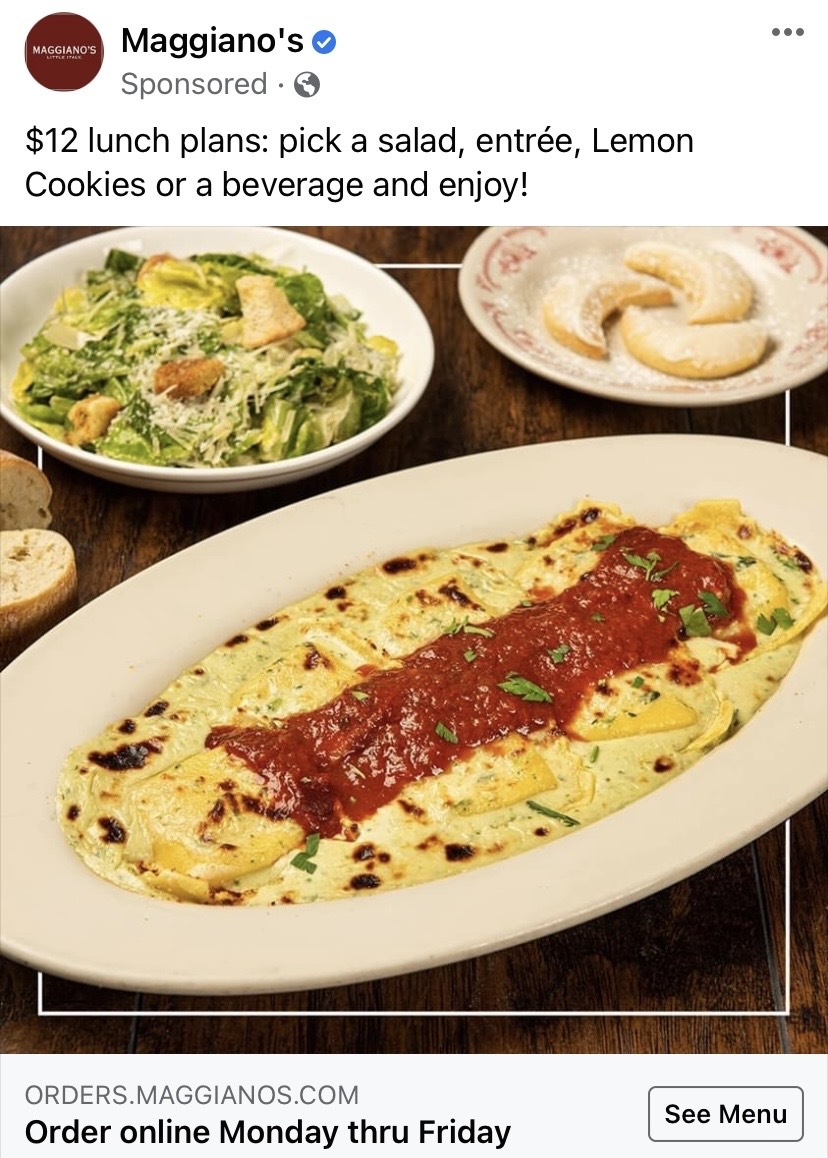 This is number one on the list for a reason: because many social media marketers tend to forget that Facebook cuts the text of your ad off after 125 characters. There's nothing worse than drafting some solid copy only to find most of it hidden after the dreaded "See More" button; with that in mind, it's important to consolidate your ideas and be succinct from the very beginnning.
Similarly, if you're promoting an existing post on your brand's News Feed, be sure that your most important text is at the front of the post.
Consider this example from Maggiano's. The copy is short and sweet, and tells users exactly what they need to know about this lunch special without packing the text full of extra info. Now we're cooking!
#2: Stick with One Call-to-Action (CTA)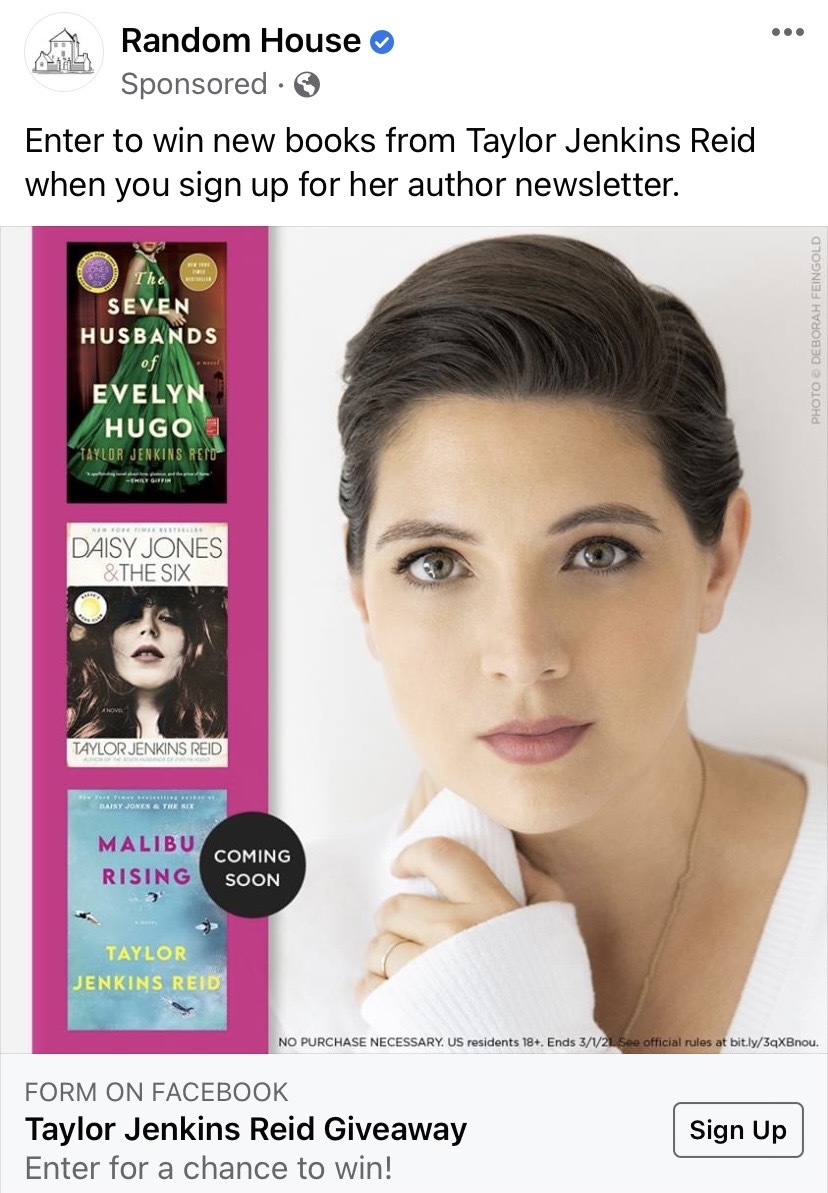 One way to help shorten up your text is to narrow down your call-to-action (CTA) — the specific action you'd like for a Facebook user to take after seeing your ad.
For example, are you trying to drive users to your website? Enticing them to try a lunch special (as in the example above)? Perhaps you'd like for them to purchase tickets to an upcoming virtual event. Whatever it is, you should be able to clearly explain the singular goal of your post in one brief sentence; if you're attempting to get users to perform multiple actions, it's probably best to separate each of those desired actions into a separate post.
Finally, don't forget to make sure your desired call-to-action matches the button you select to appear on your ad (i.e. "Learn More," "Sign Up," "Shop Now," etc). This example from Random House is a good one because the copy ("sign up for her author newsletter") matches the "Sign Up" button beneath the visual, indicating exactly what they'd like someone to do after seeing this ad.
#3: Choose Words that Complement Your Visual
Your Facebook Ad copy should always complement your creative, whether it's a static image, video, or carousel.
If you're promoting a sale, for example, use a Facebook Carousel to show off some of the items that you're selling, then use your copy to call out specific discounts or price points of what users are seeing.
This example from Kodiak Cakes checks all the boxes; the copy calls out the price point of the product featured in the photo, so users know exactly what kind of offer they are in for if they click through to learn more.
#4: Don't Forget Your Brand's Tone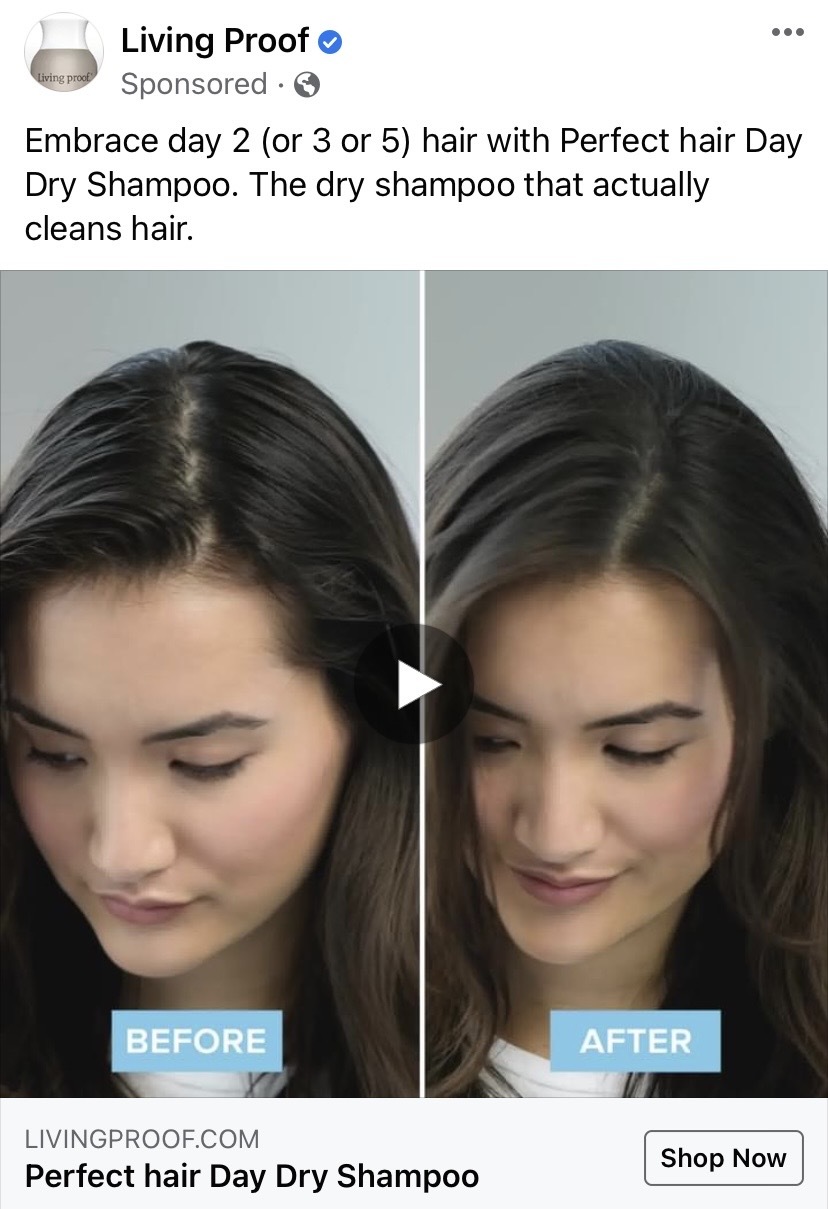 More often than not, the people viewing your Facebook Ads will be people unfamiliar with your organization. With that in mind, it's more important to ensure the copy that accompanies your ad properly conveys your brand voice (even if it is only in 125 characters!).
In this example from Living Proof, the brand adds in a bit of humor with the "(or 3 or 5)" quip. But showing you the before and after photos, they drive home the benefit of using their product while speaking to their target audience in a friendly, approachable way.
As with other aspects of social media marketing, there's no "magic formula" to creating a successful Facebook Ad. However, utilizing a few of these ideas is a great way to continue experimenting with your ads to ensure they are reaching the right audiences and speaking to them in a way that will help to drive action and results.
What are you waiting for? Go forth and create some Facebook Ads magic!
Looking for more tips? Don't miss our guide on "How to Write Captivating Instagram Captions," then read our primer on "The State of Social Media in 2021."