3 Ideas for Creating Educational Content for Your Brand
People turn to social media for many different reasons. Some audiences love checking out the latest trending videos on TikTok, others find themselves on Facebook looking for restaurant reviews or recommendations, and some may turn to Twitter for their morning pick-me-up. However, when it comes down to it, almost all social media content serves one of four purposes:
to entertain;
to persuade;
to educate;
to inspire.
While the best content can serve several of these purposes simultaneously, it's all too easy to get tunnel vision and only focus on creating entertaining content. However, when it comes to building loyal fans (and moving your target audiences through the sales funnel), you should never underestimate the power of a well-produced piece of educational content.
Here are three ideas for creating educational content that is sure to attract audiences to your brand:
1. Show, don't tell.
It's no secret that video is very much in vogue on social media right now — and if your brand or business isn't utilizing it, you're losing valuable opportunities to reach key audiences. While tying videos into trending moments (remember the ALS ice bucket challenge?) is great, you should also consider creating videos that educate audiences about your organization, showing your brand and its offerings in action.
For example, our client the Fanlight Corporation strategically uses video content for its naturaLED brand by creating short promotional videos that show off key features of their lighting products, as well as how-to videos with step-by-step instructions for installing their fixtures. Watching these videos will help potential customers learn something new and understand why naturaLED's products are different, making them more likely to go with the naturaLED brand when making a purchase decision.
2. Keep it simple.
An interesting paradox is that educational content often includes explaining complex concepts, while social media audiences overwhelmingly prefer to consume content that is brief and direct.
With that in mind, when creating educational content you should carefully consider ways that you can make information more accessible and engaging, which will ensure fans who interact with the content understand the "big picture" and don't get bogged down with details.
TIP: Need ideas for making information more understandable? Check out our blog post "4 Writing Tips for Simplifying Complex Content."
For example, infographics are an excellent tactic to employ if you've got a lot of complex data to share. Audiences on social media are much more likely to stop scrolling down their News Feed if they see a visually compelling graphic that communicates information in a dynamic way as opposed to a text-heavy post full of numbers and figures.
If the information in your infographic is something that audiences might be returning to frequently, consider turning those infographics into a downloadable document that can be accessed via your website. In addition to serving as an excellent lead magnet, branded downloadables can further position your organization as a thought leader and help you stay top-of-mind for your target audiences.
Want to get inspired? Check out Scooter Media's full set of downloadable resources here.
3. Make it fun!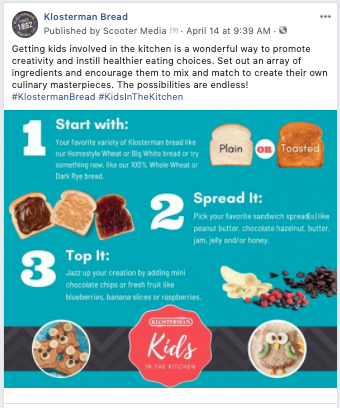 Finally, it's important to remember that your content, especially on social media, can (and should) be a little more fun.
Even brands that typically adopt a more formal tone can afford to loosen up at least a little bit with the way they communicate on social. After all, social media is designed to be a conversation, not a lecture — and if you're having fun creating your content, audiences are more likely to have fun interacting with it, which will keep them coming back for more.
For example, during the COVID-19 pandemic, our client Klosterman Baking Company embraced the extra time families were spending together by launching an educational "Kids in the Kitchen" series. The content in this campaign provided parents with insights about the benefits of getting children interested in cooking at an early age, and also gave ideas for turning meal prep into an educational activity that could teach kids valuable skills about math, science, and more.
Got a tip for creating educational content that takes your brand to the top of the class? Share it with us @ScooterMedia!
Want to learn more about the world of content marketing? The Scooter Media blog is full of great lessons, including: