Sarah Brookbank Promoted to Senior Digital Specialist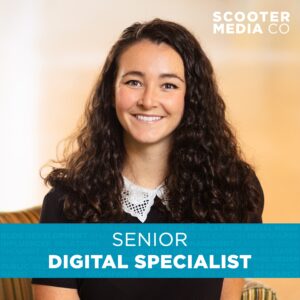 #BeepBeep – we're thrilled to share that Scooter Media team member Sarah Brookbank has been promoted to Senior Digital Specialist. In this role, Sarah will continue leveraging her content creation expertise to plan and execute a wide variety of content including social media posts, podcasts, blogs, and more for our clients.
Since joining the Scooter Media team in 2021, Sarah has worked in the digital space for multiple clients, including the Northern Kentucky Chamber of Commerce and MAC Productions. She has also played a substantial role in the strategic planning and execution of Scooter Media's social channels.
"Sarah has been an all-star on all things digital from day one, and I know she'll bring the same expertise and enthusiasm to her new role," said Drew Boehmker, Digital Account Supervisor.
Get to know more about Sarah by clicking here. Also be sure to check out her blogs on the Scooter Media blog, including: