How ChatGPT and Google Bard Impact PR Professionals
ChatGPT and Google Bard are new AI chatbots that are making headlines across the Internet for ushering in a new digital age. While these chatbots offer many opportunities, they are also raising questions about the future of industries like public relations.
These Artificial Intelligence chatbots are large language models that digest huge amounts of data and learn from it. ChatGPT and Google Bard are very advanced and can be used to draft website code, write articles or recipes, and answer user questions directly instead of providing an article through a search engine. The technology can also be used to write pitches, do research, and even draft thought leadership content.
So what does AI technology mean for public relations professionals who are usually responsible for drafting this content? Before we break down how PR pros can use this technology, let's dive a little deeper into exactly what the technology is.
What is ChatGPT?
ChatGPT, launched in 2022, is a "conversational" AI model, according to developer OpenAI. This free tool allows you to input instructions or a question and receive an answer. When you sign up with an email, ChatGPT says the model is still learning.
Open AI also created the image-generator DALL-E, which had everyone changing their social media profile pictures in 2022.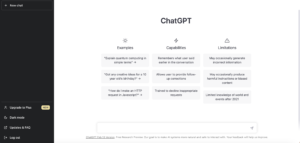 What is Google Bard?
After the headline-grabbing launch of ChatGPT, Google announced the launch of its own AI chatbot feature called Bard. Google describes Bard as "an experimental conversational AI service."
Bard is currently only available to Beta testers, and there is no set date for a large rollout. According to Google's CEO Sundar Pichai, "AI helps people, businesses and communities unlock their potential," which means it will likely continue to be a priority for the search engine giant. In addition to chatbots, Google will also roll out new AI features on Google Search soon.
Even Robots Need an Editor
As PR Professionals and their clients begin looking at this technology, one important thing to note is that these chatbots can be incorrect. As the Associated Press notes, "ChatGPT can generate convincing prose, but that doesn't mean what it says is factual or logical."
Even ChatGPT gives you a similar heads-up.
"While we have safeguards in place, the system may occasionally generate incorrect or misleading information and produce offensive or biased content. It is not intended to give advice," the ChatGPT website says.
Google's Bard also had a slip-up during its first demonstration.
If your team is looking to harness the power of AI technology, be sure to have humans on hand to review AI-generated pitches and blog posts for brand consistency and factual errors.
Use AI as a Tool
While it can feel like robots are coming for our jobs, don't count this technology out. If you're looking for an easy way to generate topics, subject lines, or social media copy, asking an AI Chatbot to generate ideas for you is a great way to beat writer's block or brainstorm ideas.
For example, when we asked ChatGPT to write a tweet for a PR company, its response was:
"We specialize in crafting compelling stories that resonate with your target audience. Let us help you tell your brand's unique story."
While that is a good tweet, it doesn't reflect any brand identity, and not every PR company can send the same message to promote themselves. Let's use this as a starting point and tweak it to fit with Scooter Media's brand identity:
"At Scooter Media, we are fueled by passion, and specialize in crafting compelling stories that deliver long-lasting results. Let us help you tell your brand's unique story."
What Does ChatGPT Have to Say?
We also thought it would be interesting to ask ChatGPT for a first-hand account of how it thinks the tool could impact the PR industry. Here's the response we received:
"AI chatbots have the potential to revolutionize the PR industry by providing faster, more efficient, and more personalized communication with stakeholders. However, it is important for PR professionals to carefully consider the design and implementation of AI chatbots to ensure that they align with the organization's goals and values and do not negatively impact the customer experience."
This response illustrates that there is still a great deal of uncertainty about what this AI technology can do. Maybe sometime in the future AI will make Google Alerts smarter and crafting SEO-friendly pitches easier, but at the end of the day, AI technology will never be able to replace the relationship-building fundamentals that public relations was founded upon.
Looking to learn more about some current PR and social media trends? Check out: