5 Tips to Make Your Restaurant Social Media Sizzle
Creating a social media strategy that resonates with your audience can be as tricky as making the perfect soufflé. Think of it in terms of how your restaurant client operates. It starts with knowing the customer (target audience); continues with crafting the perfect recipe (copy), cooking to perfection (implementation), service (reviews), and ends with cleanup/bussing (adjustments).
Just like a restaurant, all the different facets of social media need to work together to create an experience for the audience.
The Scooter Media team has come up with a list of 5 tips to help kick your restaurant social media skills up a notch:
Use Polls
Both Facebook and Twitter have polling capabilities that can take ordinary content to the next level by encouraging engagement.
You can pit a few of your popular items against one another or, if you are waffling between two new choices to add to the menu, you can ask your customer base, which one they would be more likely to try. You get answers to your questions, and the audience gets engaged. It's a win-win.
Create Behind-the-Scenes Content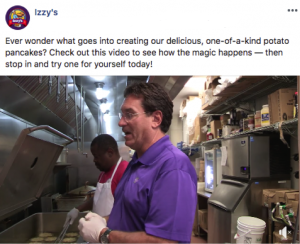 Most people don't know how a restaurant works behind-the-scenes if they don't have the experience of being a waiter or kitchen staff. Show off how you make a certain dish or do a hyperlapse (fast-forwarded video) of food being made, plated, and served.
Other ideas include sharing information on your staff including chefs, cooks, hosts, and waiters so people recognize them when they come in to eat.
Pay Attention to Pop Culture 
You never know when a new hit TV show or movie may tie into your brand. Promoting a pizza joint? Joey from Friends orders the "Joey Special" which is really just two pizzas, and easy to write relevant social copy for.
Promoting a burger joint? How about a Spongebob Squarepants Crabby Patty reference?
The possibilities are endless.
Use Data You Already Have Access To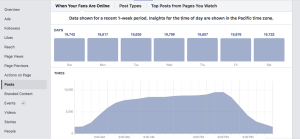 Facebook, Instagram, and Twitter all have robust analytics you can tap into as the administrator of a page. Use that data to up your game.
One easy insight to look into is what time of the day your followers are online. It could give you a best time to post.
You can also dig into the demographics of your audience to better target when you boost content on your page.
Don't Forget About Video
Video is the fastest-growing content on social media, so don't forget to use it! Facebook makes it really easy with a slideshow or video options, and Instagram offers video via posts and stories.
Take your videos to the next level by leveraging captioned as most social media users watch videos without sound.
Stir these tips together for a fresh social media strategy sure to entice even the pickiest of consumers.
About Scooter Media
Scooter Media is a full-service communications agency in Greater Cincinnati specializing in public relations and social media. If you're a PR pro looking for more tips check out "Harnessing the Power of Digital Word-of-Mouth Through Review Sites," and "Tips and Tricks to Incentivize Audiences Through Giveaways and Contests."