4 Strategies for Showing Gratitude on Social Media
Whether you're a social media manager for a large brand or a small business, the holidays are a great opportunity to make your social media profiles a little more festive. One of the best ways to do that is to use your social media channels to show gratitude to the customers and other audiences who have supported your brand throughout the year and beyond.
With that in mind, here are four of our favorite ways to show gratitude on your organization's social media channels:
1. Vocalize Your Appreciation (and Invite Supporters to Do the Same)
While all organizations are thankful for those that support them, it's not too often that you see brands actually verbalizing and acknowledging that sentiment. To that extent, sometimes the best way to show gratitude is also the simplest: to say "thank you" in a way that is clear and compelling.
For example, consider having different members of your team film a short video featuring people at different levels of your organization saying a few words of thanks to customers and other supporters. Alternatively, you could also consider having a leader in your organization write a brief letter of gratitude, which could be posted on your social channels to reach key audiences.
While you're hard at work generating this kind of goodwill, consider inviting your followers to do the same as well. For example, post a photo with a few of your organization's most dedicated employees and invite fans who follow your brand to thank them for their hard work. If your organization offers a service, you could also ask fans to share a positive experience that they've had, including thanking the employees responsible for providing that service.
2. Host a Giveaway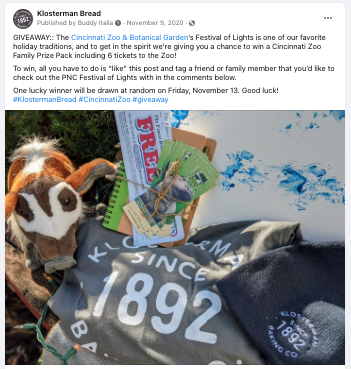 Giveaways are a gold standard for generating engagement on social media, and for good reason: they are a great example of delightful content, and those who enter are likely to feel more grateful for your brand overall (especially if they win!).
It's important to note that the giveaway you host does not have to be large or expensive in order to be successful. Sometimes it's the small items — such as t-shirts with your organization's logo or gift cards — that can make the most lasting impression. Similarly, if you are able to offer a sample of your organization's services, the winners of the giveaway will likely go on to become advocates for your brand (provided that they have a positive experience), making giveaways a win/win for all parties involved.
Want to host a giveaway, but not sure where to start? Be sure to check out our tips for hosting giveaways and contests.
3. Make Connections via User-Generated Content
Another way to demonstrate that you are thankful for your followers on social media is to actively engage with and share the content that they are producing for your brand.
For example, if you're in charge of running a restaurant's social media presence, there's a good chance that you're seeing photos from patrons checking in and tagging their Instagram-mable meals each and every night. Instead of just liking the photos, consider using an app to "regram" the fan photos to your own social profiles, allowing all of your audiences to see the great pics and read about experiences from other guests.
Not only will it help to provide some nice third-party endorsements for your organization, but there's also a good chance that the fans you spotlight will feel special, improving their connection to the brand and keeping them coming back for more.
4. Share Content from Key Partners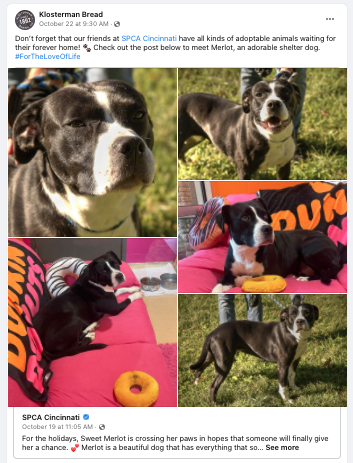 Finally, it's important to remember that at its core, social media is supposed to be about building community — and there's no better way to do that than by using your social media profiles to talk about an organization other than yours for a little while.
If your business has nonprofit partners, for example, the holiday season is a great time to share posts from those nonprofits detailing their end-of-year giving initiatives. Similarly, if you're a small business, consider sharing a few posts from other local destinations throughout the season to help build camaraderie (and, in turn, increase the likelihood that others will share your posts as well).
Ultimately, showing gratitude on social media isn't an exact science — but it doesn't have to be. The simple act of saying "thank you" to the people and organizations who matter most is enough to keep your audiences on social media engaged … and maybe spread a little holiday cheer while you're at it.
Looking for more tips? Learn "How to Develop Your Nonprofit's #GivingTuesday Campaign," then discover "3 Ideas for Designing Your Company Holiday Card."