How to Select the Right Platform for Your Social Video
By now, it's clear that social video isn't just the latest trend in the ever-changing world of social media, but rather a key ingredient in any successful social media strategy. In fact, Social Media Today estimates that 54% of consumers prefer video over all other types of content, and that video is the #1 way customers are moving from discovering a brand to purchasing its products.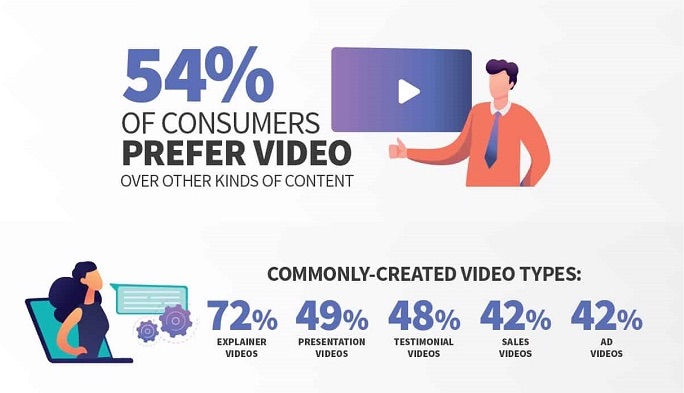 However, deciding to invest in social video is just the first piece in the much larger puzzle of social media strategy. Once you've created a video for your brand or business, how do you know which social platform to put it on? And once you've decided on a platform, should the video be a post on your Page's timeline, or is it better suited for the more ephemeral (but highly viewed) Stories?
Here are some of the most important factors to take into consideration, broken down by platform:
Facebook
For most brands that take the time and money to start a social video campaign, Facebook should be the primary platform utilized. While the social media titan has endured its fair share of tribulations over the past few years, the simple fact remains that it still the most-used social platform by far, with nearly 2.45 billion monthly active users.
Furthermore, when it comes to achieving the overall business goals of your social media strategy, Facebook is still the premier platform for moving audiences to take action. For example, if you're producing a video to show off a new product or to encourage users to purchase tickets to an upcoming event, the data shows that (for most industries) Facebook users are still the most likely to convert into new leads for your business.
Another finding that might surprise you: overall, social media users are more likely to watch a video on Facebook Stories vs. Instagram Stories or Snapchat. While Facebook was the last platform to adopt the Stories format, Facebook's 1.59 billion active users have helped to make Stories on its platform the most visible of all. Just check out the findings of a recent survey conducted by the experts at Hootsuite and Lucid: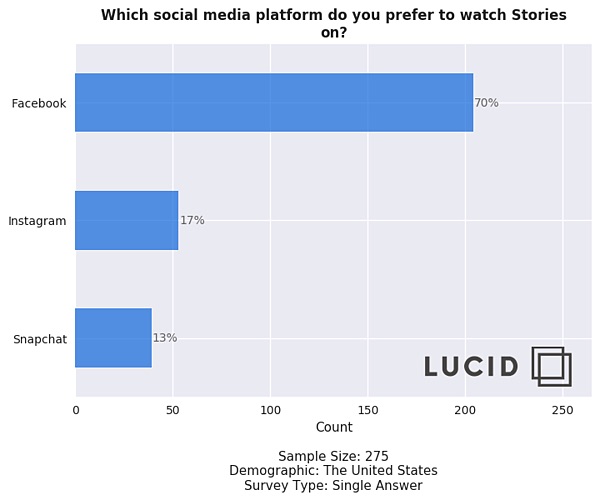 After you've decided to post your video to Facebook, the choices don't end there! You can also consider experimenting with real-time video by going Live, or scheduling the video via Facebook Premiere so that fans of your Page will be notified the moment the video is available.
Instagram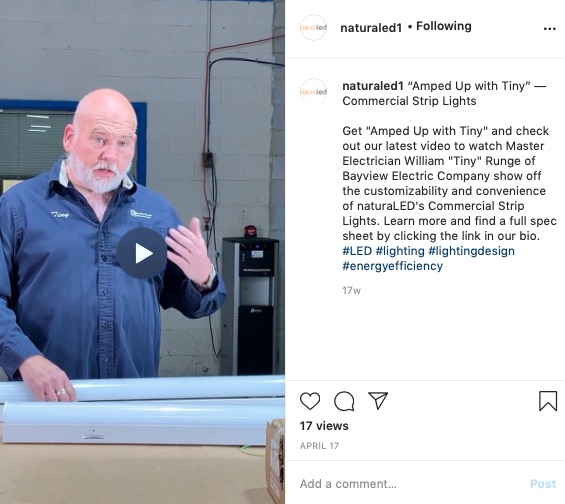 If your brand is attempting to attract a younger audience — or if your business is highly visual in nature (from food photos to fabulous furs and everything in between), it's imperative to get into Instagram.
Even within Instagram, brands have numerous ways to tap into the power of video to reach fans and attract new audiences. Videos on Instagram can be utilized in the following ways:
1. Regular feed posts, which permanently appear on your brand's profile and must be under 60 seconds in length;
2. Stories, which disappear from your brand's profile after 24 hours (although you can save memorable Stories as highlights);
3. IGTV videos, a standalone app integrated within Instagram that allows viewers to consume longer-form videos.
When determining which of these formats to use for your video, it's best to take a look at both the length and content of your video. Because regular feed posts will be visible on your profile forever, they are an ideal way to share professionally produced videos — such as those featuring your organization's mission.
Meanwhile, the shorter life span of Stories makes the format ideal for more casual "in the moment" content, such as behind-the-scenes videos from company events. Lastly, IGTV videos are best-suited for more in-depth content; if your organization has a weekly video series, for example, IGTV is a great place to post them.
As a case study, our client naturaLED uses a mixture of these video formats in order to reach audiences in different ways. Video posts on the feed are reserved for 30-second product spotlights, which are professionally produced and share key details about individual products. Our client also produces a monthly "Amped Up with Tiny" video series, in which a trained electrician gives a hands-on demo of the products in action; because these videos tend to be 2-3 minutes long, they are posted as IGTV videos. Additionally, Stories are sprinkled in when the company has major events to promote, such as a recent virtual trade show.
Other Platforms: LinkedIn, Snapchat and TikTok, Oh My!
While Facebook and Instagram are the primary platforms for posting video, the rapidly-evolving nature of social media means new platforms are always popping up or going away (we miss you, Vine!).
Although you should almost always be posting your videos to Facebook and Instagram to start with, some other platforms your brand may want to consider include:
LinkedIn: Since introducing video to the platform in 2017, the format has taken off on the popular networking site; in fact, videos are shared as much as 20 times more often than other types of content on LinkedIn. A study conducted by LinkedIn also found that 54% of senior executives share work-related videos with colleagues at least once per week, and 59% of senior executives agree that if both text and video are available on the same topic, they prefer to watch the video.
Snapchat: Despite being the first platform to popularize the Stories format, Snapchat remains a challenging platform for marketers attempting to prove ROI for their social media efforts. While user growth has leveled off, millennials remain the most loyal users of Snapchat, meaning it could be worth experimenting with if your business is looking to target that demographic. Furthermore, as more brands have turned to advertising via Instagram Stories, there is now also less competition on Snapchat — meaning your brand has more room to make an impact.
TikTok: Without a doubt, 2020 has been a banner year for TikTok, as the platform has just surpassed 800 million monthly active users. While advertising on TikTok is still in its infancy, brands can get in on the action now by creating their own channel and posting bite-sized videos. Just make sure that the content is always authentic (and quirky if possible), as that is what audiences on the platform will expect.
Ultimately, there is no denying that social video is here to stay. With that in mind, the question for PR and social media pros becomes how they can best utilize video content to tell the story of their brand, attract new audiences, and create a little social media magic in the process.