4 Tips to Create Stunning Brand Graphics in Canva
It's no secret that today's audiences are more inundated with marketing messages than ever; in fact, recent research estimates that the average person sees around 10,000 advertisements every single day. With so many messages coming from so many places, it can be difficult for your brand to rise above the clutter — but a strong visual is one of the best ways to make your brand stand out.
Thankfully, PR pros and social media marketers have Canva, a fantastic (and intuitive) tool that allows you to easily create stunning graphics with just a few clicks.
Whether you're creating a social media graphic or designing an annual report, here are four Canva tips that are sure to make your brand graphics shine:
Canva Tip #1: Build Your Brand Kit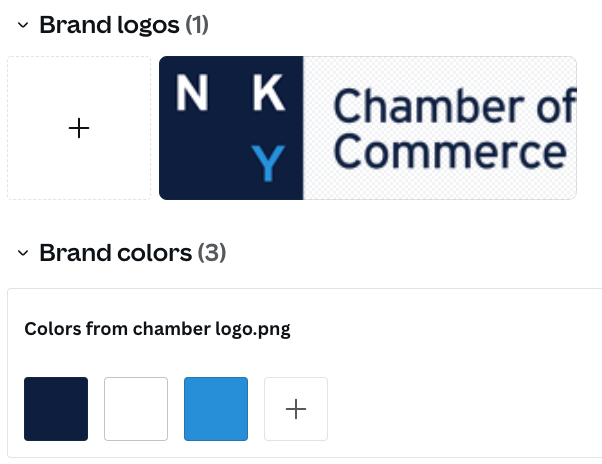 Before you start creating graphics, the first step is to gather and upload your brand kit, which allows you to add all of your existing brand elements into Canva so that every design you create can have a consistent look and feel.
To create a brand kit:
Click "Brand Kit" under the "Tools" section of the left menu
Select "Add Brand Kit"
Give your Brand Kit a name, then click "Create"
Click the "+" icon within each section to add your brand logos and fonts
To add your brand colors:
Click the "+" icon under the "Brand Colors" heading
Select "Add a Custom Palette"
Input the hex color codes for each of your brand colors
Give your color palette a name so that it can be easily located
Still developing these essential brand elements? We've got you covered! Check out our guide to "4 Building Blocks for Establishing Your Brand Identity."
Canva Tip #2: Test a Few Templates
One of the best tools Canva has to offer is its seemingly endless supply of user-friendly templates. With this feature, you can search for themed flyers, social media graphics, or anything you may need for your brand or business, giving you a great place to start building your design (or a ready-made graphic if you're in a pinch!).
To find the perfect template for your next graphic:
Click "Templates" on the left menu
Search by either project type (ex. Instagram post, newsletter, etc.) or theme (ex. summer, sale, etc.)
You can also refine your search by searching templates by color or other frequently used keywords
Canva Tip #3: Add Some Animation
Have you ever wondered how other brands and businesses include moving graphics or text in their Instagram or Facebook Stories? Canva's got you covered!
Canva's suite of animation tools makes it easy to enhance your graphics and add some dynamic visual interest to your next social media post. You can animate text, objects, photos, and more!
To add or adjust animations:
Click "Animate" on the top menu of any project
Select the type, timing, and speed of the animation
Test out the animation by selecting the "Play" button on the top right of the page
Canva Tip #4: Experiment with Audio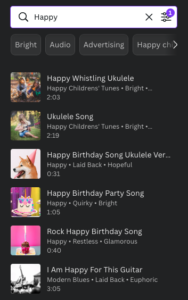 If video is a part of your brand's marketing mix, Canva also has an excellent suite of audio options to include in your projects as well.
Similar to the templates feature, the "Audio" section can be sorted by specific genre and mood, allowing you to find the perfect happy tune for a summer-themed video or an ambient melody for a more somber post.
To find the perfect sound for your next social media post:
Click "Audio" on the left menu
Enter search terms (moods, special occasions, etc.)
Filter your results by selecting either "Free" or "Canva Pro" options
That's a wrap! Utilizing these four tips will go a long way toward making sure your next branded graphic will have heads turning and your audiences paying attention.
Have you discovered any useful Canva tips or hacks? Let us know by tweeting us @ScooterMedia!
Can't get enough Canva tips? Check out our other helpful posts, including: