5 Ways to Liven Up Your LinkedIn Profile
There are a lot of people on LinkedIn (840 million, to be exact). However, if you take a look through your connections, there's a good chance you'll find many profiles that are incomplete, were hastily compiled from copy-and-pasted resumes, or simply haven't logged in for months. For many professionals, LinkedIn is a network utilized only when trying to find their next job or shifting into a new career path entirely.
Savvy social media marketers, however, know that is not the case. LinkedIn offers plenty of opportunities for individuals and organizations of all types, and can be a very useful tool to utilize even when you're not actively seeking a new job.
TIP: Whether you're just getting started on LinkedIn or working on refreshing your profile, our free downloadable Guide to Social Media Image Sizes will help you create the perfect profile picture and cover photo!
Just like changing the oil in your car, it is important to update your LinkedIn profile at least every 6 to 8 months. In case you're long overdue, take a look at these 5 ways to liven up your LinkedIn profile and keep your professional engine going:
1. Perfect Your Profile Picture
Your LinkedIn profile picture is one of the most important elements of your profile because it is the first impression many will have of your professional identity (especially if you're applying for a remote position).
Some LinkedIn profile picture best practices include:
Your face should take up at least 60% of the frame; if your photo is taken from too far away (if it was originally a group photo, for example), connections will have a more difficult time being able to easily identify you.
If possible, invest in a professional-quality headshot, and avoid using photos that are in black and white or set against a dark background, which can be difficult to see on mobile devices.
Finally, be consistent with how you look. If you usually wear your hair down, you should have a similar hairstyle on your LinkedIn profile photo. (This makes it easy to recognize connections when attending in-person events, too!)
Your LinkedIn profile picture should portray your professional, authentic self. So grab that go-to blazer that always gives you a little extra confidence and say cheese!
2. Attract Attention with a Headline
While it is easily overlooked by some users, the headline is actually one of the most visible sections of your LinkedIn profile — so be sure to make yours count! The headline you select will be placed across the top of your profile and will also be visible under your name on News Feed posts, the "People You May Know" section, and more.
A LinkedIn headline is limited to just 220 characters, so it's important to spend some time considering what you'd like your headline to say. It's best to view your headline as your "elevator pitch" and focus on what you want to communicate with people who find you on LinkedIn. What is it you do, and why does that make you an expert or a great candidate in your field? The best headline will answer these questions in a direct way, avoiding slang terms and flowery language that others may not understand.
3. Amplify Your About Section
The "About" section of your LinkedIn profile is the perfect place to get creative with keywords. Other professionals in your industry (including recruiters) are often searching for a combination of job titles, skills, and other keywords to find the right candidates and thought leaders, so this section is an opportunity to put the keywords that are relevant to you front and center.
Furthermore, the "About" section is a great place to build your credibility and narrate your career journey, much like you would in a cover letter. Try to keep this section brief (a few sentences at most), and consider using bullet points and writing in passive voice to make the content included easier to read and more relatable.
4. Utilize Your URL
One of the latest features introduced by LinkedIn is allowing users to add a URL to the contact information on their profile. This is a great opportunity to showcase your personal website if you're a freelancer, or to highlight a specific page on your organization's website that audiences would find valuable.
For example, if your company is currently hiring, you could consider linking directly to the "Careers" page on your organization's website. Alternatively, you could use the URL feature to help establish yourself as a thought leader, perhaps by linking to your company's blog page so viewers can easily access content that may be beneficial to them.
5. Stay Active to Get in on the Action
Being active on LinkedIn is important even if you're not actively searching for a job. Establish a regular schedule of checking in on the platform and liking, commenting, and sharing content from other people in your industry, whether it's other employees in your company or thought leaders you admire. While they may seem small, these "micro-interactions" are a key element for building relationships — and sometimes these simple "likes" can translate into valuable partnerships for you down the line.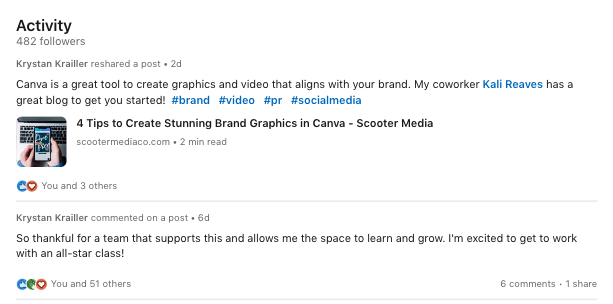 Whether you're on LinkedIn to build your network, apply for jobs, or stay up-to-date on industry news (or a combination of all three), a successful profile is the first step toward achieving these goals and boosting your professional presence. Spend some time fine-tuning your profile with these tips, and your LinkedIn profile will be speeding past the competition in no time!
Once you've updated your LinkedIn profile, check out a few of our other helpful blogs including: