3 Tips for Using Video to Promote Your Nonprofit
When it comes to creatively promoting a business or brand, it's no secret that video is very much in vogue right now. Almost all major social media platforms have shifted toward prioritizing video, rewarding content creators who post video content with increased reach and prime placement in the news feed; in fact, videos routinely achieve a 186% greater reach than text and photo-based posts on social media.
Video is an especially compelling medium for nonprofits, who are often tasked with communicating the mission of their organization on a shoestring budget. Although producing videos used to be a resource-intensive (and time-consuming) process, that is simply no longer the case in the era of iPhones and easily accessible apps.
Here are a few of our favorite ideas for using video to creatively promote your nonprofit organization:
1. Fall in Love with Facebook Live
If your nonprofit organization hosts a lot of events, leveraging Facebook Live broadcasts is your first step toward video storytelling success. Live broadcasts can offer Facebook fans of your nonprofit a direct look into the impact that your organization is making "out in the field" — and as an added benefit, everyone who follows your brand on Facebook will receive a notification whenever your page goes Live, giving posts additional visibility.
Best of all, because Facebook Live broadcasts often originate on iPhones and other mobile devices, most viewers will expect them to be more casual and relaxed compared to professionally produced videos. This gives your non-profit organization a great opportunity to tell its story through the eyes of people that matter most to your mission.
For example, if your nonprofit is hosting a large volunteer event, consider hosting Facebook Live broadcasts in which you interview a diverse range of volunteers. You could consider asking them questions such as why they like volunteering and how they got involved with your organization, or you could opt to simply broadcast volunteers in action.
2. Amp Up Images with Animoto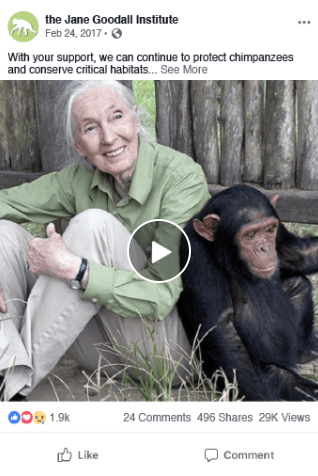 If your nonprofit wants to start experimenting with video but does not currently have the resources to capture new footage, fear not! One of our favorite apps, Animoto, allows you to create professional-looking videos using still photos, logos, and other assets (similar to a slideshow, but with more substance).
An additional benefit of Animoto is the easy-to-use interface; even PR pros with little or no video editing experience will find the app's drag-and-drop layout a breeze to navigate. You can also integrate your brand's colors, fonts, and other assets directly into Animoto to ensure that everything you create will look sharp while strategically communicating your nonprofit's mission. Once a video has been created, you can share it on social media, include it in e-newsletters, and more — the possibilities are endless!
Pricing plans for Animoto start at just $5 a month, and there is even a special subscription rate created just for non-profit organizations. Check out some sample videos created with Animoto and learn more about the app by visiting Animoto.com.
3. Show Your Organization's Sincerity
One of the greatest benefits of video is that it allows you to communicate with your audience in an incredibly personal way — which is especially important for mission-based organizations like nonprofits. Creatively using video to provide audiences with a unique look "behind the scenes" of your nonprofit can go a long way toward inspiring audiences to take action and get involved with your organization.
For example, if your non-profit is hosting a donation drive or launching an annual support campaign, you could utilize video by filming short "thank you" videos from staff members, thanking donors by name for their support. It's also a great idea to film videos profiling some of the people who have been impacted by your nonprofit's work, perhaps in a series of "client stories" such as this example from our client People Working Cooperatively:
Ultimately, there is nothing quite like a well-produced video when it comes to inspiring people to take action (or, sometimes, pulling at their heartstrings). No matter what the mission of your organization is, these video tips are sure to help you tell the story of your nonprofit in a creative way, which will in turn expand the reach of your mission on social media and well beyond.
If you're a public relations pro looking for more tips, don't miss our ideas for elevating your non-profit's fundraising in 2019, as well as our guide to getting the most out of your non-profit's Facebook page.