Getting the Most Out of Facebook for Your Brand
With changes constantly being made to the News Feed algorithm and much of the same content being shared over and over again, brands continue to look for new, innovative ways to engage with their audiences on Facebook. Luckily, Facebook has many tools that are available yet underutilized that can help your brand page cut through the social clutter and connect with the audiences who matter.
Inexpensive, Immersive Experiences
The use of virtual reality (VR) has grown significantly over the past few years. In fact, some research suggests that global revenue for augmented reality (AR) and VR is predicted to reach $143.3 billion by 2020. However, developing one of these immersive experiences can be expensive and often requires additional tools to bring it to life.
Facebook 360 photos and videos provide brands with a more affordable way to leverage similar technology. This Facebook function allows brands to share 360 degrees of interactive photo and video with followers. By leveraging Facebook 360, you can give customers a virtual tour of your office, showcase products or day-to-day operations, and more.
National Geographic is an excellent example of a brand page that uses this feature to bring its striking imagery and stories to life for readers.
Customizing Your Facebook Presence
Facebook continues to evolve the structure of timelines for individual users — and brand page layouts have been changing along with it. Cover photos provide businesses with additional real estate to showcase brands to their followers. Even more recently, Facebook added the ability to turn this cover photo into a video and/or slideshow so that more than one image or video can be shown at a time.
You can also change the physical layout and tab offerings on your Facebook page. For example, you can add a tab to capture email signatures, post jobs, and embed other social channels or functions from your website. You can even install a Call-to-Action Button that will appear at the top of your page. Button options include things like "Contact Us," "Book Now," "Use App," "Shop Now" and more.
Finally, you can add ratings and ranking to your page which actually link up to your TripAdvisor page and help improve your search rankings as a local attraction. These options can be found under "Edit Page" in your Settings.
Unique Sponsored Posts and Ads
Leveraging paid social can help your brand page tap into new audiences and increase overall engagement with followers. There are a few more unique ads that you can use to promote your brand via social media:
Offer Ads – Not only do these ads grab Facebook users' attention, they encourage them to take action. While online brands can certainly receive a boost from this ad type, stores have more to gain. Facebook can actually serve up reminder ads based off of location; this means that if a customer walks into your store or restaurant, they can a receive notification letting them know about the offer.
Canvas – Facebook Canvases are full-screen, mobile-optimized ad experiences that can help capture the complete attention of your audience. In a way, they resemble functionality similar to microsites. Followers can engage with photos and video, swipe through various carousels, tilt to pan and take a look through images with tagged products that are linked directly to a brand's site, and more.
Keeping an Eye on the Competition
A consistent question we get from clients is: "how does my social media activity stack up against the competition and industry leaders?" Facebook added the Pages to Watch function for brands with 100 or more likes, which makes it possible to compare activity, engagement and audience growth among select pages. The best part is that you don't even need to follow competing brand to leverage this function.
However, approach with caution – in some cases the brand pages that you choose to watch will be notified that they have been added to a watch list.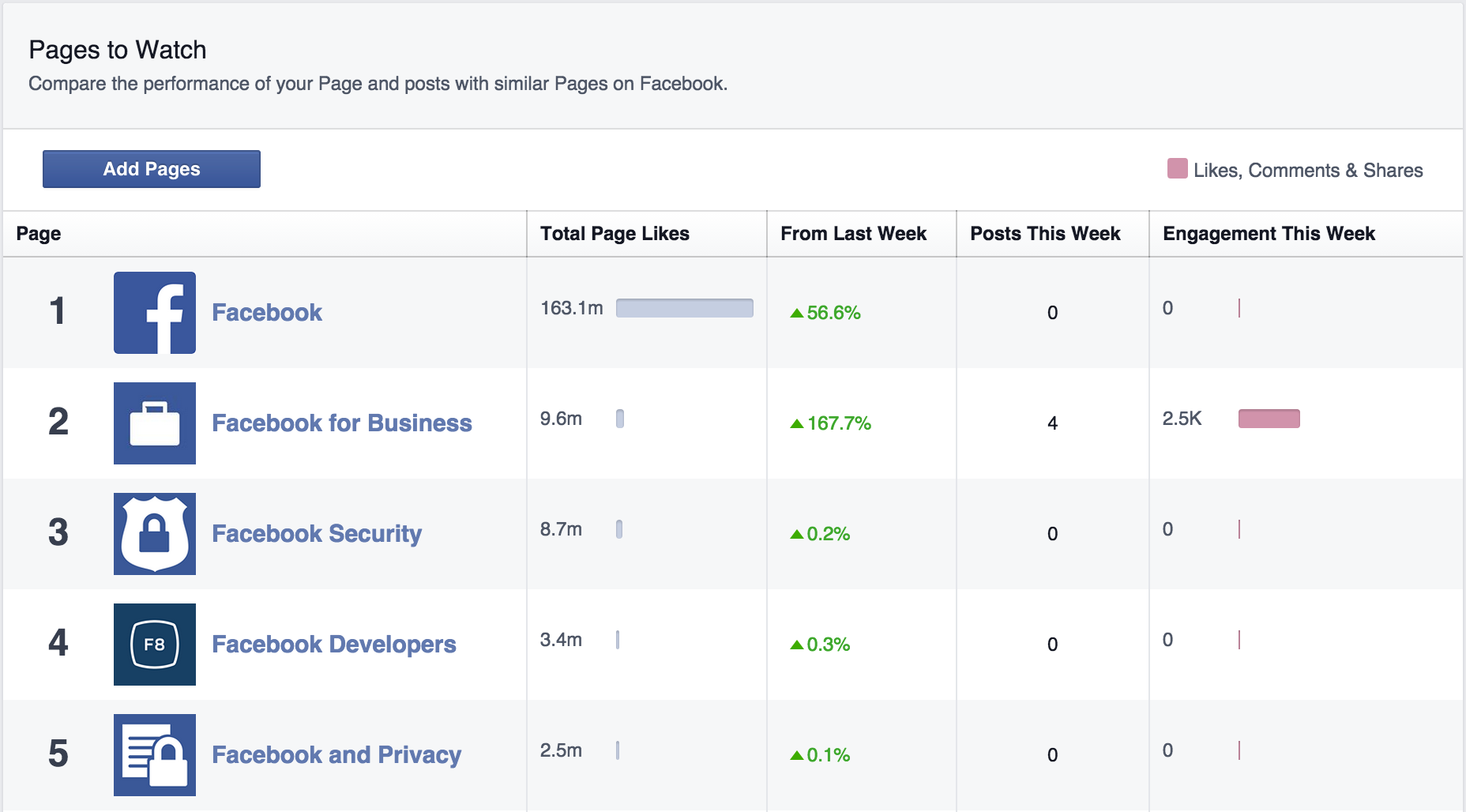 Facebook functionality is frequently changing, and new tactics are being rolled out every day. Getting started on a social strategy takes time, but carefully researching your options and implementing the ones that work best will go a long way toward setting you — and your brand page — up for success.
Scooter Media Is Your Social Media Resource
Scooter Media is your resource for navigating the ins and outs of the always-changing world of social media. Looking for more social media tips? Check out our primer on "The State of Social Media in 2018" along with our guides to scheduling your social media posts and delivering exceptional customer service experiences on Facebook. Also be sure to check back frequently for new installments of our "Social Media Snapshot" series!