Scooter Media Named 2017 "Emerging 30" Award Recipient
Scooter Media is honored to be named a 2017 "Emerging 30" award recipient by the Northern Kentucky Chamber of Commerce. This prestigious award recognizes Northern Kentucky's fastest-growing companies that are reaching new heights and contributing to a vibrant economy in the region. This is the second year in a row that Scooter Media has been named an Emerging 30 designee.
To qualify for this recognition, companies must have achieved at least $250,000 in revenue, been in business for four years, and have an average annual growth of 15% or more over the past three years.
The full list of 2017 Emerging 30 designees includes:
911 Fleet & Fire AKA Alpha Omega Industries, LLC

Advantage Group Engineers, Inc

Al. Neyer

Be Creative Catering

Bluegrass Commercial Group LLC

Complete Forklift Repair

Cru Cutters, LLC

Emerge Managed Solutions

Erigo Employer Solutions

Family Allergy & Asthma

Furlong Building

Greater Comfort Heating and Air Conditioning, Inc.

Helping Hands NKY

Jolly Enterprises

Kona Ice

Legion Logistics LLC

North Bend Equipment LLC

Orchestrate Technologies

Outer Image Outdoor Services

PrideStaff Northern Kentucky

Prolocity Cloud Solutions

RoundTower Technologies

Scooter Media

Sitetology LLC

The Tracks Fitness Lab

The Vories Team at Keller Williams Realty Services

TiER1 Performance Solutions

Turner Family Dentistry

Wieda's Marine, LLC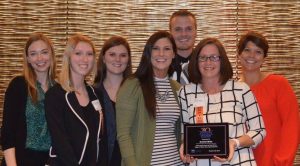 Scooter Media at the 2016 "Emerging 30" award ceremony.