3 Social Media Marketing Lessons from "Barbie" and "Oppenheimer"
Barbie and Oppenheimer aren't just two of this summer's most-anticipated movies — they're also great case studies of successful social media strategies in action.
With both of the films set to debut on July 21, we're taking a look at the lessons the campaigns for these films offer for social media marketers:
Lesson #1: Entice Audiences with Interesting Content
Barbie Teaser Trailers
In order to spark initial anticipation for Barbie, Warner Bros. released several teaser trailers for the film. However, unlike many trailers that give away key moments in the movie, Barbie's trailers have left social media audiences buzzing with curiosity about the film's plot.
Even once the second teaser dropped, fans were still left speculating. That speculation has been fueled by cast members like Margot Robbie, who said: "People generally hear 'Barbie' and think, 'I know what that movie is going to be,' and then they hear that Greta Gerwig is writing and directing it, and they're like, 'Oh, well, maybe I don't…'"
The Barbie teasers are a marketing strategy unlike any other, and if the amount of chatter it has generated online is any indication, it has proven wildly successful.
Oppenheimer Live Announcement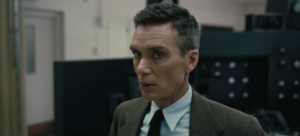 The official Oppenheimer trailer was first announced in an atypical way – a live countdown announcement on Twitter and a live countdown video on YouTube.
Once the countdown was complete and the trailer had launched, Universal Studios followed it up with longer trailers that introduce audiences to the A-list cast members and give a better sense of the film's tone.
This announcement strategy is a clever way to spark curiosity, as the countdowns created a "can't-miss" quality within the campaign.
Lesson #2: Keeping Audiences Engaged via Promotional Websites
AI Barbie Selfie Generator
No matter which social media platforms you're active on, there's a pretty good chance that you've seen one of the photos generated by the AI Barbie Selfie Generator.
Not only have millions of individuals submitted their own selfies to be Barbie-ized, but the generator has also been used to generate countless memes, providing an incredible amount of free promotion for the film.
This part of the film's social media campaign engages audiences in a fun and playful way, just like the toys the movie is based on. The playful approach worked: according to Meltwater, mentions of the Barbie movie increased by an astounding 23,350% the week the AI Selfie Generator was released.
Oppenheimer Countdown
Similar to the Selfie Generator, Oppenheimer has also created a promotional website for audiences craving more information on the film.
Much like the announcement strategy for the film, the website features a Manhattan Project countdown, which directly ties in to the film's historical narrative. Along with the countdown, when viewers click "Watch Announcement," a shorter trailer will play a countdown to the anniversary of the historical moment chronicled in the film.
This is a creative way to get audiences excited about the release date and connect them to one of the film's major plot points prior to heading to the movie theater.
Lesson #3: Using Star Power to Amplify Social Content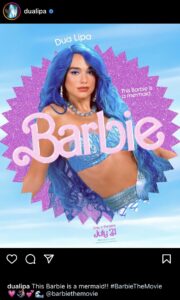 Selfie Posts from the Cast
Another reason the Barbie AI Selfie Generator was so successful is because the film's cast also got in on the action and posted selfies from the generator on their own social media accounts.
For example, singer-songwriter Dua Lipa, who plays one of the Barbies in the film, posted the selfie to her 88.1 million followers on Instagram, allowing the film's messaging to reach a much wider audience.
Though your organization likely doesn't have anyone with 100 million followers, your brand can leverage a similar strategy by emphasizing the importance of employees sharing content from your social media pages.
Oppenheimer Stars Engage with Trailer Comments
On the other hand, Oppenheimer leveraged the power of its stars by encouraging cast and crew members to post the film's trailers on social media — and even engage with fans who commented on the trailer.
Josh Peck, Robert Downey Jr., and Jack Quaid are just a few of the Oppenheimer's cast members who promoted the trailer via their own social media channels or interacted with other major film-related accounts on social media.
No matter which of these two films you're planning to buy a ticket to on July 21, there's no denying that both marketing campaigns have raised the bar for creatively promoting films on social media.
Which films are you excited to see this summer? Let us know by tweeting @ScooterMedia!
Craving more cinematic-themed content? Pass the popcorn and check out these posts: