3 Tools for PR Project Management
Even for highly organized public relations pros, staying on top of multiple client projects with a variety of moving pieces and deadlines can be challenging. Thankfully, there are a wide variety of excellent tools and apps designed to help perfect your project management process, from the early stages through successful execution.
Here are a few of our favorite project management tools to keep you on track:
Airtable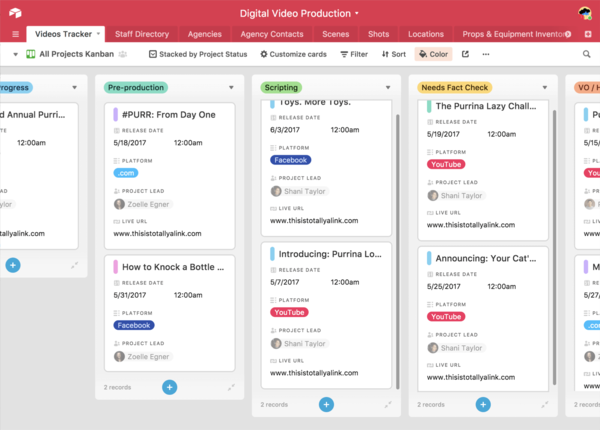 Airtable is an easy-to-use app that allows you to create a workflow document that will keep your team organized and your projects moving. Part database, part spreadsheet, Airtable offers a wide variety of customization options for attachments, checkboxes, links, and more so that you can spend more time executing your project and less time coordinating the logistics.
Pricing ranges from free to $20+, depending on the needs of your project and company. Additional pricing tiers provide more features, allowing for unlimited workspaces, larger attachments, and more.
Basecamp
Basecamp is helpful because it allows you to group projects into specific categories — perfect for agencies with multiple clients to keep track of. After inviting colleagues to these shared project pages, you can also share files and notes so that all materials needed for a project are stored in one convenient place. Basecamp is also essential for projects with complex timelines, as the platform allows you to create specific to-dos that can be assigned to individual team members.
In terms of pricing, Basecamp offers two plans: a free but limited version, and a pro version for $99 per month. The free version is better-suited for individuals or smaller teams, while the pro version works better for larger organizations with more team members.
Trello
If you're more of a visual learner, you can't beat Trello! This handy tool helps to keep you organized with boards and cards; boards give you an overview of a client or project, while cards help your team dive into the details they'll need to complete the task at hand. For projects that include repeating tasks, Trello also allows you to establish recurring reminders so that you're always staying on track.
Trello offers three pricing plans, depending on your team's budget and size. The free version is a great way for small teams to get organized, while the Business Class plan is designed for teams of up to 100 members looking to track multiple projects. The highest tier, Enterprise, is suitable for even larger organizations, especially those that might be working from multiple locations.
Whether you decide to try one of these project management tools or all three, you're guaranteed to get at least a little more organized. If there's a project management tool you can't live without, let us know by sending us a message or tweet on social media!
By Mya Priester, Scooter Media intern
Looking for more tips? Don't miss our "4 Steps for PR Planning Success in 2021," then check out our "Creative Ideas for Boosting Company Culture with a Virtual Office."