Facebook Explores Pay to Play; LinkedIn Launches Smart Replies
The social media landscape is constantly evolving, and successfully maneuvering the sharp twists and turns of this ever-changing road can be a challenge for even the most proficient PR pros and business owners. We've done the work for you and compiled everything you need to know.
Here's our monthly roundup of all things social media, compiled by our social media guru Drew Boehmker.
Facebook Continues Exploring Pay-to-Play
In what is being called a "nightmare scenario" for social media marketers and other content publishers, Facebook has recently started experimenting with removing posts from Pages in the main News Feed—instead relegating them to a new "Explore" tab, which contains a completely separate feed that users will have to access separately.
Thankfully, this dramatic shift is currently being tested only in select markets (Bolivia, Cambodia, Guatemala, Serbia, Slovakia, and Sri Lanka), and Facebook contends that they have no plans to roll the change out globally at this time. However, for content producers in those markets, the decline in reach has been dramatic—and should raise a red flag for anyone who relies on Facebook as part of their marketing mix.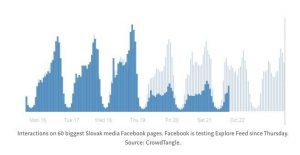 Simply put, this means that Facebook is no longer a free resource to help businesses spread the word about their brand. Instead, the platform is increasingly becoming a "battlefield of pay-to-play," where brands will have to spend money in order to reach their target audiences at all.
Facebook's shift toward becoming pay-to-play was the #1 social media trend for 2017 discussed in this column back in January, so it has been fascinating to watch as the "era of organic reach" continues to end. As we head into 2018, it's more apparent than ever that marketers on Facebook will need to incorporate an ad spend for their posts into the budget—or face the harsh reality that they may be producing content that very few will see.
Instagram Inspires Safety and Kindness
Instagram is celebrating the platform's recent milestone of reaching 800,000 users by rolling out new changes that will delight both social media marketers and casual users of the platform alike.
For marketers, Instagram has launched a new suite of "comment controls" that allow a brand to have more control than ever over who sees and comments on their posts. Brands can now choose to allow comments from "Everyone," "People You Follow and Your Followers," "People You Follow," or "Your Followers," which helps brands proactively filter and block offensive comments from abusive users.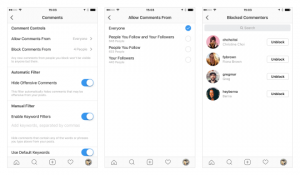 In addition, the platform is also unveiling a new kindness-themed campaign both within the app and around the world. Instagram is turning walls in cities around the world into colorful murals promoting #KindComments across social media, and is inviting users to take part in the initiative with new in-app kindness-themed stickers that have been designed by artists around the world.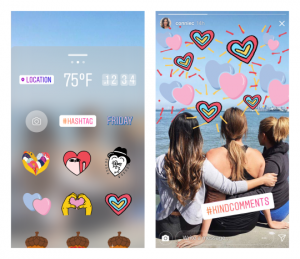 LinkedIn Launches Smart Replies
We all know that the connections made on LinkedIn can be extremely valuable; unfortunately, power users of the platform may find that they do not have time to respond to all of the messages they receive in their LinkedIn inbox.
LinkedIn is making life a little easier for those users with the introduction of "smart replies." This innovative new feature uses an algorithm to suggest pre-generated responses to your LinkedIn messages, allowing you to respond to more users even faster. Check out smart replies in action:
Eventually, the feature will be improved upon so that smart replies are even more personalized to help you manage the conversations that matter.
Scooter Media Is Your Social Media Resource
Staying up-to-date on social media can seem like a daunting task, but by using our tips you will hopefully find that it's not nearly as intimidating as it might appear. Keep posting, tweeting, Instagramming, and Snapchatting, and be sure to check back here each month for everything you need to know to stay on top of the social media game.
For more social media updates, also be sure to check out past "What's Moving on Social Media" from January, February, March, April, May, June, July, August, and September.
About Scooter Media
Scooter Media is a full-service communications agency in greater Cincinnati specializing in public relations and social media.