10 Trade Show Tips to Make an Impact on the Media
Attending a trade show is an important rite of passage for nearly every kind of business. The best trade shows allow you to stay informed with the current trends in your industry and provide a valuable opportunity to network with potential customers, competitors, and members of the media who may cover your brand or product.
However, trade shows can also be an expensive endeavor when you factor in expenses such as floor space rental, creating the visual look of the booth, and printing collateral materials—and that's not to mention the cost of transportation, lodging, and meals while attending the show. With such a high expense, it is imperative to carefully think through the details of your trade show appearance to make sure you are leveraging all potential opportunities that can result from it.
Ensuring you have a successful trade show experience begins long before you ever set foot in the exhibit hall. Here are some tried-and-true tips to maximize your next trade show appearance and help you get the media coverage—and ROI—of your dreams.
Plan your trade show strategy in advance.
Prior to registering for a trade show, you need to clearly determine what your goals for attending are. Do you want to reach new customers? Are you attempting to get coverage for your brand in a trade publication? Do you want to generate "buzz" for a new product? Answering these questions will help you determine the type of trade show you should attend and provide metrics to measure success after the event.
Have something newsworthy to announce.
Although this isn't a necessity, planning to have something new at the trade show will help your brand stand out and increase the likelihood that the media will pay attention to it. Perhaps you are debuting a new product, celebrating a recent anniversary, or even unveiling a new campaign; no matter what it is, having something new will go a long way toward differentiating you from your competitors.
Secure speaking opportunities.
A great way to gain additional visibility is to secure speaking opportunities for members of your organization at panels, workshops, and other sessions being offered at the event. Check to see if the show has a "Call for Speakers" posted in the months leading up to the event, or reach out to event organizers directly to see if such opportunities are available. Participating in speaking opportunities positions your business as a thought leader in your industry and is a great way to engage others who may not normally interact with your brand.
Write a news release for your appearance at the show.
Although news/press releases can be overused in some instances, an appearance at a trade show is an excellent newsworthy opportunity for your business to use one. Draft a news release announcing your company's attendance at the conference or trade show, and consider giving the media a "sneak peek" of whatever it is you plan to announce at the event. A well-written news release can be easily distributed to a wide audience of the people who are likely to care about your brand or product the most. For a sample news release (written in advance of Franchise Expo South), click here.
Distribute your news release to relevant members of the media.
Most trade shows have a media list containing the names and contact information of the members of the media personnel who will be in attendance, along with the outlets they represent. Contact event organizers to receive this list prior to attending the event and distribute your release to those on the list who cover the industry your business is in. (Note that it is usually not a good idea to send your release/other materials to everyone on the list; instead, be strategic and only select those who you feel are the best fit for what your brand is about.)
Schedule booth visits with the media.
Take your media outreach efforts a step further by using the media list to reach out and invite members of the media to schedule a visit to your booth during the show. Include details about what will make your booth stand out, and be sure to emphasize that you would be happy to answer any questions they may have during their visit. This gives you a valuable opportunity to get one-on-one face time and allows the media to experience your brand or product in a more visceral way.
Conceive a creative way to drive booth attendance.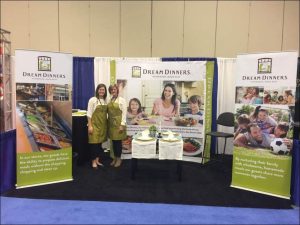 No matter which kind of trade show you attend, getting people to come to your booth is usually one of the most important goals. However, driving foot traffic is not always an easy task at busy trade shows with hundreds of exhibitors. To inspire attendees—including the media—to come to your booth, consider devising a creative reason that will compel them to check it out. For example, plan a giveaway for random attendees who come to learn more about your brand, or stage a unique photo opportunity for those who visit your booth (which also makes excellent content for sharing on social media).
Get social.
In today's age of likes and hashtags, using social media is an ideal way for your brand to engage with other trade show attendees and members of the media. Use the show's designated hashtag to see what others at the event are saying in real time; you can even invite some attendees to come visit your booth using @ responses. Consider building Twitter lists containing the usernames of media personnel who will be in attendance to easily see what topics they cover and what aspects of the show they are talking about. Finally, if you are announcing news at the trade show, be sure to schedule social media posts on your brand's pages in advance so that your audiences can read about the news as soon as it is announced.
Complete a competitive audit.
Trade shows are also an excellent opportunity to see what your competitors in the same industry are doing—especially because they are vying for the same customers and media coverage that you are. If you have extra time at the trade show, consider completing a competitive analysis by visiting the booths of other major players in your industry. Not only will the analysis give you insight into what other brands are doing successfully (as well as areas for improvement), but it will also give you ideas for emphasizing how your brand or company is different when talking to the media.
Be fearless with follow-ups.
Just because the trade show is over doesn't mean your work is finished. In the days and weeks following the event, it is vital to follow up with the connections you made at the show in order to ensure your brand doesn't fall victim to being "out of sight, out of mind." Send brief emails to media personnel you connected with thanking them for stopping by your booth and inviting them to keep in touch regarding future opportunities. Be sure to monitor your brand's social media pages and respond to any comments or questions that may have resulted in your trade show appearance. Above all else, be persistent; you never know when a connection made at a trade show may come in handy!
Ultimately, there is no magic formula for trade show success. However, by carefully thinking through your objectives and taking the appropriate steps to accomplish them, you can ensure your next trade show appearance will meet all of your expectations and more!
About Scooter Media, Your Trade Show Resource
Scooter Media is a full-service communications agency in greater Cincinnati specializing in public relations and social media. Read more of our tips for achieving PR success here and here.