How to Use a LinkedIn Life Page to Attract Talent
While LinkedIn may be best known as a way to grow your professional network and land your next job, it's also becoming an increasingly important tool for companies looking to attract talent. (In fact, 87% of job recruiters say LinkedIn is the most effective method of finding qualified candidates.)
However, with more than 58 million companies utilizing the platform as of 2023, it can be difficult to make your organization stand out. How can you showcase your company's culture and entice potential new employees to join your team? LinkedIn Life Pages offer a strategic opportunity to do just that.
TIP: Looking for more LinkedIn tips? Learn "How to Use LinkedIn Publishing" and discover "5 LinkedIn Hacks You'll Love".
.Before we dive into the key elements, let's first break down what a LinkedIn Life Page is.
What Is a LinkedIn Life Page?
A LinkedIn Life Page is part of the LinkedIn Career Pages package, which is designed to help companies reach the right candidates and drive applications. While Career Pages are a paid feature, the package can be customized to fit the size and individual needs of your business.
Once a Career Pages package has been purchased, a Life Page tab appears as an extension of your organization's Company Page. While a Company Page is a good way for followers to learn the basics of your business, a Life Page provides a rich canvas for you to tell followers the authentic story behind your organization and what makes it successful.
One of the best features of a Life Page is that it can be edited and updated to showcase different elements of your company's culture.
Elements of a LinkedIn Life Page
Here are some of the key features available on Life Pages and how your business can utilize them them to stand out:
1. Updating the Main Image/Video on your Life tab allows you to provide a quick snapshot of your organization's culture and the "who" behind who you are. Consider utilizing a recent group photo of current employees participating in a company picnic or retreat (and feel free to make it fun!).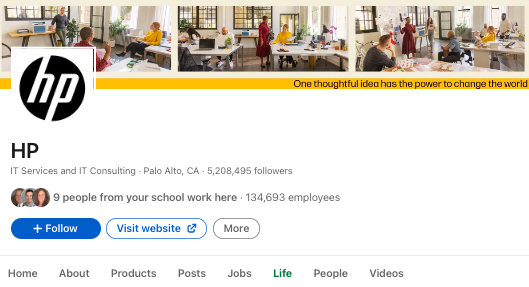 2. Highlighting key Company Leaders will give prospective employees a preview of your organization's leadership team. The Life page directly links to the profiles of these leaders, allowing potential employees to learn more about their individual growth at the company, successes they've had along the way, and the expertise they bring to the industry.

3. The heart of a LinkedIn Life Page is the Spotlight section. This selection allows you to add individual modules that demonstrate what working life at your company is like, and content can vary from the benefits of working for your organization to team-building activities that your company has hosted.
This is your opportunity to show off the personality of your organization. Take advantage of this section to highlight community partners, team volunteer days, remote/hybrid schedules, team lunches and other activities that make your business unique from others.
4. The Employee Perspectives and Testimonials sections also provide a nice personal touch not available on standard Company Pages.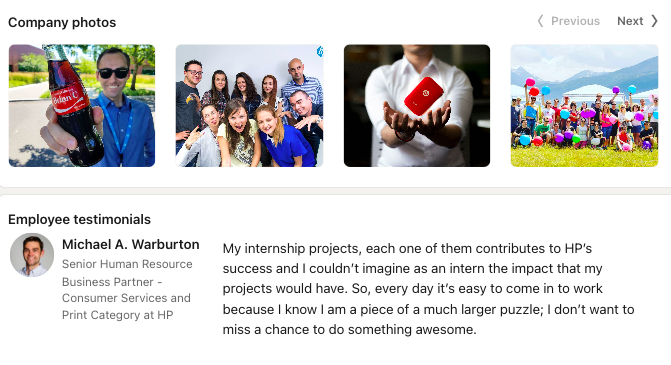 When job candidates are applying to your company, they want to learn more about the people who work there, why they like working there, and a chance to get a better understanding of culture and work/life balance. Who better to showcase this than your current employees? Giving current employees an opportunity to share their voice gives your LinkedIn Life page more credibility (and the testimonials used can also be repurposed for other kinds of social media content!).
Whether you're looking to add to your team or a place to showcase your team's unique personality, a LinkedIn Life Page enhances your existing Company Page while allowing you to stand out from the millions of other organizations on the platform.
Encourage your employees to be more involved on LinkedIn by learning "5 Ways to Liven Up Your LinkedIn Profile" and "How to Add Pronouns to Your LinkedIn Profile".