5 Ideas for Improving Your E-Newsletter Open Rate
There's no denying that email marketing is one of the most effective ways of promoting your brand or business. In fact, 64% of small business owners say that email marketing is an important way of reaching customers, and this number is even higher for brands in the B2B space.
TIP: Not sure if email marketing is the right strategy for your brand or business? Check out the rest of our blog and discover "Why Email Marketing is More Important Than Ever."
However, with more than 306 billion emails sent every single day, it can be difficult to make your e-newsletter stand out. Fear not — here are a few tried-and-true tips for improving your e-newsletter open rate and ensuring that your subscribers click through to read all of your great content:
#1: Be Strategic with Subject Lines

The most obvious place to start with improving your e-newsletter open rate is your subject line, as it's the first thing your audience will see before they even open your email. Some tried-and-true tips to spice up your subject line include:
Be specific. Do away with general subject lines like "April Newsletter" and instead use them to inform your audience about what they have to look forward to in the email.
Use a question to draw in readers. The only way they get the answer is to open the email and read!
Be straightforward. If you're making an announcement, make the announcement in the subject line and give the details in the body of the email.
Don't forget about the preheader! Adding a few additional words that serve as a preview can draw in readers and boost your e-newsletter open rate.
#2: Segment Your Audience
If you're sending multiple e-newsletters every month, there's a good chance that not all of your content will relate to every part of your audience. With that in mind, it's a good idea to divide your subscriber list into segments, representing the various audiences that your organization is trying to reach.
For example, if you're creating e-newsletters for a nonprofit, some sample audience segments might be:
the clients your nonprofit serves;
the donors who regularly give to your organization;
the volunteers who give their time to supporting your mission.
Knowing that you have these audiences segmented can help you throughout the e-newsletter process, from deciding which content to include, to the tone your email should take, and beyond. By getting to know your audiences, you can figure out the content most relevant to them — and make sure you're delivering that content right to their inboxes!
#3: Grow Your Subscriber List
Of course, in order to segment your audience, you need to have a large enough audience to segment. To help grow the number of people that subscribe to your e-newsletter, promote sign-ups on your brand's website and social media channels. Even a simple social post letting your followers know that the latest e-newsletter is now live can be a great way to drive additional traffic!
Additionally, to help prevent unsubscribes, make sure that you're varying content from email to email so that your audience isn't regularly receiving the same content over and over. If you're frequently providing up-to-date and valuable information, your readers won't want to risk unsubscribing.
#4: Score Points with Personalization
Many e-newsletter platforms also allow you to personalize your emails, which have a significant impact on improving your open rate.
Personalizing your e-newsletter strategy could be as simple as including the reader's name in the subject line, to more complex personalizations such as setting up automated emails. Once a new person subscribes to your email list, you can send them an automated personalized welcome email, and if you work in e-commerce, you can look into remarketing or sending an automated email with items left in their cart to encourage shoppers to return to your site and purchase the items they saved. 
#5: Test Sending at Different Times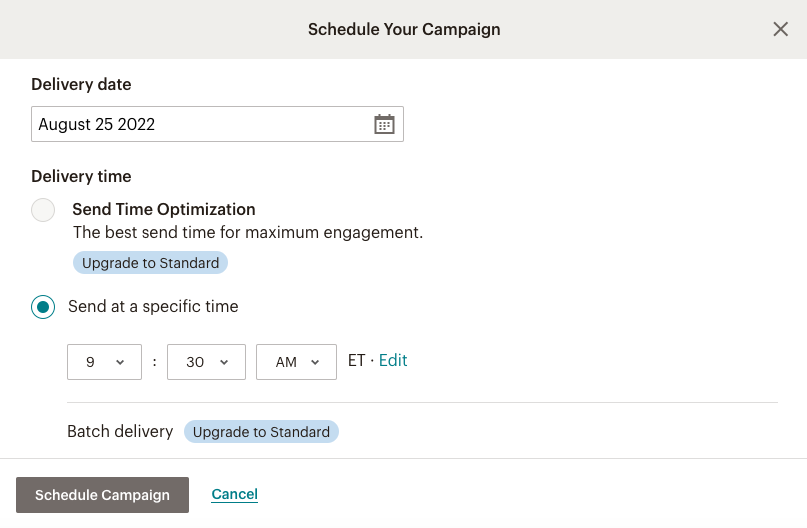 According to HubSpot, 99% of email users check their email every day — and some check it as often as 20 times a day! With that in mind, you should do some strategic testing in order to discover the times and days of the week that resonate best with your audience. There is no "magic formula" or universal advice for the best time to send, as it depends on your specific subscriber base, the nature of your brand/organization, and even the content of the e-newsletter you're sending.
If you're just getting started with your e-newsletter strategy, good times to test sending include first thing in the morning (so that your email is waiting for your audience when they wake up) or just before lunchtime (so they have something to read during their downtime).
Overall, the most important tip to improve your e-newsletter open rate: keep testing! If adding emojis to your subject line doesn't work, use that knowledge and try adding a question into your next subject line instead. By carefully monitoring the results of each e-newsletter and making modifications as appropriate, you can grow your audience, improve your open rate, and make sure you're getting the right information to the audiences that matter to your organization!
Want even more e-newsletter tips? Scooter Media has you covered! Don't miss: