4 Strategies for Scoring a Gold Medal with Your Summer Event
Simone Biles. Katie Ledecky. Allyson Felix. All are names to watch in this summer's Olympic games, drawing viewers in with their top-notch talent and incredible athleticism. But even without headliners like these, your organization can still host an event that brings home the gold, just like these world-class Olympians.
Here are four strategies for hosting a summer event that will score 10s across the board:
#1: Aim for Your Target
Just as an Olympic archer pulls back a bow, before you start planning anything you need to carefully think through what you're aiming for by hosting the event. While most events serve many purposes, usually there will be one key message you want attendees to experience, such as:
informing clients about a new product or service;
celebrating a company anniversary or other important milestone;
providing a networking opportunity for others in your industry;
learning something new;
or showing appreciation for your employees.
Clearly focusing your aim at the beginning of the process will go a long way toward ensuring your event successfully hits all of its targets in the long run.
#2: Choose Your "Arena"
Each summer Olympic event has its own distinct venue, from golf courses and swimming pools to bowling alleys, boxing rings, and basketball courts. In the same sense, it's imperative to consider the "arena" you'll be hosting your event in, whether it's a large-scale outdoor venue or a small hotel ballroom.
When considering a venue, think carefully about your guest list and the capacity needed to accommodate. If you're hosting your event in the summer, it's a perfect time to take advantage of outdoor venues like golf courses and parks (but be sure to have a contingency plan for bad weather!).
Sometimes a creative venue can turn a regular event into an exceptional one, so think outside the box when possible. Scooter Media has hosted client events at numerous Greater Cincinnati staples like The Carnegie for their annual Suits That Rock fundraiser, and Hard Rock Casino for People Working Cooperatively's annual ToolBelt Ball. Sophisticated venues like these might be just what your event needs to push it into gold medal territory.
#3: Interact with Your Fans
Although there won't be fans in the audience of the Olympics this year, you know there will still be millions of viewers glued to their TVs, live-tweeting Simone Biles crushing her floor routine. The same can be said about your event; as demonstrated throughout the past year, it's still possible for fans to take part in an event even if they are hundreds of miles away.
Using social media to extend the reach of your event is a great place to start. Chances are you already have a great presence and following on your social media channels — why not use it to your advantage and engage those fans during your event?
Depending on the type of event you're hosting, you'll probably also want to consider creating a hashtag so that attendees can network with each other. An added benefit of incorporating a branded hashtag into your event strategy is that it's a great way to get your finger on the pulse of what followers and attendees are saying about the event, forming insights you can use in future years.
Finally, don't be afraid to get creative in terms of how you're engaging with fans. If you've never tried Facebook or Instagram Live, an event is a great opportunity to do so. Use Stories to show the behind-the-scenes of an event set up, or host a Q&A with one of the emcees of your event. No matter how you rally your fans together, you're sure to have a supportive cheering section watching from the social media sidelines.
#4: Everyone Walks Away a Winner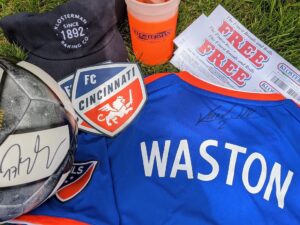 Whether you're having an in-person or virtual event, everybody loves free swag. Consider mailing a themed gift to your attendees before the virtual event, or having swag bags for attendees to take home so that they have a tangible reminder of the event.
While we're moving away from pandemic-related swag, your merch is a way to let your fans or employees know you care. Practical gifts are a great way to create a useful item that reminds fans of your brand every time they use it. These Klosterman Baking Company/FC Cincinnati-branded color-changing cups were a super-practical gift from one of our clients that had all of the fans raving — people even kept requesting the cups on social media after the event!
Once your event is over and done, it's time to relax — almost! Before the dust settles, think back to the goals you established in step 1. Did your event hit your mark? If so, give yourself a gold medal for a job well done.
Looking for more event marketing ideas? Check out our "Tips for Making Your Event a Media Relations Success," and don't miss "5 Digital Tips to Promote Your Next Event."