Our Favorite PR Stunts of 2019
It's been a wild year. From the end of phase one of the Marvel Cinematic Universe, saying goodbye to characters we all know and love, to the phenomenon that was storming Area 51, to the Peloton and subsequent Aviation Gin commercials, brands haven't taken a break from social media or PR stunts.
Let's take a look back at some of the best or most notable social media and PR moments of 2019.
Brands responding to the Storming of Area 51
You may remember from a blog post earlier this year, that brands didn't just jump on the bandwagon; they dove headfirst into the waters of the viral Storming of Area 51 event on Facebook.
Did you miss it? Read all about it here.
Takeaways: While only a few hundred people showed up to the actual raid, it was a great moment for brands to get on board with something that was already trending while staying on brand. Brands also didn't step on each other's toes, proving that there is room for everyone when it comes to aliens… I mean viral sensations.
Popeyes vs Chick-fil-A Chicken Sandwich Wars
In one of the weirdest social media strategies gone viral, Popeyes and Chick-fil-A took a stand and tried to prove who had the better chicken sandwich via Twitter. Popeyes somewhat quietly released a chicken sandwich (as it was not available everywhere yet) that was gaining in popularity. Seemingly in response, Chick-fil-A then tweeted about their chicken sandwich, which they say is the "original." Popeyes responded:
… y'all good? https://t.co/lPaTFXfnyP

— Popeyes Chicken (@PopeyesChicken) August 19, 2019
And thus, the chicken sandwich wars ensued. It didn't take long for Popeyes to sell out of the newly beloved sandwich, and the chicken sandwiches took over social media for at least a week.
Takeaways: In this instance, it may have not been in Chick-fil-A's favor to start this twitter war. While it may not have hurt the brand, it definitely elevated Popeyes. Would Popeyes have sold out of chicken sandwiches and had lines down the street if Chick-fil-A didn't tweet? We'll never know. But my guess is, it would not have become the big deal that it did without the social media push.
Chance the Rapper and Spicy Chicken Nuggets
My personal favorite stunt of the year, because I now get to enjoy spicy nuggets whenever I want, has to be Chance the Rapper and Wendy's.
On May 4, 2019, Chance the Rapper sent a tweet that would forever change my taste buds. And Wendy's responded.
After some back and forth, an agreement was made.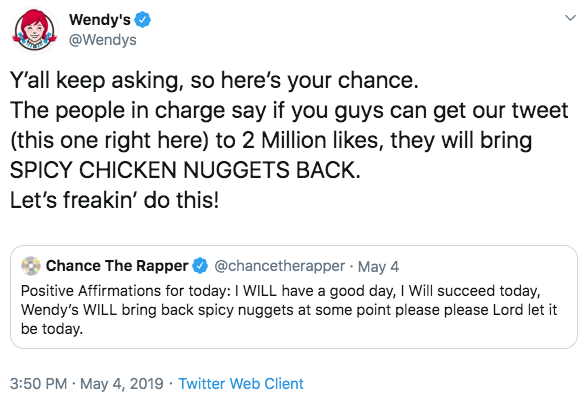 In some of the best news of 2019, the tweet surpassed 2 million likes and spicy nuggets are back on the menu.
Takeaways: This is textbook influencer marketing. When a popular celebrity on social media with a solid following tweets about something they like, the post is authentic to both the influencer and the brand, which makes it believable and engaging to the audience. The brand responded in its usual snarky and low-key relatable way making what seemed like an ordinary tweet into a contest. Wendy's and Chance the Rapper fans engaged with both the rapper and the brand's posts, and now we all have spicy chicken nuggets.
Aviation Gin
The most recent example of a brand turning something viral into a piece of content that works for them is Ryan Reynolds' gin company, Aviation Gin. The took the viral 'Peloton Wife' commercial and made something much better, a commercial about female empowerment and gin.
Takeaways: Reacting quickly and smartly can yield great results. After the Peloton ad was released, Ryan Reynolds had an idea and moved quickly to make it happen. It's a good example of one brand playing off of another, even though they don't sell the same product (or anything close).
*Special mention goes to Netflix with this tweet:
what's something you can say during sex but also when you manage a brand twitter account?

— Netflix US (@netflix) December 5, 2019
It's not exactly safe for work, so browse the answers from well-known brands at your leisure!
None of these social media/PR stunts would have been possible without collaboration. Brands joining in on something already viral, tweeting at each other, and collaborating with celebrities led to some of the best, most entertaining social media and PR moments of the year. Bring on 2020!