How Storming Area 51 Became a Viral Sensation
If you haven't heard by now, 3.5 million people want to storm Area 51 in Nevada the weekend of September 20, 2019… at least on social media, anyway.
What started as a simple Facebook event – Storm Area 51, They Can't Stop All of Us – soon took over the internet from memes and tweets to advertising campaigns from big brands, garnering media attention from around the globe.
How Does Something Like This Go Viral?
Let's take a look back at some other social media viral trends, shall we?
Does anyone remember the "Planking" Challenge from 2011? How about the "Mannequin" Challenge from 2016? Or the "In My Feelings" Challenge from 2018?
According to Vox, the reason posts like this grow to the extent that they do is because they are, "shamelessly silly, these memes are funny mostly for being intentionally lazy, even nonsensical, which makes them good for an eye roll, snort, and bemused repost to your own page."
These viral videos disappear from our social media feeds as quickly as they arrived.
This summer, Storm Area 51 is that viral social media darling and it all started when a parody Facebook account created the event. As Storm Area 51 spread across Facebook, more and more people marked themselves as either going or interested. Soon, as with most viral moments, people started creating memes, gifs and tweeting about what they would do when they stormed Area 51.
Brands Who Have Successfully Joined the Fun
Most of the companies who have jumped on the bandwagon are funny, clever, and on brand.
A few used Twitter, keeping the spirit of silliness alive:
Them: Wanna crash #Area51?

Me: OH YEAH!

┳ 【 𝐀𝐑𝐄𝐀 𝟓𝟏 】 ┳─┳─┳─┳─
┳┻┳┻┳┻┳┻┳┻┳┻┳┻┳┻
┳┻┳┻┳┻┳┻┳ 👽 👽 ┻
┳┻ ⌌ ⏠ ┻┳ 👽 👽 👽 ┻
┳┻ ᕕ( ❛,❛ )ᕗ ┻┳ 👽 👽 ┻
┳┻ / ⌣ \ ┳┻┳ 👽 👽 👽 ┻ https://t.co/dwoadXlqwj

— Kool-Aid (@koolaid) July 12, 2019
attn people storming Area 51: if they tell you to bring them to your leader, remember who's king.

— Burger King (@BurgerKing) July 12, 2019
Free MoonPies in Area 51

— MoonPie (@MoonPie) July 14, 2019
Bud Light took it a step further and created Area 51 inspired packaging: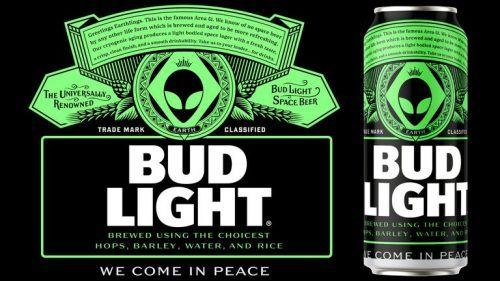 The Ethical Implications of Joining Viral Social Media "Events"
The U.S. Air Force has issued a statement instructing the public to not attend the event because storming a military base is illegal. As of August 20, 2019, commissioners in Lincoln County, Nevada have pre-signed an emergency declaration ahead of the event. Brands, while having fun in the moment and joining the virtual conversation, must be careful not to sponsor illegal activity.
Bud Light walked a fine line when they joked in a tweet that they would give free Bud Light to any alien that made it out.
Screw it. Free Bud Light to any alien that makes it out. https://t.co/AOWOYL3Oyp

— Bud Light (@budlight) July 17, 2019
Arby's took PR around the event to a new level and tweeted their plan to send an Arby's food truck to Area 51.
We're going there.
No really, we're going there. #Area51. And we're bringing a special menu. 🛸 pic.twitter.com/Z7V3TgY8fe

— Arby's (@Arbys) July 25, 2019
This is an ever-evolving viral "event" that will continue to capture the imagination of media outlets, brands, conspiracy theorists and the general public alike as the weekend of September 20 approaches. It has certainly captured the attention of Scooter Media's social media team and we'll be watching to see how brands continue to engage their audiences and capitalize on the upcoming conclusion of this viral movement.
About Scooter Media
Scooter Media is a full-service communications agency in Greater Cincinnati specializing in public relations and social media. For more social media trends, see our monthly Social Media Snapshots on our blog.