Facebook Addresses Discrimination in Advertising
Does it seem like each time you log in to Facebook to submit an ad that the rules have changed? Facebook's latest advertising update addresses housing, credit, and employment promotions on the platform. Why? To protect users from being discriminated against. Prior to this update, examples of discrimination in advertising included housing developments only targeting certain races or job listings excluding older applicants on Facebook.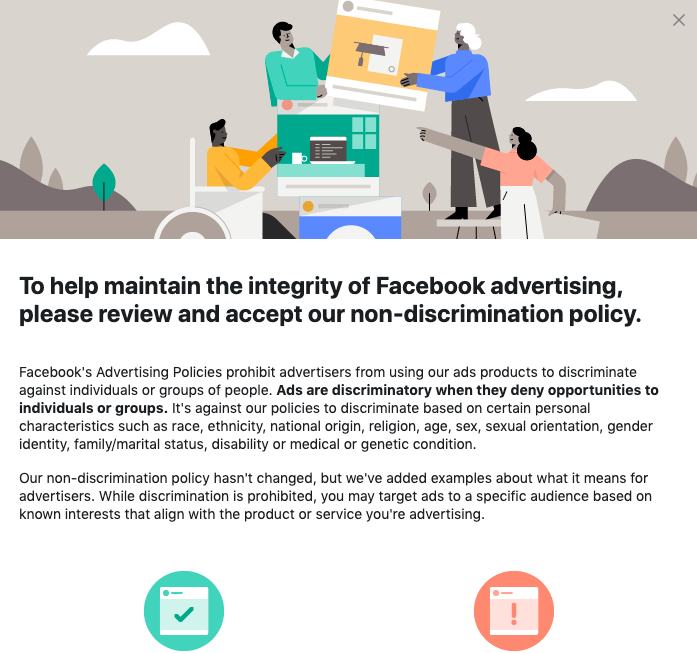 How does this affect advertisers?
Now, when creating a housing, credit, or employment ad there is a required Special Ad Category.
Certain targeting options are no longer available for ads in special categories. Depending on the industry this could mean not targeting by age, race, or income range. This update is in response to a series of recent lawsuits brought against the social media giant and an effort to not only implement but enforce their company non-discrimination policy with advertisers across the platform. This shared responsibility model protects marketers, and Facebook, while fostering a more inclusive user experience.
As Facebook continues to roll out this update and address discriminatory practices in Ads Manager, this also provides an opportunity for marketers to discuss and evaluate other areas of improvement when targeting audiences.
Scooter Media is Your Social Media Resource
Scooter Media is your resource for navigating the ins and outs of the always-changing world of social media. Looking for more social media tips? Check out our primer on Social Media Trends in 2019, along with guides to scheduling your social media posts and delivering exceptional customer service experiences on Facebook. Be sure to check back frequently for new installments of our "Social Media Snapshot" series!
About Scooter Media
Scooter Media is a full-service communications agency in the Northern Kentucky/Greater Cincinnati region specializing in public relations and social media.