The Kentucky Bourbon Trail: 10 Fun Facts We Took Away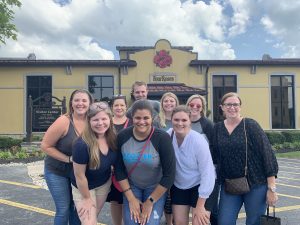 The Kentucky Bourbon Trail…..
Picture this: sipping a glass of bourbon, nibbling on a chocolate-covered bourbon ball, and enjoying a day of camaraderie with your favorite coworkers. The Scooter Media team did just that last week for our annual staff retreat. We hit up a portion of the Kentucky Bourbon Trail for a day of fun, team building, and learning about the bourbon production process.
Enjoy these 10 facts that we learned on the Kentucky Bourbon Trail while touring Woodford Reserve, Buffalo Trace, and Four Roses.
All bourbon is whiskey, but not all whiskey is bourbon.
Bourbon is made up of 51% corn.
Shannan makes a mean snack bag (thanks for the grapes!).
Woodford Reserve was the most popular amongst the Scooter Media team.
Buffalo Trace is one of the oldest bourbon distilleries in the business.
Riverboat Grill makes a delicious Anchor Down Burger.
Four Roses has 10 distinct recipes.
Bourbon must be aged at least four years.
Katie really doesn't like Buffalo Trace's White Dog.
95% of the world's bourbon is made in Kentucky.