Social Media Snapshot: Social Media Trends in 2019
Click, flash! The world of social media is always changing from one minute to the next, and staying up-to-date with what's trending can be a challenge even for the savviest social moguls. Fear not — the social media experts at Scooter Media are here to give you a quick download on everything you need to know.
Per Hootsuite's recent "Social Trends You Can Put into Practice in 2019" webinar, here are three of the top social media tips and trends you need to know in the New Year:
Trend #1: Rebuilding Trust
Given Facebook's Cambridge Analytica scandal and the proliferation of "bot" accounts on Twitter, 2018 represented a turning point in the public's trust in social media. In fact, according to Edelman's recently released 2018 Trust Barometer, an astounding 60% of those surveyed no longer trust social media companies — as many have become increasingly skeptical of media outlets and celebrity influencers on social media.
With this "social skepticism" in mind, many social media users are going back to relying on a more intimate circle of trust consisting of friends, family members, and other "micro-influencers." Many brands are also adopting a similar strategy, relying less on celebrities and influencers and more on employee advocates and internal experts to deliver their messages on social media.
There are many strategies your business can employ in order to get in front of this trend and rebuild trust with audiences on social media in 2019. For example, consider creating a Facebook Group to complement your page, which can act as a gathering place for your brand's superfans and give you a channel to address more niche interests.
In addition, hosting a Twitter chat (utilizing a specific hashtag) can be a great way to generate one-on-one discussions with your key audiences. Finally, consider creating a branded hashtag on Instagram that aligns with your company's values (such as Herschel Supply Co.'s #welltravelled hashtag targeting travel enthusiasts).
Trend #2: "Story"-fying Social
When Stories first launched on Instagram and Facebook in 2016, the feature was often viewed as a quirky complement to a brand's social strategy. That is simply no longer the case, as Stories are now being used by more than 300 million people on Instagram and 100 million people on Facebook — per day. In fact, Facebook's chief product officer Chris Cox has even stated that he expects Stories to surpass the News Feed as the primary way of sharing within the next year.
With Stories showing no signs of slowing down, it's imperative for brands to get onboard this rapidly emerging trend. One of the best parts about Stories is that their short-lived nature means audiences often expect them to be more informal and in-the-moment, so even small businesses can make a big impact with Stories on a little budget. Even big brands (like The Guardian) are finding that less polished, more realistic Stories can drive even more engagement than heavily edited videos in the News Feed.
If your business is not already utilizing Stories, 2019 is a great time to start. Experiment with different Story formats to find out what works best for your brand; for example, you could use Stories to give your audiences a look "behind-the-scenes" at your company, or to show viewers how to use your product. You can also tap into the wealth of features offered by stories — such as Q&A, polls, and shoppable stickers — to learn more about which types of Stories will resonate most with your audiences.
Trend #3: Make Messaging a Priority
Now that top messaging applications such as WhatsApp, Facebook Messenger, and Skype have reached nearly five billion monthly active users, it's no surprise that today's audiences on social media are increasingly expecting to have one-on-one interactions with brands through these apps. In fact, according to a survey conducted by Facebook in 2018, 69% percent of users stated that directly messaging a company helps them feel more confident about that brand.
Most importantly, messaging apps allow brands the rare opportunity to build rapport and empathy with both their most loyal fans as well as audiences who are just discovering their business. This is why the best brands are utilizing apps like Facebook Messenger for high-value conversations — not just as another channel to annoy audiences on social media.
Your brand or business can take advantage of this trend in 2019 by first enabling Facebook Messenger on your business page (if you haven't already), and then by experimenting with your instant reply settings to ensure those who message your page receive a prompt response. If you're just getting started, you can read more tips for ensuring high-quality customer service experiences on Facebook here.
For social media managers who have already been utilizing messaging features, consider stepping up your messaging strategy in 2019 by setting up messenger bots (which can automatically respond to frequently asked questions, such as your store's hours), or by running boosted posts on Facebook that incorporate messaging features.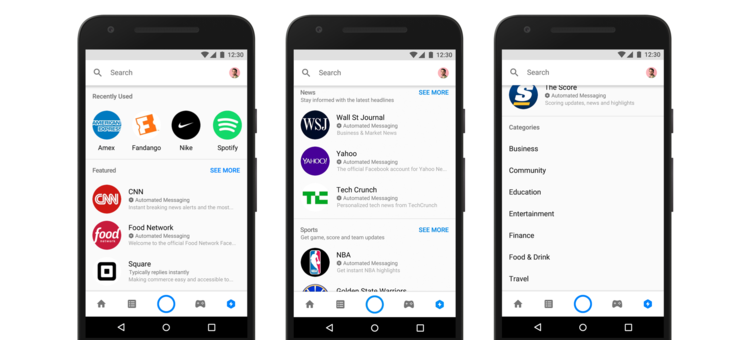 Scooter Media Is Your Social Media Resource
Ultimately, 2019 promises to be an interesting year for both casual social media users and social media marketers alike. Be sure to stay tuned to the Scooter Media blog throughout 2019 for more updates on tips, tricks, and trends you need to stay ahead of the social media universe.
Looking for more social media tips? Check out our guides to scheduling your social media posts and getting the most out of Facebook for your brand.
About Scooter Media
Scooter Media is a full-service communications agency in greater Cincinnati specializing in public relations and social media.