LinkedIn Improves Accessibility with Immersive Reader Features
As LinkedIn continues adding new users at an impressive rate, the professional networking platform has recently introduced some impressive new tools to improve the accessibility of content for old and new users alike.
Specifically, LinkedIn users can now utilize many features of Microsoft's Immersive Reader to seamlessly engage with any articles published natively on the platform. (Note: these features are currently only available when accessing LinkedIn via desktop.)
To access these accessibility features, open any article published natively on LinkedIn and select "Open Immersive Reader" under the article's title.
TIP: Not sure how to publish your own article on LinkedIn? We've got you covered! Check out our guide on "How to Use LinkedIn Publishing."
Here are a few of the ways you can use the suite of Immersive Reader features to better engage with your favorite thought leadership articles on LinkedIn:
Display Design
One of the best features of Immersive Reader is the ability to completely customize how an article is displayed. Using a simple point-and-click menu, you can easily increase text size, expand the spacing between lines, and change the background and font colors to improve contrast (which can be especially important for readers with visual impairments).
Syllable Splitting
No matter which industry you're in, many LinkedIn articles are prone to using jargon. Using Immersive Reader, you can now break down words into syllables, making it easier to learn what the terms mean and how to pronounce them.
Content Isolation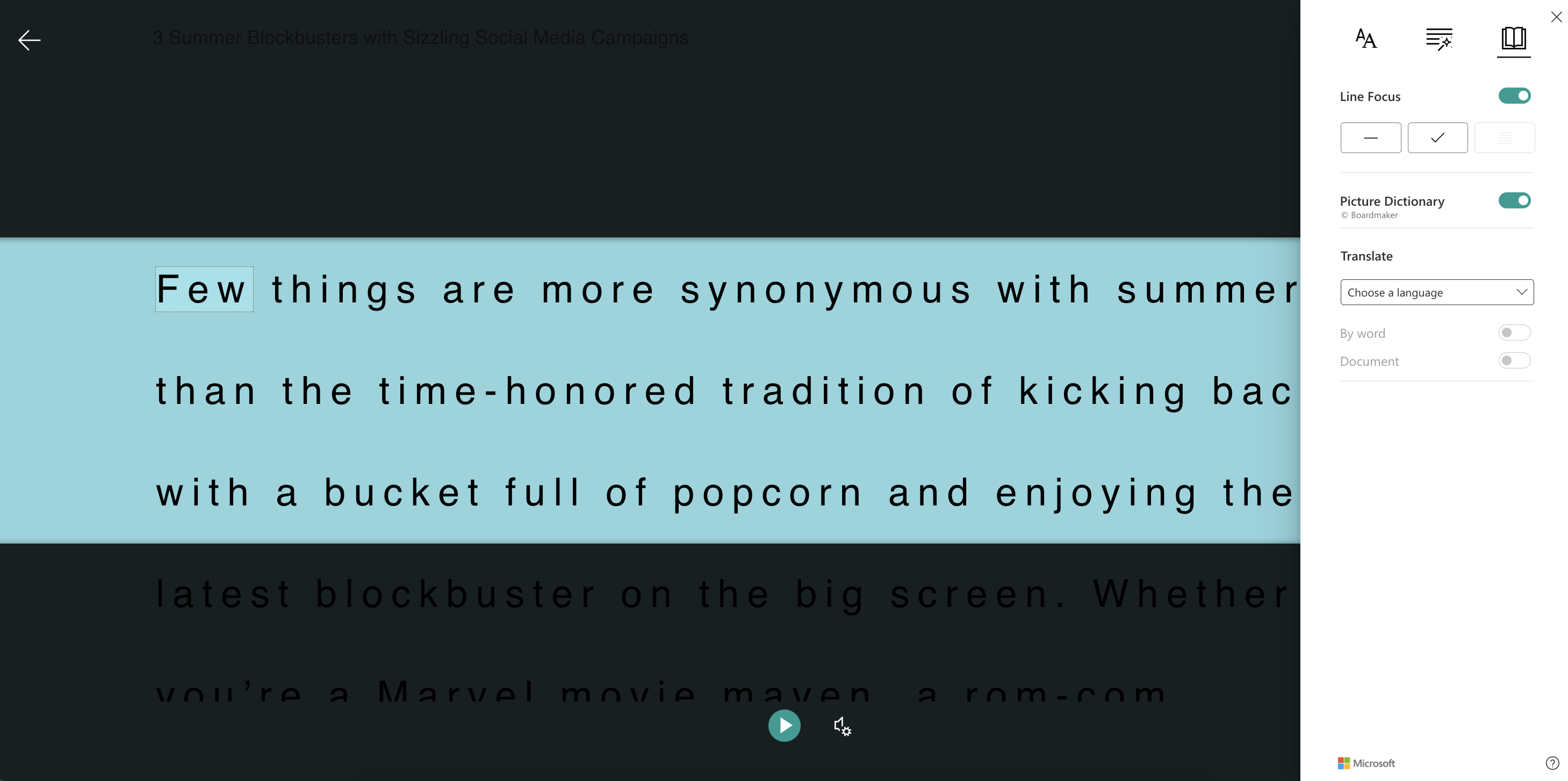 Finding it difficult to focus on the article due to all of the photos, messenger pop-ups, and toolbars on the page? Immersive Reader allows you to eliminate distractions like these and ensure only the content you care about is displayed on your screen. (The Line Focus feature is especially great for lengthy articles!)
Text-to-Speech
If you prefer to listen to your articles, Immersive Reader has an excellent text-to-speech feature through which you can select reading speed, voice, and more.
Real-Time Translations
LinkedIn users reading content outside of their native language will now have a much easier time, as Immersive Reader can instantly translate text into over 120 languages. Given that LinkedIn's international user base is currently growing at double the pace of its US user base, this feature is a valuable asset in helping your content reach a wide variety of new audiences.
Have you experimented with LinkedIn's new accessibility features yet? Follow Scooter Media on LinkedIn and let us know!
Learn more about improving the accessibility of your LinkedIn content by checking out these blogs: