How to Create Educational Social Video Content
If you're looking to establish your brand as an expert in your industry, creating educational social video content is a great place to start. Instagram Reels, TikTok, and YouTube are just a few of the channels that audiences are turning to for educational social video content that will help them learn everything from home improvement hacks to tutorials for using popular apps.
Follow these four steps to create engaging educational social videos for your brand or business:
Step #1: Draft a Short and Straightforward Script
Does your company have a backlog of evergreen blog content? Easily repurpose this content by taking your blogs and turning them into scripts for educational social videos. First, select the blog you want to repurpose and condense it into a 15 to 30-second script that is broken up into a hook, main body, and a call-to-action.
Hook
Invite your audience into the conversation by starting with a strong and thought-provoking hook. Here are a few ideas to get you started:
"Use these three tools to increase your TikTok reach."
"Did you know you can save money on your online order?"
"

Our team is

loving

these five LinkedIn hacks."
Drafting a hook that sparks interest in your audience will go a long way toward keeping them engaged in the rest of the video.
Main Body
Now that you have your hook, it's time to focus on the main body of the script. Unlike an informative paper, your thesis and body morph into one when creating educational video content.
For example, if your blog post features three tools, four steps, five hacks, or something similar, these should become the main portion of the script. Draft one or two simple sentences covering the gist of each tip, but don't feel like you have to cover everything.
Call-to-Action
Once you've drafted the hook and main body of your script, close out your video with a strong call-to-action. What next steps do you want your viewer to take? Is there a full blog with more details about the subject? Do you dive deeper in another video on your channel? An easy-to-follow call-to-action is the best way to direct your audience to more sources of your educational content.
Step #2: Select Locations and Film
Once you have your script, you're ready to map out your locations and film your educational social video.
To begin, select locations based on the needs of your video. Will you include graphics and text in the final video? If so, opt for a plain background that will not distract your audience. After determining your locations, pick up any necessary film equipment, such as a wireless microphone, lighting, etc. that will enhance the quality of your video.
Before you press record, make sure you take into account framing requirements and prepare for editing text, graphics, and captions. Use hand gestures to direct attention to graphics and text that will be added in post-production, and direct whoever is speaking in the video to enunciate for clear audio and easy-to-configure captions.
Step #3: Edit Your Educational Social Video Together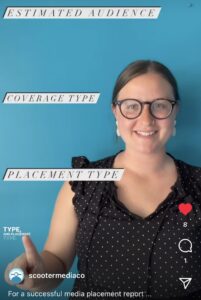 Now that you have all of your clips, you can begin editing. There are a wide variety of editing suites you can use depending on the needs of your video. Here are some great go-tos:
Adobe Premiere Pro, which allows you to go further into editing video and audio by color correcting, canceling out background noise, adding transitions, and more;
Instagram Reels, which allows you to utilize sounds, text, and other graphics in the app for hands-on editing;
TikTok, where you can select a title graphic for your thumbnail, and add sounds, text, effects, and more to your video directly in the app;
iMovie, an easy-to-use program in which you can easily edit clips and add sound effects for quick exporting.
Step #4: Create a Thumbnail and Write Copy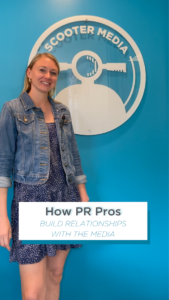 Your educational social video is almost complete! It's a good idea to go ahead and create a branded template for video thumbnails and Reels covers in a platform like Canva so that you can easily make similar graphics for future educational social videos.
After you've created your thumbnail or cover, draft social copy to expand your reach by using keywords and phrases people in your industry are searching for. For example, suppose you're creating an educational video on this blog. In that case, the social copy accompanying your video could be something like: "Here's how to create educational videos for your brand or business."
Once your educational social video is edited to include text, graphics, captions, and a thumbnail and social copy, you're ready to upload it to your brand's social platforms. Your audience will be learning in no time — and they're much more likely to view your brand as an expert as a result.
Want to learn more about creating educational social video content? Check out these blogs: