Three Members of Scooter Media's PR Team Promoted
Big things are happening at Scooter Media! We're thrilled to share that three of our public relations team members have recently been promoted to new roles:
Lauren Vogel has been promoted to Public Relations Director
Lauren Hall has been promoted to Public Relations Manager
Gina Genco has been promoted to Senior Media Relations Specialist
Lauren Vogel, Public Relations Director
As our Public Relations Director, Lauren Vogel is responsible for leading client accounts to ensure goals and objectives are clearly defined and met. Vogel's extensive client experience across various industries has helped to elevate Scooter Media's PR and media relations offerings.
Shannan Boyer, President of Scooter Media, says that Lauren's attention to detail, passion for the craft, and desire to deliver top-notch work sets her apart from other professionals and makes her an integral member of our team.
With this new title, Lauren says she will be incorporating some of the best advice she's ever received:
"One thing that someone told me very early on in my career is that as a leader, it is always 'we' not 'me,'" said Lauren. "That goes for client service and how we approach the work. I think it has really helped me over the years to always prioritize my team and their needs in tandem with those of our clients."
Lauren Hall, Public Relations Manager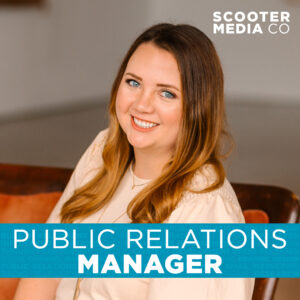 Lauren Hall is a Public Relations Manager who specializes in media relations. As part of her role, Lauren takes time to get to know her clients, not only from a business perspective but also as people. This quality gives her a holistic understanding of what they want, what they need, and how Scooter Media can help them achieve their goals.
For Lauren, the success of our clients is what keeps her motivated.
"When a client lands a story or a news segment, it really fills me with joy. I am glad to be able to share their stories with the community and be a small part of their overall success!"said Lauren.
Krystan Krailler, Client Services Director, says that Lauren's instincts and fantastic leadership qualities make her perfect for this role, and that the move to leading client teams is a logical next step for her.
Gina Genco, Senior Media Relations Specialist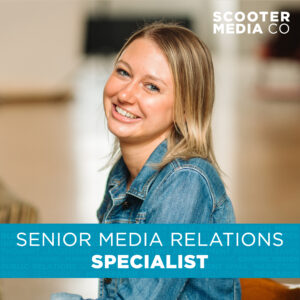 Gina Genco is our newest Senior Media Relations Specialist. In this position, Gina is all about helping brands tell their stories to their target audiences, and was the first on our team to pitch and secure national coverage with a lifestyle publication through Clubhouse.
Lauren Vogel, Public Relations Director, says that Gina's enthusiasm for PR is infectious. Her dedication to best practices, especially around national media relations, positions her as a vast resource and wealth of knowledge for our team.
As a result of her dedication and hard work, Gina was recently named PRSA Cincinnati's New PR Pro of the Year. For Gina, the most essential skill to becoming a great professional in media relations is being a people person.
"I think you have to like people to do this job well. Having the ability to meet people where they are, be a chameleon and tailor your communication style/tone/voice to tell people's stories and work well with reporters is a huge asset," said Gina.
We are honored to spotlight the excellent work of these three talented PR professionals and are excited to see what they will accomplish in their new roles.