Improve Your PR Writing With These 3 Editing Tools
by Mya Priester, PR Intern
As a public relations professional, the content you produce is a top priority. Whether it is a news release that will be distributed via a wire or a social media post that will be viewed by your brand's Facebook fans, your content could potentially be viewed by thousands — or even millions — of people. Instead of cracking under this pressure, however, it is up to public relations professionals to do everything in their power to ensure their content is clear, concise, and engaging.
Here are three of our favorite PR writing and editing tools that will assist you in creating content that stands out:
Grammarly
Grammarly is an AI digital assistant that offers real-time feedback to help eliminate common writing errors, from spelling errors to comma splices and everything in between. With the platform's web-based browser, you can copy and paste your work and receive guidance on your spelling, grammar, and punctuation. Even better, Grammarly is also offered as a Google Chrome extension, which will work when you are composing emails, drafting social media posts, and more.
And that's just the free version! If you have the budget, there are also Grammarly Premium and Grammarly Business versions to give you even more editing power.
Hemingway Editor
Especially when handling longer-form writing tasks, it is all too easy to get distracted and let life get in the way. With Hemingway, distractions are not an issue! Hemingway is a desktop app that gives you feedback on the readability of your content. A great feature of this app is that it doesn't require WiFi to use, allowing you to make those final edits from anywhere.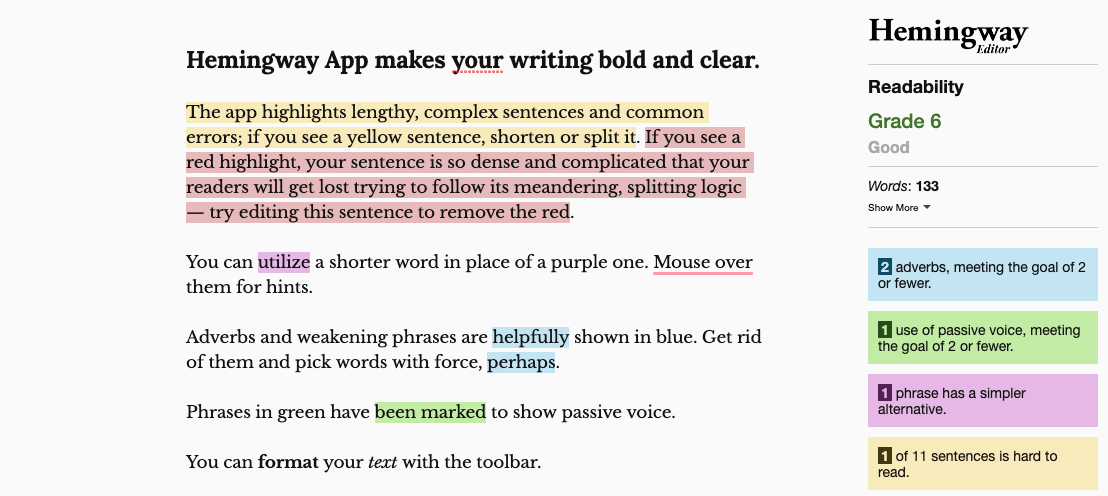 By highlighting adverbs, passive voice, and dull, complicated words, Hemingway helps to make sure your message is as concise as possible. It also makes understanding feedback a breeze by color-coding specific types of suggestions to save you even more time!
StyleGuard
Having a thorough knowledge of AP Style is important for all PR pros, but it can be easy to forget some of the specifics. Have no fear — StyleGuard is here!
StyleGuard is a free app that keeps track of more than 25,000 AP Style rules and suggests fixes to your copy as you work. The app's side panel will display further details, optional suggestions, and links to additional information in online resources, such as Wikipedia or relevant searches.
This powerful app also helps with citation suggestions and lets you know how a term is being referred to by publishers. Best of all — it's always up-to-date with the latest changes to the AP Stylebook!
Whether you choose to use one of these tools or all three, your next PR writing project is sure to pack even more of a punch. Now get out there and start creating some content!
Looking for more PR writing tips?  Read through the Scooter Media blog for even more resources, such as "The Importance of Word Choice in Communicating Your Brand's Message" and "Vocab Rehab: Refresh Your Copy"!