4 Tactics for Engaging Your Brand's Fans During the Era of Social Distancing
There's no denying that the COVID-19 public health crisis has changed all of the rules for professional communicators. As a result, brands both big and small across nearly all industries are being forced to re-evaluate the strategies and tactics they use to reach their target audiences, from recent customers to long-time brand loyalists.
However, just because we're living in an era of "social distancing" doesn't mean that you should lessen contact with your key publics; in fact, fostering connections has never been more important than it is right now.
With that in mind, here are some of our favorite creative engagement tactics for keeping fans of your brand connected during this unprecedented era:
Tactic #1: Turn Events into Virtual Experiences
One of the most immediate impacts of COVID-19 has been the cancellation of events of all sizes, from festivals and fundraising galas to performances and sporting events. Once you have canceled an event and taken the necessary steps to inform attendees, your first instinct might be to move on and put everything on the back burner until a later date. Not so fast — it's important to keep in mind that we are living in an era where platforms such as Facebook Live, Google Hangouts, and Zoom have made your audiences more available than ever before.
For example, our client Fanlight Corporation recently faced a similar situation when LightFair 2020, the lighting industry's largest annual trade show, was forced to cancel this year's event due to COVID-19. Instead of putting their plans on hold, we have worked closely with the Fanlight team to bring the trade show experience directly to its key customers by hosting a "naturaLED Virtual Lightfair Showcase" via Facebook Premiere, taking the brand's showroom into cyberspace so that they are still able to debut their latest products to a captive audience.
As you've probably seen, big brands are also getting into the "virtual experiences" action. WizardWorld, a company that produces large-scale comic and pop culture conventions, has canceled their upcoming events but continues to keep fans engaged by hosting weekly broadcasts that reunite casts of popular television shows both past and present (Buffy the Vampire Slayer, Once Upon a Time and Supernatural) and allow fans to virtually engage with their favorite cast members by listening to panels and asking questions. As a bonus, fans are able to purchase personalized autographs and one-on-one video chats, with proceeds being donated to COVID-19 relief funds.
Looking for more tips on how to turn your event into a virtual experience? We've got you covered.
Tactic #2: Rethink Your Brand as a Resource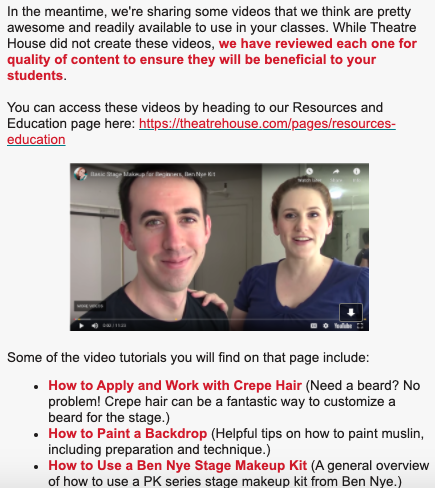 With so much uncertainty surrounding the COVID-19 crisis, brands are being forced to throw out their previous PR/marketing playbooks and rethink their approach from the ground up. Continuing "business as usual" and promoting your products and services the same way you always have isn't acceptable; the status quo has changed, and your brand must adapt to meet it.
One of the best ways you can reach audiences during this time is to take some time and carefully think through how your brand can serve as a resource in the midst of this "new normal." Does your brand offer content — such as articles, videos or white papers — that are normally behind a paywall? Consider offering some of them free for a limited time; though it may not help your bottom line, the goodwill it will generate for your brand will go a lot further.
Our client Theatre House has closed their in-store retail operations to remain COVID-19 compliant, but has continued connecting with key audiences via a new "Resources & Education" page, which contains a carefully curated list of tutorials, videos, and other content that drama educators (one of the store's primary audiences) may find useful as they navigate the world of non-traditional instruction.
Tactic #3: Build Community Around a Cause
In the wake of COVID-19, there have been many uplifting stories of communities coming together to support those in need. Because your brand already has an engaged audience of followers, you have the unique ability to use your communication platforms to highlight the positive things happening in your community — and how your organization is getting involved, too.
For our client Izzy's, this included delivering meals to nurses, doctors, and staff members at St. Elizabeth Healthcare as a way to say "thank you." If your organization does not have a specific product or service that would be relevant, consider highlighting other ways your employees are doing their part to make a positive impact (such as making personal protective equipment) or hosting a Facebook fundraiser for a cause connected to the COVID-19 crisis.
Tactic #4: Focus on the Foundation of Your Brand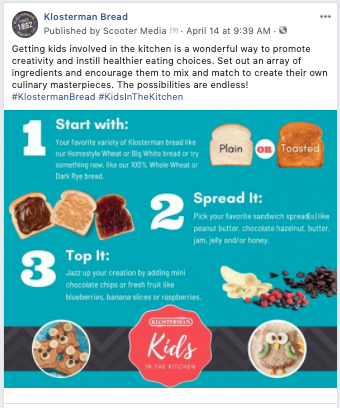 Although the era of "social distancing" has brought a lot of uncertainty, this break from "business as usual" also offers professional communicators a rare opportunity to take a step back and think critically about the building blocks of their brand. In the fast-paced world of public relations, it can be easy to get into a routine based on tactics that have worked successfully in the past; now, however, is a great time to do a deep dive to ensure your PR and marketing efforts are truly in line with the mission and values espoused by your brand.
For example, while our client Klosterman Baking Company provides bread and other baked goods to thousands of retail outlets, restaurants, schools, and more, the heart of the brand's focus is family — encompassing Klosterman's status as one of the oldest family-owned bakeries in the Midwest as well as the brand's mission of using their products to enhance the dining experience of today's families. Therefore, as part of its communication plan during the COVID-19 crisis, Klosterman is using its social media channels to promote a "Kids in the Kitchen" series encouraging families to use meal prep as an opportunity to bring the whole family together.
Taking a step back to shift your communication plans and implement new tactics can be challenging. However, by being adaptable and bringing a little creativity to the table, you can implement new ways of reaching your audience that will keep your brand's fans active and engaged even in times of crisis.