COVID-19: Social Media Do's & Don'ts for Brands
The COVID-19 public health crisis is an unprecedented event that poses a number of unique challenges for professional communicators, who are now tasked with keeping key audiences informed about how their organization is responding to the crisis. These challenges are especially prevalent for social media managers, who may suddenly find themselves "on the front lines" communicating that response while simultaneously competing against the incredible array of information (and misinformation) present on platforms such as Facebook, Twitter, and LinkedIn.
As a social media manager, how can you ensure your organization stays top of mind while remaining sensitive to the constraints of COVID-19? Here are a few of the top do's and don'ts for you to consider:
Do: Offer helpful, relevant content
Perhaps the most important factor to consider when approaching your brand's tone on social media is determining how your organization can serve as a resource to key audiences — and the broader community as a whole. For example, if your organization maintains a company blog, take a few moments to review your archives and identify posts that would be informative, educational, or entertaining to your followers on social media.
If you do not have a company blog at your disposal, you can still think creatively about the value your organization can offer during this unique time. Many organizations are turning to Facebook Live broadcasts to stay connected with their followers, hosting viewing parties, live concerts, Q&A sessions, and other events in real-time to build community around their brand. If you have never gone live from your Page before, it's important to remember that these broadcasts do not have to be perfect; as long as you are communicating authentically with your followers, your session can be a success.
New to Facebook Live? We've got you covered.
Don't: Continue on "business as usual"
As the COVID-19 crisis continues to evolve day-by-day and hour-by-hour, communicators must face the fact that uncertainty is our new reality. As a result, social media marketers must dramatically rethink the types of content they are sharing through the lens of this "new normal." Continuing to post the same content your brand was posting prior to the pandemic is probably not acceptable; although it may mean discarding content calendars that you completed great work on, being sensitive to the unique constraints posed by COVID-19 will benefit your brand much more in the long run.
This point is especially true if your brand has partnerships with other organizations throughout the company. For example, although your business may still be able to operate on a daily basis, the summer promotions you had planned with sports organizations like the Cincinnati Reds or FC Cincinnati will need to be re-worked. If your business promotes philanthropic partnerships on its social media channels, those posts will also likely have to be re-worked due to the new reality many nonprofits currently find themselves in.
Do: Be responsive & build community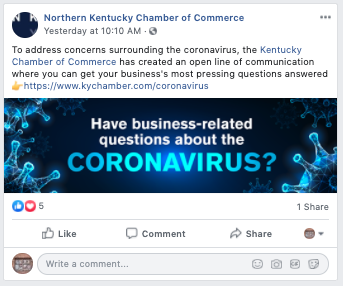 In our current climate of "social distancing," now more than ever, people are relying on social media to foster the kinds of connections that platforms such as Facebook were built upon. As a social media manager, you have the unique ability to incite these connections, simply by interacting with those who engage with your brand. This is a great time to focus less on quantity — whether number of posts, number of fans, or number of "likes" — and more on quality, taking the time to respond to comments in a meaningful way.
Another great way to build community on your brand's social media channels is to draft posts that will encourage followers to interact. Instead of just sharing a helpful listicle, for example, provide a link and then ask followers to add some of their own thoughts to the list. If you're a food brand sharing a comfort food recipe, perhaps you could invite fans to comment with the name of the movie or board game they will be enjoying with the family after dinner tonight.
Although these simple interactions are minor, over time they can build to considerable goodwill for your brand.
Don't: Be overly promotional
While all organizations are facing unique challenges as a result of this crisis, it's important to recognize that right now is a time to let your brand be human instead of focusing on the bottom line. Posts that do nothing but promote your brand's products can seem insensitive in our current era of financial instability. Instead of constantly posting about what your brand has to sell or offer, consider taking this time to promote some of the less tangible elements of your organization — such as staff spotlight posts celebrating hard-working team members, #ThrowbackThursday photo galleries that chronicle your company's history, or even videos showing what happens "behind the scenes" of your business.
At the end of the day, however, our society currently finds itself living in uncharted waters, causing professional communicators to think "on the fly" and rely on their intuition instead of turning to a PR playbook that has been practiced plenty of times. Carefully think through these social media strategies and determine what your brand can bring to the table during trying times such as these; hopefully, you will be able to inform, educate, and inspire loyalty among audiences so that your organization will emerge from this crisis even stronger than before.
About Scooter Media
Scooter Media is a full-service communications agency in Greater Cincinnati specializing in public relations and social media.