Tips for Building a Media Kit That Will Make Your Brand Stand Out
Building a Media Kit
In today's crowded media environment, getting the attention of journalists and other media professionals—especially those associated with big-name, mainstream outlets—can be an incredibly difficult challenge. You're fighting an uphill battle for coverage against more timely news topics, other brands looking for exposure, and a changing media landscape that usually means less space for the story you are trying to tell.
However, good PR professionals know that there are several tools to help you fight this battle—and one of the most important tools in the PR arsenal is the media kit.
What is a media kit?
A media kit, or press kit, is a collection of materials designed to tell the story of your company or brand in a succinct, compelling way. The overall purpose of a media kit is to give journalists the information they need about your company, and to leave a positive impression that will compel the media to tell your brand's story.
When do you need a media kit?
Although it is always a good idea to have a basic media kit on hand for members of the press who may be looking to feature you, they are especially useful when your company has an exceptionally compelling story to tell. Think big stories, the kind that you would actually want to read about—for example, the launch of a new product, a significant rebrand, or a partnership with a nonprofit. Many times these newsworthy occasions are a great opportunity to craft an innovative kit that goes above and beyond the basics to showcase your brand in a creative light.
What needs to be in a media kit?
When deciding which materials to include in your media kit, keep your audience in mind. The materials in a media kit directed at a journalist with an industry trade publication, for example, will differ significantly from a kit sent to the editor of a widely-circulated lifestyle magazine.
With that said, however, members of the media do have certain expectations for what they want out of a media kit. At the minimum, you should consider including the following elements in your kit:
A company overview/mission statement explaining your brand in very broad terms for those who may not already be familiar with it.
A personalized letter of introduction to the member of the media receiving your kit.
Additional information about your brand or company giving more in-depth information about your company and what it offers to key audiences.
Any past press releases or news clippings showing past coverage your brand or company has received.
A FAQ sheet answering the most common questions journalists may have about your brand.
Any supporting audio or visual materials that will help your brand come alive.
When compiling these elements, it is also worth remembering that sometimes less is more; to stand out, your media kit should only include elements that you feel are truly "all-star" representations of your brand. Also, keep in mind that journalists are busy people; sometimes sending these files digitally, or creating a simple kit that can be downloaded on your website, can help to make their lives even easier.
How can you be sure that your building a media kit gets noticed?
Some members of the media receive many press kits each day, so if you do decide to send a physical media kit, you need to make every effort to ensure your kit draws attention in a unique way. One of the best methods for doing this is to package your media kit in a novel way that will pique a journalist's curiosity so that they are inspired to open it up and interact with your brand.
For example, the team at Scooter Media compiled a media kit for Dream Dinners ShareCrate that highlighted many of these features. The media kit was housed in the unique ShareCrate box and included a branded tote and two casserole pans, which helped to capture the essence of the ShareCrate brand—showing your love for others through food.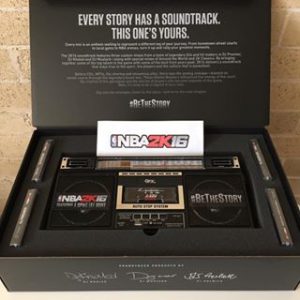 Another example of an all-star media kit is this promotional mailing for the video game NBA 2K16, which contained a functioning boombox with old-school cassette mixtapes that represented the story of the game. This press kit was effective because it immediately helped to capture the "old school" spirit of the game and invited the media to engage with the brand in a fun, nostalgic way; one tech blogger who received the kit even referred to it as "the coolest press kit he's ever received."
Creating a digital-only media kit—often referred to as an electronic press kit (EPK)—can also be a great way to make your brand come alive in fresh and new ways. If you are a musician looking to get exposure, for example, having an exceptional EPK can allow members of the media to experience your story first-hand by including song snippets, concert videos, interactive biographies, and more (see below for an example EPK with the press coverage it received). When developing a digital-only media kit, keep in mind that it is usually best to create a web-based press kit instead of a .pdf that may not be mobile-friendly or may be too large of a file size.
For business-to-business (B2B) media kits, getting clear, concise information about your company across to the media is usually the most important priority. In these cases, housing the literature about your brand in an attractive folder or packet can go a long way toward pleasing industry journalists who may want to cover your company.
Ultimately, the keys to achieving success with a press kit are the same as those for any kind of successful interaction with the media. While it's essential to stay true to your brand, you have to know your audience and what they want. Create a media kit that follows these cues, and you just might help your brand break through the clutter to get the media attention it deserves.