The One Where "Friends" Work in PR
🎵 They'll be there for you… 🎵
The beloved sitcom "Friends" is celebrating its 25th anniversary this month, and retailers are joining the celebration. Pottery Barn, Coffee Bean & Tea Leaf and Ralph Lauren are just a few of the brands celebrating the anniversary by releasing "Friends"-themed merchandise.
In season six, there was an entire episode dedicated to Rachel telling Phoebe that their new furniture was from a flea market and not Pottery Barn. It only made sense the home furnishing chain would release a "Friends" line for the anniversary. 
In season five, Ralph Lauren made a special appearance in an episode because Rachel Green worked for him. The designer brand announced that they will be releasing a limited-edition clothing line dedicated to everyone's gal pal. The line will feature some of Rachel's chic work clothes such as leather trousers and skirts, pin-striped suits and some leopard print pieces.
Coffee Bean & Tea Leaf is honoring the show by partnering with Warner Bros. for Central Perk pop-ups at their Los Angeles locations, as well as producing "Friends"-themed coffee, tea blends and drinks named after each character. The iconic Central Perk couch is traveling across the world for fans to sit on and take pictures. And "Friends" home-turf, New York City, has an exclusive pop-up with set re-creations, photo opportunities, special merchandise and of course, Central Perk.
As a public relations agency, we have enjoyed discussing the fan-fare around the anniversary. While we reminisced on our favorite episodes, moments and one-liners, we realized that each "Friends" character has a personality trait that would help them excel in public relations.
THE ONE WHO IS DETAIL-ORIENTED
It is extremely important for PR practitioners to be detail-oriented. We are constantly writing news releases, blog posts and social media content for clients. We must proofread everything several times over before posting or sharing content. And then we proofread again. There is little room for error.
As someone who has 11 different categories of towels, Monica Geller would make the perfect, organized PR professional. She pays very close attention to detail. In season six, she notices that Chandler cleaned the apartment because the furniture was not put back in its original place.
THE ONE WHO IS QUICK-WITTED
Sometimes there are cases where something major happens unexpectedly with a client. It is our job to quickly come up with a solution. That means we must be flexible and prepared by having multiple plans in place (in case one falls through). Being prepared for the worst while strategizing for the best helps us better prepare for any situation that may come our way.
Chandler Bing is quick on his feet. He thrives in uncomfortable situations, using humor to ease tension and to get himself out of trouble. In the ninth season, he uses his creative side and becomes employed as a Junior Copywriter in an advertising agency.
THE ONE WHO EMBRACES CHANGE
Public relations is constantly changing. Whether its social media platforms, news stations or clients dealing with a crisis, PR professionals must be quick to adapt to change. Embracing updates to content marketing, social media, PR trends and tactics and other digital strategies is simply part of the job.
With a classic haircut named after her, Rachel Green has always been considered the trendsetter out of all the "Friends" characters. As someone who works in the fashion industry, she is always staying up-to-date with all the latest styles.
Rachel is also able to embrace change. She went from a wealthy family and about to marry an orthodontist to jobless and single overnight. With the help of the other characters, she was able to build herself up and have a career she loves.
THE ONE WHO IS INTELLECTUALLY CURIOUS
Working in PR, we never stop learning. We attend professional development events, listen to webinars, read articles and give presentations – strengthening our connections and our knowledge. Being intellectually curious helps us think like consumers. You ask questions like What should someone know about our product? or What makes our offering so interesting?
Ross Gellar
is the character that is always researching and educating himself in his field. He is the only character that has a doctorate degree. Though the rest of the cast makes fun of him, he always reminds others that he is a doctor. He is quick to correct someone when they are wrong.
THE ONE WHO IS THE MOST AUTHENTIC
It is our job to help our clients communicate their ideas and plans to a specific voice. We must be authentic. We should be real and straightforward with our messaging to better form our client's stories. You have to be able to tell your story and ask what makes your company so special.
Phoebe Buffay
is unapologetically herself. She thinks she is the best unknown musician in New York City, and she's not afraid to make a fool of herself (remember when she went running through Central Park?). Like her famous song "Smelly Cat," she has a song for any situation that happens to her.
THE ONE WHO IS PASSIONATE
People in public relations are passionate about their work. You love the fast-pace workload, using your creative mind and working with the media to share clients' stories. We have to be able to write for different types of clients from the food industry, B2B or the arts.
Joey Tribbiani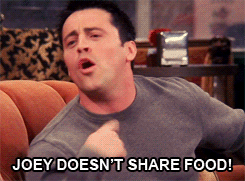 is the type of friend that will save a friend's life. In "The One With the Ride Along," he saves Ross from a supposed gunshot. In reality, he was protecting his meatball sandwich from a car backfire. While he may not be the smartest out of the characters, he is very passionate about his family, friends and of course, food. ("JOEY DOESN'T SHARE FOOD!")
If this isn't enough "Friends" material for you, you can watch episodes in its original 35mm version on the big screen. For three days only, you will be able to see some of the most memorable episodes at select movie theaters across the country.
Each character adds something unique to the show and to the PR world. It can be argued that these personality traits are some that are important to strengthen an agency. The next time you watch "Friends," ask yourself which character do you identify with the most?