Emerging 30 Award: Scooter Media Honored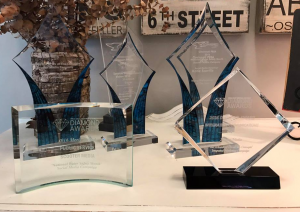 On October 20 Scooter Media was recognized with an Emerging 30 Award by the Northern Kentucky Chamber of Commerce. The award recognizes the Northern Kentucky region's fastest growing businesses.
To qualify for the Emerging 30 Award recognition, companies must have achieved at least $250,000 in revenue, been in business for four years, and have an average annual growth of 15% or more over the past three years.
2016 award designees included:
Alpha Omega Industries
Advanced Handling Systems
Bannockburn Global Forex
Advanced Handling Systems
Bannockburn Global Forex
Bluegrass Commercial Group
Century Construction
Complete Forklift Repair
CorTech International
Cru Cutters Landscape Services
Emerge Managed Solutions
Emerge Technologies
Erigo Employer Solutions
Expense Reduction Analysts
Family Allergy & Asthma
Furlong Building Enterprises
Global to Local Language
Solutions
Helping Hands NKY
Immedion
Legion Logistics
Nexigen
North Bend Equipment
Outer Image Outdoor Services
PrideStaff Northern Kentucky
Prolocity Cloud Solutions
RoundTower Technologies
Scooter Media
The Vories Team at
Keller Williams Realty Services
TiER 1 Performance Solutions
Turnbull-Wahlert
Construction, Inc.
Walt's Hitching Post
Wieda's Marine, LLC
Visit Scooter Media's About Us page to learn more about the agency.